Trio of Rabbit
An audition dish from MasterChef Ireland 2012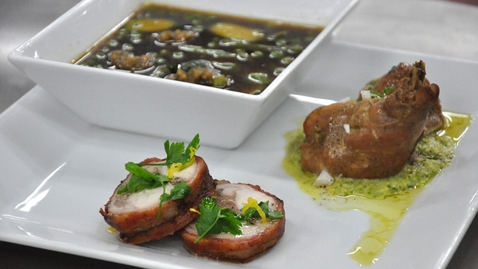 Ingredients
1.30 kg whole rabbit (with liver and kidneys attached)
4 table spoons of olive oil
1 l homemade rabbit stock
100 g matzo meal
20 g fresh thyme
2 lemons
20 g fresh parsley
100 g very thinly sliced pancetta
100 g cubed pancetta
1 carrot
1 stick of celery
10 shallots
1 glass of white wine
4 cloves of garlic
5 asparagus spears
1 cup peas
1 courgette
20 g salt and pepper
a pinch of ground all spice
olive oil
extra virgin olive oil
salt & pepper
Method
Chop carrot, celery, cubed pancetta and crush 3 cloves of garlic and sauté of in a pan with 2 tablespoons olive oil
Remove hind legs from rabbit and sauté for a minute.
Add white wine and reduce, then add my home made rabbit stock and three sprigs of thyme. Leave to simmer.
Next debone saddle of rabbit.
Chop the liver and kidneys with one clove of garlic and salt and pepper.
Season the saddle of rabbit and place liver stuffing inside and wrap up.
Place 100 g thinly sliced pancetta on board and wrap around the saddle of rabbit.
Lay a sheet of cling film out and place saddle at one end. Roll up very tightly and form a sausage shape. Tie the two ends so nothing escapes. Place in the simmering stock for approx ten mins.
Next remove the fore leg meat from the rabbit along with the two loins on top. Process these with fresh parsley, grated lemon zest, salt and pepper and a little thyme. Then place in a bowl and gently mix in the matzo meal and a pinch of ground all spice and shape into dumplings.
After ten mins lift out the saddle and strain the stock. Place the strained stock and the two legs back on the heat.
Mean while get a pan on the heat with two table spoons of oil, remove cling film from saddle and when the oil is hot add the rabbit. Brown on all sides, approx 5/7 mins. Once browned on all sides place in the oven (280°c) for approx 8/10 mins and then leave to rest for five mins.
Now prepare the asparagus and the courgette. Cut the courgette into batons with the core removed and slice the asparagus into three leaving the woody end out. Add the peas, asparagus and courgette to the simmering stock and leave to cook for five mins.
Take saddle of rabbit out and feel to make sure it's done. Leave to rest.
Now chop some parsley and grated lemon zest. Place in a bowl and add the juice of half a lemon and ¾ spoons of extra virgin olive oil and season to taste. Take broth off the heat
Plating up
Now to plate up take the rabbit leg out and place in the serving dish.
Take out 4 dumplings and place around the dish.
Slice the saddle and present two slices in the dish.
Next, ladle over the stock with some peas, asparagus and courgette in it.
Finally sprinkle over the lemon and parley mixture and a grinding of black pepper.