Salmon with Soba Noodle Sushi and Cucumber Salad
A great main from the MasterChef Ireland 2012 kitchen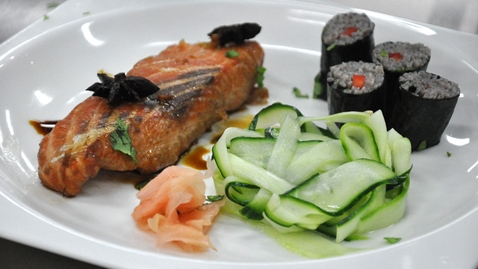 Ingredients
Salmon marinade
1 salmon fillet (between 4-5oz)
4 star anise
0.25 cup light soy sauce
1-2 teaspoon of palm sugar
2 tblsp sesame oil
1 inch piece of ginger peeled and thinly sliced
Garnishes
sweet soy sauce
sprinkling of spring onions cut on the diagonal
slice of pickled ginger
a little chopped coriander
Soba noodle sushi
5 oz dried soba noodles
1.50 tblsp rice vinegar
1.50 tblsp sesame oil
2-3 scallions (green and white part finely sliced)
small bunch of coriander finely chopped
coarse salt to taste
1 sheet of nori
1 slice of red pepper finely chopped
Cucumber salad
0.25 to ½ cucumber (peeled seeded and julienned)
1 tsp sugar
0.25 cup rice vinegar
Method
Salmon marinade
Place salmon in a glass ceramic dish with ginger, star anise, soy sauce, sugar and sesame oil to marinate for as long as possible.
Plating up
Drizzle sweet soy sauce on the plate, place hot salmon on top. Lean the soba sushi against the side of the salmon and place the cucumber salad on top of the salmon.
Drizzle some of the cucumber juices around the plate and very lightly scatter some chopped coriander and scallions. Form a rosette out of the pickled ginger and place on the side of the salmon.
Cucumber salad
Place the cucumber with the rice vinegar and sugar in a separate bowl and leave aside.
Sushi soba noodles
Bring one quart of water to the boil in a deep saucepan. Add the noodles and stir gently. Bring to the boil again and add 1 cup of cold water to the pan.
Bring to the boil again and add another cup of cold water. Test a noodle at this stage to make sure it is cooked but with bite. Drain the noodles in a colander and run cold water over them and toss gently.
When they are cold, toss them in bowl with the sesame oil, rice vinegar, scallions, a little coriander and the salt.
Place sheet of nori on a rolling mat, arrange the soba noodle mix on the bottom third of the nori so that the noodles are facing left to right. Place one strip of pepper in the centre of the noodle mixture. Roll mat up and over the noodles and pull tight. Moisten end of nori with a little water and roll all the way.
Remove the marinated salmon and place in 230°C oven for about ten minutes.