Fillet of Steak with Pomme Dauphine and a Creamy Mushroom Sauce
A sumptuous and classic main from MasterChef Ireland 2012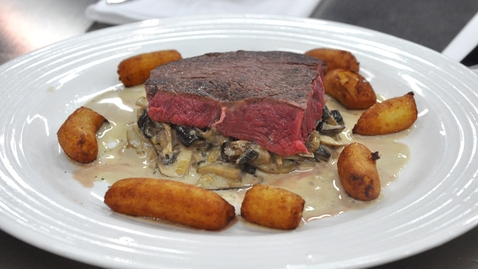 Ingredients
500 g fillet steak
400 g mixed mushrooms including button, shiitake and chestnut
100 ml double cream
100 ml wine white
salt
pepper
750 g potato
125 g plain flour
50 g butter
60 ml water
2 medium eggs
1 litre vegetable oil
1 lemon
thyme
2 shallots
garlic
olive oil
Method
Preheat the oven to 200°C.
Peel the potatoes and put on to cook for 10-15 minutes until tender.
Sear the meat, seasoning only when it's in the pan. Make sure to caramelise evenly, before putting in the oven. Medium rare normally take about 8-10 minutes. I like to add a couple of stalks of thyme in with the meat as it sears to get more flavour in it.
When the potatoes are boiled, pass them through the fine sieve and put to one side.
In a saucepan, add 50g of butter to 60ml of water with a pinch of salt. When it has all melted, add 125g flour and beat until it begins to come away from the sides. Take off the heat and add the two eggs. Add the potatoes and season.
Put 1 litre of vegetable oil in a saucepan to heat, until it reaches 160 degrees.
Using a piping bag, pipe the potato mix into the hot oil and let them cook until they are golden brown.
For the sauce, chop mushrooms and shallots with a clove of garlic. Lightly fly with some olive oil, until browned. Add the white wine. Cook it off before adding the double cream. Season.
Cut the fillet steak for each portion, and plate on top of the sauce, scattering the pomme dauphine around.