Mountain of Chocolate Mousse
Served with lemon shortbread biscuit, crème anglaise and a raspberry coulis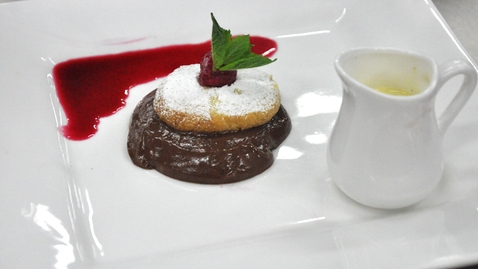 Ingredients
Chocolate mousse
130 g belgian dark chocolate
1 large egg white
7 floz double cream
1 oz caster sugar
2 floz crème anglaise
Lemon shortbread
125 g butter
75 g caster sugar
185 g plain flour
1 egg yolk
zest of two lemons
Crème Anglaise
300 ml full fat milk
vanilla pod
3-4 egg yolks
40 g caster sugar
ice cubes and water
Raspberry coulis
50 g fresh raspberries
20-30g sugar
lemon (half)
1 cup red wine
mint (for garnish)
Method
Preheat oven to 180°C. For lemon shortbread: combine all ingredients together - butter, caster sugar, egg yolk and flour. Then mix in the zest of the lemon as well. Form a long shape dough, wrap it in cling film and straight into the fridge for preferably 30 mins. (Prep time 5 mins.)
To make the crème anglaise, mix the milk and vanilla essence together in a pot until it begins to bubble, then take it off the heat. In the meantime, whisk the sugar and the egg together to form a sabayon, which will be over the heat for a minute. Once the milk mix is ready, stir in the hot milk mixture to the cold and then put it back on the heat, stirring at all times to prevent the egg from scrambling. When it is ready, immediately place in small mixing bowl which is then placed a container of ice and water. Leave to set and cool. (Prep time 10 mins)
To prepare Belgian Chocolate mousse, melt the sugar in a heatproof bowl over the heat. Then whisk egg white with the mixer until nice and fluffy. Then melt the chocolate over a heatproof bowl placed over simmering water. Whisk the cream until it form peaks. Mix altogether and place in a biscuit container. (10 Minutes). Put in the fridge until ready to serve.
Take out shortbread from fridge and form small biscuits and place in the oven for 10mins or so.
For the raspberry coulis, boil sugar and raspberries and small bit of lemon juice in wine until it reaches the boil. Pass it through a sieve and place in container to use for decorating plate.
Plating up
Plate up dish by placing the mousse in the middle, shortbread biscuits on the side, decorate it with the coulis and put anglaise in a very small jug on side of plate. Garnish with mint.