Dark chocolate fondant
With Coole Swan liqueur centre and served with a vanilla Chantilly cream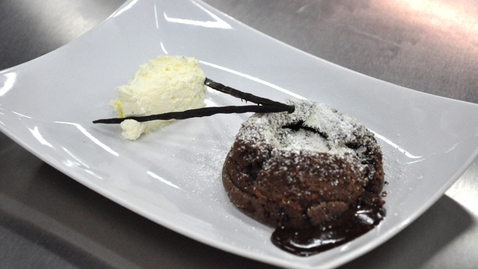 Ingredients
For the fondant
150 g unsalted butter (plus extra for greasing)
1 tblsp plain flour
150 g dark chocolate
3 large eggs
75g caster sugar
0.25 tsp vanilla extract
icing sugar for dusting
For the Coole Swan centre
100 ml cream
85 g dark chocolate
85 g milk chocolate
60 ml coole swan
For the Chantilly cream
100 ml double cream
25 g icing sugar
1 vanilla pod
Method
For the fondant
Preheat the oven to 200°C. Prepare the moulds by lining the bottom with parchment paper, greasing and flouring.
Melt the 150g dark chocolate and 150g butter over a barely simmering water in a Bain Marie. Set aside to cool slightly.
In a mixing bowl whisk together 3 eggs and 75g caster sugar.
Beat the melted chocolate and butter into the egg mixture.
Fold in 1tbsp. of sifted plain flour.
Put a small amount of the mixture in the bottom of the moulds then add a teaspoon of the Coole Swan mixture to the centre of the moulds. Then continue to fill the mould 2/3rds full with the fondant mixture.
Bake at 200 degrees Celsius for about 8 minutes.
Turn the fondant out onto the serving plate and remove the parchment paper.
For the Coole Swan centre
In a small saucepan bring the 100ml of cream to the boil on low heat.
Meanwhile in a Bain Marie, melt the 85g of milk chocolate and 85g of dark chocolate.
Stir the melted chocolate into the cream (taken off the heat) and stir the 60ml of Coole Swan.
Place in a small bowl in the fridge to set slightly.
For the Chantilly cream
Whip a 100ml of double cream until soft peaks form.
Beat in the 25g of icing sugar and vanilla pod seeds.
Plating up
On a rectangular plate tip the fondant out onto the right side.
Then make a quenelle of vanilla chantilly cream and place on the left side of the plate.
Split the deseeded vanilla pod down the center. Rest the un-split end on the fondant and place either end of the split pod around the chantilly cream.