In the third week of our guest food blogger series, David from Kitchen 72 shares his thoughts on summer salad.
Are you a little bored with a salad just being lettuce, cucumber and tomato? Don't you crave something fresh, light and unique at this time of the year? David from Irish food blog www.kitchen72.com shares some delicious and gorgeous looking salad recipes that will certainly brighten up any table this Summer.
Beyond Lettuce
I love making salads and for me the most memorable ones are those that have a twist of the unexpected. I'm a big fan of using fruit in savoury salads during the Summer and I'm always experimenting with different combinations of fruit, vegetables, and dressings.
For example, toss grated carrots and blueberries with some toasted nuts or sesame seeds, dress with a squeeze of lemon and some olive oil and you have a unique salad that's a combination of textures and an interesting blend of flavours. Your summer salad options are only limited by your imagination and the ingredients you have to hand. The best advice I can give is not to be intimidated and just get stuck in, you can't be too cautious.
Ideally you want the contrast of soft things and crunchy things in your salad bowl, along with salty, sweet, sour or bitter flavours. I tried to keep the salad recipes below simple and to use things that most people will have in their fridge at any time of year. If you don't have rocket leaves, feel free to swap for baby spinach or any other mixed leaves you may have to hand. The salads below go wonderfully with some grilled chicken, barbecued meat or poached salmon for an easy weeknight dinner or alfresco lunch.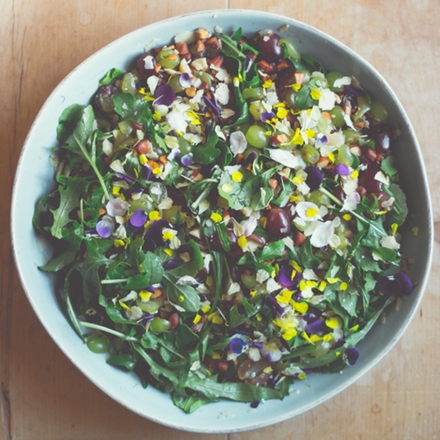 Rocket, Grapes & Almond Salad
This delicious salad has the sweet pop of fresh grapes, the crunch of brown butter toasted almonds, the peppery heat of rocket leaves, salty umami from the parmesan cheese, all brought together with a splash of acid from the vinaigrette made with smashed juice from the grapes. All my favourite tastes of summer in a bowl.
Take two large handfuls of white and red grapes. Chop a handful finely, cut the others in half. Smash the finely chopped grapes in a bowl with the back of a fork into a pulp, releasing all the juices. Add in a finely chopped shallot, a teaspoon of salt, and tablespoon of apple cider vinegar (or white wine vinegar).
Allow to sit in the bowl for ten minutes to let all the flavours mingle. Whisk in 2 tablespoons of olive oil and taste. I like my vinaigrette to be acidic, and the grape juices should balance out the vinegar, but if you prefer something milder - whisk in a little more oil at this stage. Don't forget to taste and season with a little more salt.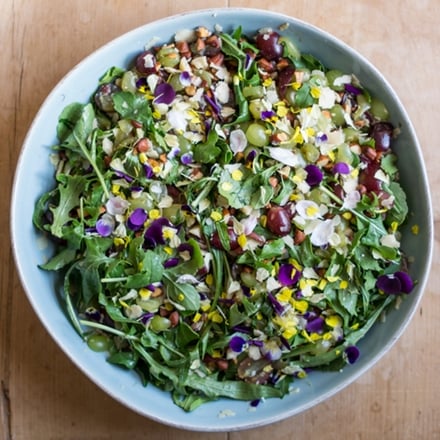 Melt 3 tablespoons of butter over a low heat in a small saucepan and bring to a gentle simmer, until the milk solids begin to separate and it changes colour. Roughly chop your whole almonds into small pieces and add to the butter. Keep the heat low and allow the almonds to confit in the butter for about 10 minutes (or until the almonds are toasted and brown). Drain the almonds from the butter and allow the almonds to dry on a wire rack (reserving the butter for future use).
In a large bowl, dress your rocket leaves with the dressing. Scatter over the butter toasted almonds. Use a veg peeler to peel shards of parmesan cheese and scatter over some edible flower petals (if available). Serve on chilled plates with a glass of white wine.
Grilled Peach, Rocket, Parmesan and Balsamic Salad
The juicy sweetness you get from a grilled peach, pear or nectarine simply served with shavings of salty parmesan cheese and punchy rocket leaves is perfection on a plate. If you can try and source locally grown rocket as opposed to the milder leaves sold in the supermarket - you could also look to use bitter salad leaves like chicory, which contrast well with the sweet grilled fruit.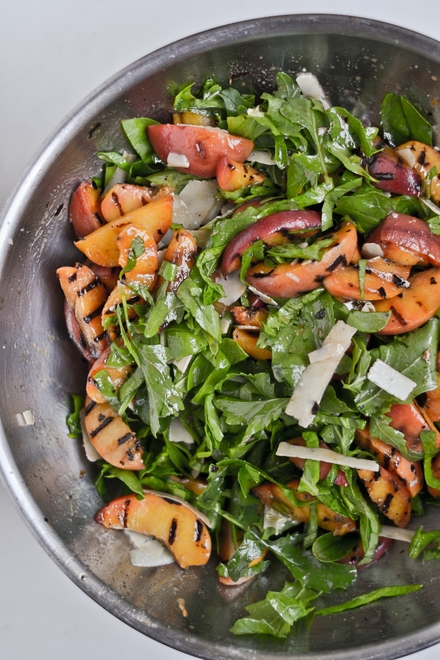 Slice your peaches into segments and put them, cut-side down, on to a very-hot griddle pan (or barbecue) and char them nicely on both sides.Remove and put in a large bowl. Drizzle the peaches with a little olive oil and sprinkle with salt and pepper.
Put your rocket into the bowl with a good drizzle of your balsamic vinegar to coat the leaves, and toss together gently and beautifully. Take a vegetable peeler and shave curls of Parmesan over the dressed salad. Scatter over some fresh baby mint leaves. This is also fantastic with some toasted hazelnuts crumbled on top and served with a plate of thinly sliced Prosciutto or Parma ham. Delicious.
If you want to keep up with David's blog, visit Kitchen72.com or follow him on Twitter.