For the second week of our food blogger guest feature series, Emma Kenneally of The Rebel Kitchen dishes on picnics and Italian inspiration...
Picnics for me are easy, delicious meals that can be quickly and easily prepared in advance and served fuss free. When I was a child my family used to have picnics all the time in the summer, usually involving egg mayonnaise sandwiches, cold cuts of roast meat, cheese and onion Taytos and a lots of fruit... maybe a bar of Dairymilk went around too if we were good!
When we were joined by aunts, uncles and cousins, who knew what would be pulled out of the cooler bag? The ante was upped, one of my aunts always provided the sweet treats like sweet creamy pavlova and fun size bags of chocolates, while another aunt was known to pull full, roasted chickens out of hers!
Nothing beats those sandy picnics, often served on a cloudy day where we were oblivious to the Irish weather as we ran around the beach, running in and out of the water like it was the hottest day of the summer.

I think a good picnic has one hero dish (something meaty and filling) and I like bringing little bags of olives, strawberries, wedges of cheese and a nice fresh loaf or roll of bread too.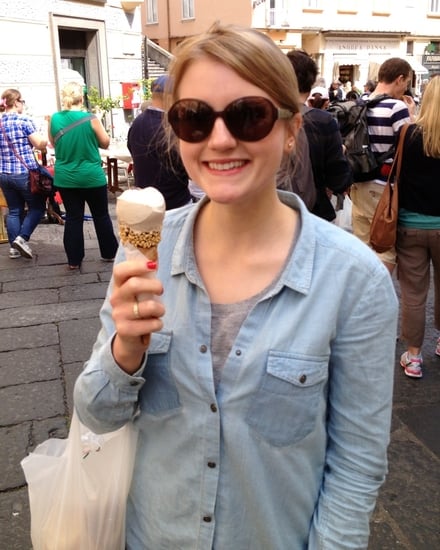 I've just come back from holidays in Italy and was inspired by the simplicity of Italian cooking, and how something so mouth-wateringly delicious could be whipped up using a few good quality ingredients. Inspired and back on Irish soil, I decided to make a creamy mixed fish salad to be served on brown bread, using lemon and capers which are so popular in Italian cooking.
I also have a great and simple recipe for rhubarb lemonade which is perfect for lazy picnics. It takes less than 10 minutes to make and is the perfect way to use up all of the rhubarb that is in season at the moment and spilling off the grocery shelves.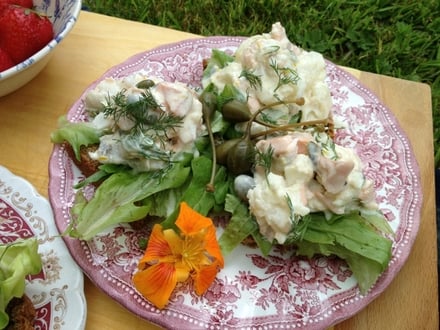 Creamy Lemon and Caper Mixed Fish Salad
This is easy and delicious, can be prepared the night before and takes about 20-30 minutes to make. I hope you enjoy this as much as I did! (Serves 2 hungry people)

1 fillet monkfish (or other white fish)
1 filled trout (or salmon)
4 Irish prawns (don't be fooled into getting tiger prawns, they're horrible and hard, not soft and sweet like the Irish prawns)
Brown Bread (sliced)
Lettuce

Sauce:
3 tbsp creme fraiche
1 tbsp oil (I used rapeseed)
Zest of 1 lemon
Juice of 1/2 to 1 lemon depending on size (taste as you go)
1 handful capers (you can chop any of the big ones, and leave the little ones whole)
2 stalks of dill torn into little bits, plus extra for garnishing
Salt and Pepper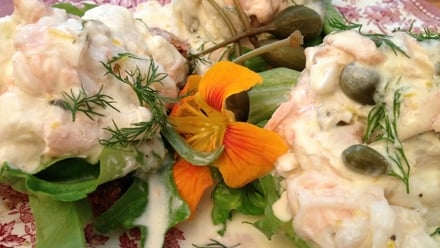 1. Bake your fish in an oven 180C with a little oil, salt and pepper until cooked through (about 15 minutes). I put on the monkfish first for 5-7 minutes as it was a much thicker piece and so took longer to cook.

2. For the sauce mix together the creme fraiche, lemon juice, lemon zest, oil, capers, chopped dill and season with salt and pepper.

3. Flake or chop the fish into bite-size pieces and stir into the sauce.

4. Serve the fish mix on brown bread and lettuce with a squeeze of lemon juice on top and a garnish of capers and dill.

5. Enjoy!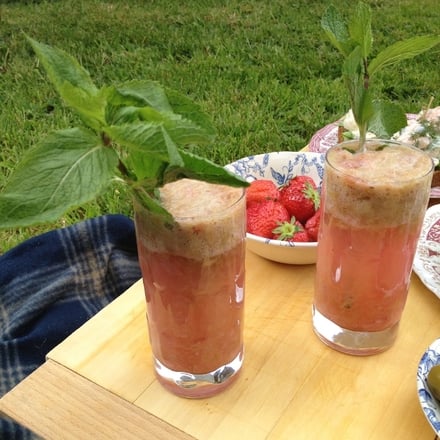 Rhubarb Lemonade:
1 bunch rhubarb (about 10 stalks)
1/2 cup sugar
1/4 cup water
1 bottle sparkling water
1. Chop up the washed rhubarb into one inch pieces and add to a pot with the sugar and water. Put on a medium high heat, stirring occasionally until soft (about 10 minutes).
2. Mash the rhubarb with the back of a fork and allow to cool.
3. When cooled add 2-3 tablespoons of the stewed rhubarb to a tall glass and top up with sparkling water.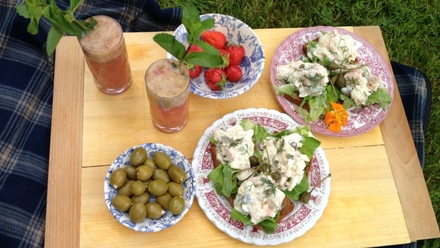 Emma Kenneally blogs at The Rebel Kitchen. You can catch up with all her posts on the RTÉ Food blog aggregate page too, or interact with her on Twitter!