Enjoying the BBQ season without meat and certain animal products has never looked or sounded so delicious. Patrick Hanlon profiles some free from recipes...
Vegans, vegetarians, pescatarians or anyone with allergies or food intolerance should never feel left out of any BBQ celebration. The food is the star, but the key activity is bringing people together over a meal, so there's nothing worse than feeling left out or even feeling like you are being picky or awkward for the cook or host.
Plant-based recipes should not only be celebrated, but heavily included in any barbeque celebration. Not only are they healthier, they can be far easier and quicker to cook, while so many vegetables will be at the peak of their freshness in the summer season.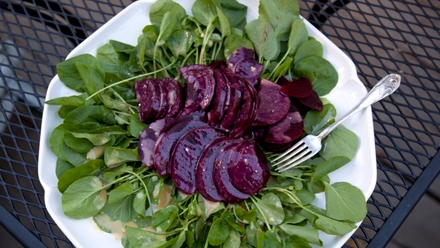 Salads are an obvious choice, offering a wide variety of combinations for meat-free and animal product-free eaters to feel satisfied, but they shouldn't mean those who choose to eat a different diet should be exempt from all the barbeque fun and relegated to misunderstood "rabbit food".
Roasted veggies are a great addition to salads or pre-cooked pasta, maybe even strewn through a colourful bean salad too. Cook on the barbie to get a nice char and black colour which will often add caramelisation or crunch.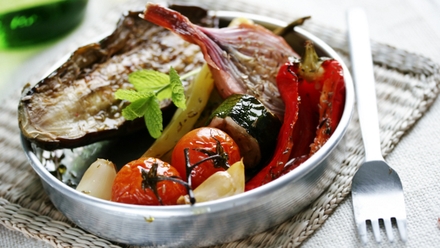 For dressings on salads and coleslaws, substitute mayonnaise and creamy-based sauces for tomato or plant-only alternatives or even make a dressing from blitzing soaked nuts (cashews and almonds work great) with lots of flavouring (lemon juice, herbs, condiments etc.) and a few tablespoons of water until it transforms into a creamy and smooth sauce.
Something great about a plant diet is the variety of colour that meat or animal products just cannot achieve. For a healthy, zingy and colourful salad try a red superfood salad with pomegranate seeds, fresh tomatoes, strawberries, raw peppers, raspberries and slices of red apple with lime juice spritzed all over.
Other delicious sides could be a potato, dill and mustard salad or stuffed peppers with warm spiced cous cous.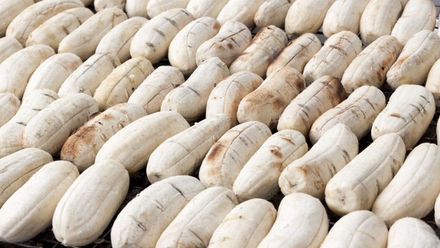 For dessert or something sweet on the barbie, fruits are your best bet. Usually all fresh, colourful and at the peak of their flavour during the warm summer months, some of the best fruits to grill are banana, pineapple, apple, pear, peach and plum. -Apple and pear also work particularly well when grilled and added to burgers for meat eaters.
Obviously some rules apply when cooking for diners who choose to eat meat-free diets. Courteously clean the grill thoroughly after cooking meat, or better yet, have very separate spaces on the BBQ for meat and vegetable grilling. Some diners may even request that separate grills are used, or that their food is cooked in a separate space altogether.
Some delicious vegetarian and vegan recipes on the website for you to try include: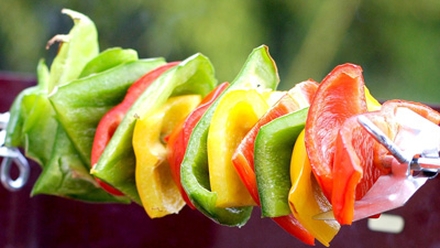 An obvious choice but a good one, tofu and vegetable kebabs are the perfect alternative and chicken kebabs and BBQ lamb or beef koftas. Make sure to remove any excess moisture from the tofu and marinade it if you have time to soak up any extra flavour. Serve on a bed of spiced and zingy cous cous or just straight from the grill. Vegetarian, can be made vegan, recipe by Lorraine Fitzmaurice.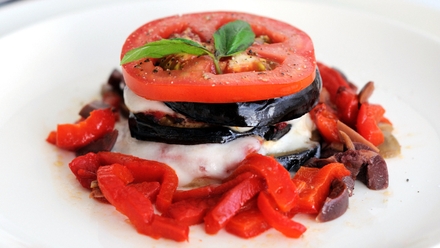 An aubergine, pepper and mozzarella stack. Serve on its own with some sauce and sides or rustle it all up between two buns and enjoy as a burger. Aubergines give a rich and smoky flavour when grilled and because they are so porous they are perfect for marinading overnight before the barbeque. Vegetarian, recipe by Jill Dupleix on The Afternoon Show.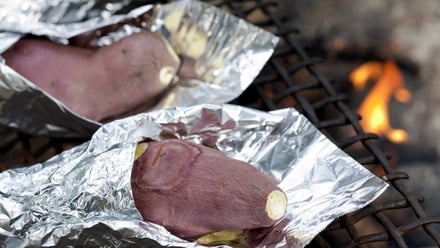 Baked sweet potatoes with zingy broccoli on the side and a crunchy and creamy cucumber salad. This Domini Kemp recipe (with added video) is so good you definitely won't miss any animal products. Though it takes a little bit of time, technique and utensils, it's worth the effort and time put into it as the flavour truly speaks for itself. Vegan, recipe by Domini Kemp on Four Live.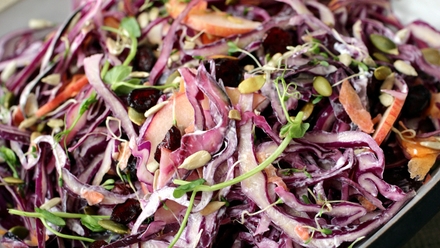 Rozanne's superfood slaw. Rozanne Stevens ties her South African heritage with her Irish lifestyle to make her vegetarian coleslaw with some beautiful Irish cabbage, carrots and seaweed in a creamy and sweet creme fraiche dressing.
To make it vegan, substitute creme fraiche for a dressing with agave nectar, lemon juice, vinegar, tamari and sesame oil or some tahini. Coleslaw is so adaptable, add pear and apple for extra textures and flavours, as well as toasted nuts for crunch and earthiness. Vegetarian, can be adapted for vegan, recipe by Rozanne Stevens.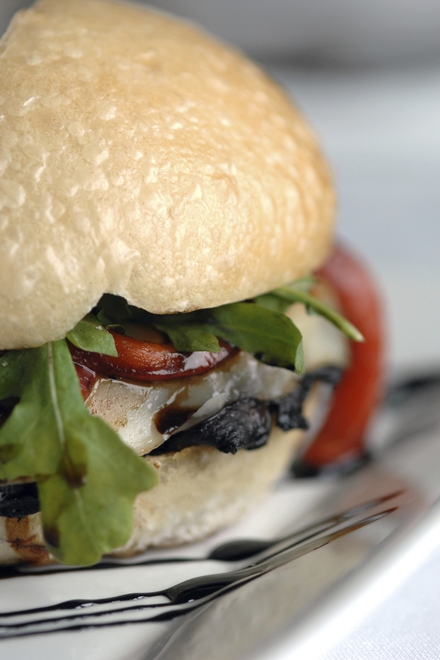 Another obvious but delicious choice, portobello mushroom burgers. The meatiest vegetable alternative to meat you are going to get, which will literally burst with flavour in every bite. A simple and fresh choice, far superior to shop-bought veggie burgers.
Serve on a homemade Waterfood Blaa, flatbread or bap and stack with some great ingredients like caramelised onions/shallots and crunchy, griddled cos lettuce. Vegetarian/vegan, recipe by Lorraine Fitzmaurice.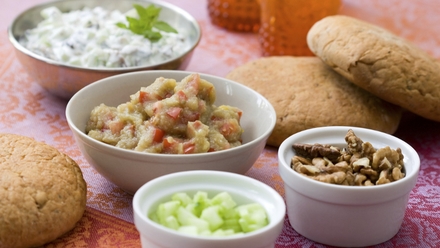 For something a little more shareable, for a group of vegetarian or vegan eaters, try a mezze of different vegetable dips, olives, roasted red peppers and some quick and easy flatbreads or tortilla chips.
We have some great dip recipes, including Donal Skehan's hummus with crispy herb and garlic pitta breads, Tommy Fitzherbert's baba ghanoush (aubergine dip) and we really like Anjali Pathak's delicious cucumber raita with mint and radish. Plus, watch Catherine Fulvio's make a caponata dip on Four Live.