Bord Bia has today announced Sage Restaurant, Midleton, Co Cork, as the Just Ask Restaurant of the Month for February.
The Just Ask campaign encourages diners to look for information on where the food on their plates has come from when eating out. The monthly award is given to restaurants that demonstrate best practice in providing customers with this information. The owner of Sage Restaurant, Kevin Aherne, is committed to sourcing all produce from County Cork, with many products sourced within a 12 mile radius and featured on a '12 Mile' Lunch Menu every Sunday.
Beef is sourced from East Cork farmers and is butchered and slaughtered by Murphy's of Midleton. All pork and bacon comes from pedigree Gloucester and Saddleback pigs that are reared on Woodside Farm, Ballincurrig. Dan Ahern and Tom Clancy supply free-range poultry and eggs. All fish has been caught in Irish waters and is supplied by Richard Guerin of Ballycotton. Fruit, vegetables and herbs are supplied by various different local growers and suppliers. Full details regarding all suppliers are listed on the website and throughout the menu.
Recent research from Bord Bia* has revealed that supporting local businesses is a key consideration for members of the public when eating out, with over two thirds (69%) of the population rating 'the use of Irish/local produce' as important when going out for a meal.
Speaking about the restaurant's sourcing policy, Kevin Aherne, said "Sage has a simple ethos. We source the best of local produce so that diners can savour their meal in the knowledge that every morsel has been grown, reared or produced with the same care and attention to detail with which it has been prepared."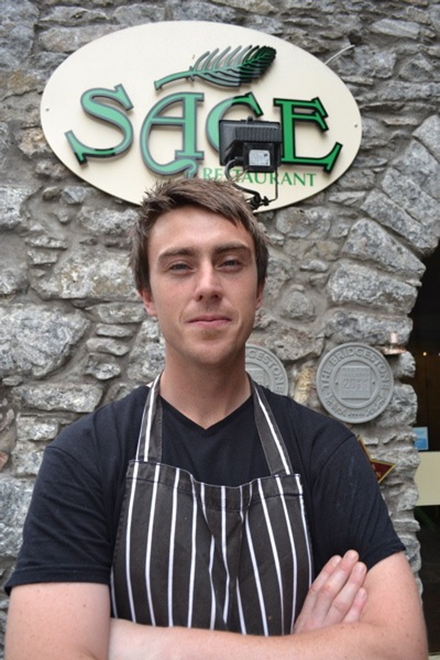 Head chef of Sage, Kevin Aherne
The Just Ask campaign was originally launched by Bord Bia in 2009 and has been embraced by the restaurant trade since then. The Just Ask! Restaurant of the Month is selected by trusted food writer Georgina Campbell, in agreement with Bord Bia each month. It rewards eateries around the country that have demonstrated a commitment to transparency with regard to the sourcing of the ingredients used in their restaurant.
"Information on the restaurant's website and menus are the very model of what Just Ask is all about," says Georgina Campbell. "Sage Restaurant has evolved with time as Kevin has applied the 'eat local' ethos and developed the impressive network of suppliers that he can call on today."
For further information on previous Just Ask winners or to find out how you can get involved visit www.bordbia.ie.
For further information on Sage Restaurant, visit www.sagerestaurant.ie.