We speak to Tim Daly, head chef of BrookLodge Hotel and Wells Spa in Aughrim, about Christmas preparations and menu ideas...
Tell us a little bit about how BrookLodge Hotel & Wells Spa prepares for the festive season...
Tim Daly: Christmas for the following year starts for us really in January - we would be thinking that far ahead once Christmas is finished and everyone's back to work. Anna would come in and get all the Christmas puddings for the following year sorted in January. It's quite a big job so it keeps her well occupied!
Working through the year we would be ordering organic turkey and geese for December in and around April or so because it's organic and we work quite closely with the farmers and stuff we would have to put in our orders fairly early and they rear them especially for us.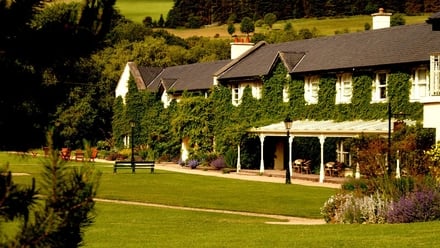 Coming into October and November, when the game season kicks off and Christmas is fast approaching, we start getting everything sorted. The game is coming in; we start curing and air drying the venison; we're making sloe gin..
Our foragers are also out picking all the sloe berries - it makes a great Christmas present and with the sloe berries afterwards we put them in stuffings and compotes, they're brilliant!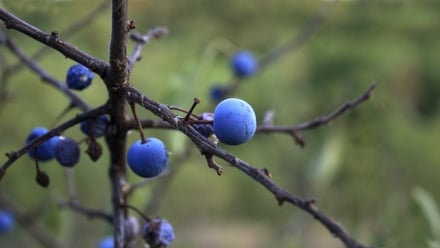 Ed hick is curing irish ham for us, organic ham would be coming from Gold River Farm just down the road from us here in Aughrim.
Are there any producers that the hotel is especially proud of using in the kitchen at this time of year?
Our goose comes from J.J. Ahern and this year we are going to be getting organic turkeys from Gavin Lynch who has just set up his own farm, rearing bronze turkeys, called Hells Kettle Organic Farm and based just up the road from us in Gleann of Imall, so it's not too far away.
Mick Healy up in Wild Irish Game is the same, we would be dealing with him and the likes of Ed Hick a lot. Mick just dropped in about six or eight haunches of venison there a couple of weeks ago which was very unexpected and a great addition to this Christmas!
Around Brooklodge at this time of year it's a real Christmassy feel, the decorations are up; it's lit up outside; we have the peat fires going. Inside the restaurant we serve a bit of sloe gin with sorbets and stuff...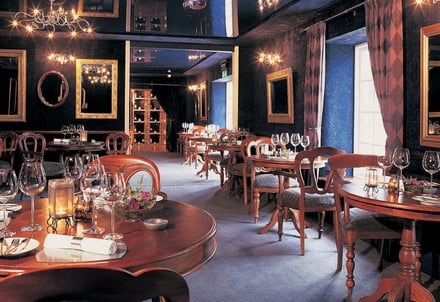 In the Strawberry Tree Restaurant, are there any alternative or special dishes for this Christmas?
Really, once we hit December the whole style of the menu would change and spices begin coming into it. It's a real Christmassy feel to it all.
This year we are going to do spiced beef a little differently. We are going to take an organic beef fillet which will be coming from Co. Tipperary. We are going to cure it for about two days with all the spices then just cook it lightly and almost serve it like a carpaccio on the Strawberry Tree menu.
We obviously have a few Christmas parties and stuff in and the pastry chef this year is doing 'Christmas in a jar' - it's basically a little dessert served in a kilner jar including an orange and white chocolate cream cheese, Christmas pudding ice cream, gingerbread pudding; it's exactly what it says on the tin you know!
A sorbet we've now had on is a cranberry, orange and Prosecco sorbet. We also have roast pheasant with a cranberry compote at this time of year and we have pork fillets, which we cure ourselves, as a kind of take on roast ham – glazed with a Highbank Orchard Syrup.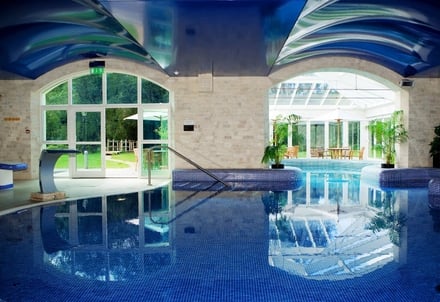 Anything special or exciting coming up for BrookLodge Hotel and Spa in 2013?
Straight away in February we are hosting the EuroToques AGM, 70 or 80 chefs from around the country are gathering we will be doing a big tasting menu for them as well, sitting along one big table, which will be quite special.
As the year rolls on, closer to summer, we will be hosting our markets, on the first Sunday of every month. This year was the second year we held the wild and slow food fesatival, a two day festival held in November which was extremely successful too so hopefully that will return as well..
Patrick Hanlon
For a wonderful Christmas treat, choose a luxurious gift for the multi award-winning BrookLodge Hotel and Wells Spa at Macreddin Village, Good Food Ireland 'Culinary Hotel of the Year 2012/13'. Play a round of golf at the Paul McGinley-designed Macreddin golf course, choose a complete pampering experience at the Wells Spa or go walking or horse riding through Macreddin Woods. No matter how relaxing or energetic you choose, this will be a very memorable gift!
Vouchers can be tailored to suit requirements or choose from a selection of readymade packages from €150 which are available instantly online, including Christmas Day, or can be posted out to you or your desired loved one. To order Christmas vouchers, phone The BrookLodge Hotel, Macreddin Village, Aughrim, Co. Wicklow on 0402 36444 or log onto www.brooklodge.com.