Seasonal, fresh and Irish. When it comes to food, these are the buzzwords getting everyone excited and it's easy to see why.
Eating fresh, local food that's in season simply makes sense. As you probably know, it's not only bursting with flavour – it's healthier for you too. It's good for the environment and it's also supporting local businesses, so everyone's a winner.
Seasonal, fresh and Irish
That's why we've launched Tesco Homegrown in Ireland. When you see the Homegrown logo you'll know that what you're getting is seasonal, fresh and Irish.
Homegrown means that as soon as it's available, we aim to get the very best of fresh Irish food to you before anyone else – Irish weather permitting of course!
Good news for corn on the cob lovers
Take our Homegrown, Irish corn on the cob. The fresher the corn, the more succulent and juicy it will be. It's all about how quickly it gets from the field into your local Tesco supermarket. That's why we rely on our farmer, Rowland Newenham from Carrigaline, Co. Cork, to deliver corn on the cob daily to Tesco, when in season, for absolute freshness.
The Newenhams have farmed vegetables for generations - since the 1600s at least - so they know a thing or two about growing. Sweetcorn needs heat and sun and while this has been scarce during our Irish summer the crop has had a very encouraging start. 160,000 seeds were planted between early May and June which means fresh, juicy Irish Sweetcorn arrives on our shelves mid September.
The taste of early autumn
Irish corn on the cob is in season this month and it's one of the easiest vegetables to enjoy. Grill it, bake it or boil it and serve with a knob of butter. Or try the recipe below, for an even more special flavor.
Grilled Irish corn on the cob
Preparation time: 15 mins
Cooking time: 15 mins
Serves: 4
Ingredients:
4 corn on the cob, leaves removed
40ml olive oil
1 large Romaine lettuce, leaves separated and heart cut into 4
2 large salad tomatoes, cut into wedges
small bunch of chives, chopped
1 avocado, de-stoned and quartered
½tsp dried chilli flakes
lime wedges, to garnish
For the dressing:
50ml groundnut oil
1tbsp white wine vinegar
½tbsp wholegrain mustard
½tsp dried chilli flakes
salt
pepper
Method:
1. Pre-heat the grill to hot.
2. Brush the corn with the olive oil and season well with salt, pepper and some chilli flaked.
3. Grill until lightly charred all over, turning occasionally.
4. Meanwhile, whisk together the white wine vinegar, mustard, seasoning and chilli flakes in a small mixing bowl until smooth. Whisk in the olive oil in a slow, steady stream until you have a thickened dressing.
5. Arrange the lettuce, tomato and avocado between 4 serving plates.
6. Lay a corn on top and dress with the dressing. Garnish with the lime wedges and some chopped chives before serving.
Alternatives: Melt butter with some lemon zest and cayenne pepper. Serve the sauce over boiled corn on the cob.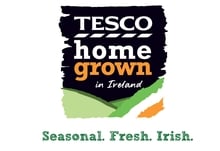 When you see Tesco Homegrown on fresh food you'll know it is seasonal, fresh and Irish.
This is a TESCO advertorial