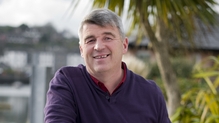 Martin Shanahan is the owner of the award winning Fishy Fishy Restaurant and Café in Kinsale County Cork. A graduate of Rockwell Catering College Martin spent his early career working in The Butler's Arms in Waterville. He then became head chef at the popular restaurant Jim Edwards in Kinsale, and later went on to open Kinsale's first gourmet store.

Martin's popular and simple cooking style with fish was born from his time in San Francisco's prestigious Huntington Hotel. He also spent time working in Germany.

Martin is currently working alongside Paul Flynn on 'Surf n' Turf', RTÉ One, Wednesdays at 8:30pm.