Superquinn will be kicking off their very first steak and wine sale from May 31 for 3 weeks only. To put you in the know, wine guru Richard Moriarity matches different cuts of steaks with their perfect wine.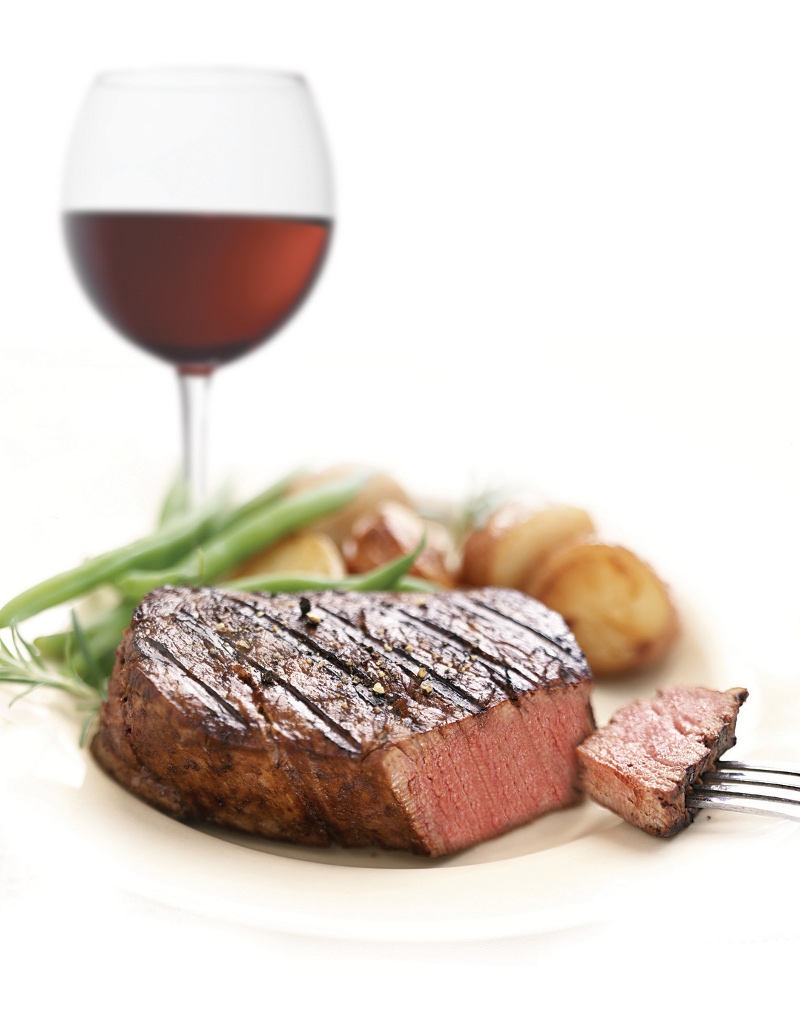 The Science Bit
We all know that the flavour of red wine complements the flavour of steaks, but down at the molecular level something more complex is going on whereby, the wine affects the flavour of the steak and vice versa.  This happens because the tannin that you find in red wine bonds very easily to protein, which is found in your saliva and also the protein of the steak itself.  This has two effects, firstly by bonding with the protein in your saliva this increases your level of saliva, which then helps to break down the steak when you are chewing.  Secondly the tannins bond with the protein in the steak that helps to break down the steak as well. What you end up with is the tannin in the wine softening out the steak and the protein in the steak softening out the tannins.  A win-win situation for both!
Fillet
I wouldn't normally think of Pinot Noir as a match for steak but the best pairing by far is when it is cooked rare, with a Red Burgundy (our SQ Pommard 2009 is a good choice). A 2010 Spy Valley Pinot Noir is slightly too sweet but works better when the fillet is served medium-rare and has acquired more caramelisation.  It is also good if you serve the fillet with béarnaise sauce.  The medium-rare fillet also goes particularly well with a Chateauneuf-du-Pape 2011 which is a young wine that has enough power to cope with the texture and yet not too much flavour so that it overpowers the steak, this is particularly important if you do not have a sauce with your steak
Sirloin/Striploin
Sirloin, in my view, is the ideal cut for serving blue because it has so much flavour of its own it doesn't need to rely on caramelisation. This was where I think our most tannic wine, a blockbuster 2008 Madiran scores well. It is a fair match, but barely cooked meat has the effect of unbalancing the wine and making it taste slightly sweet, as it does with the Châteauneuf-du-Pâpe. The outstanding matches are the 2010 Bordeaux from Alexis Lichine and the 2010 Malbec from Dona Paula, both still quite youthful so the barely cooked meat has the effect of making them taste at their peak.
Rib-eye
Rib-eye has more fat than other cuts so go for a slightly longer cooking time to allow it to integrate with the meat. It makes for a juicier and more flavourful steak. When served medium rare pair it with a 2009 SQ Saint Joseph and a 2010 Chianti Barone Ricasoli both of which are ripe and full-bodied, but the slightly higher acidity in the Chianti helps cut through the higher levels of fat in the steak
When it is cooked medium both wines show more youthful angularity and the smoother Châteauneuf-du-Pâpe and Argentine Malbec become the better matches. If you are going medium/well done, it changes again, go for more fruit-driven wines like the Wyndham Estate Shiraz 2009.
White
I would also like to touch on the thorny subject of matching white wine with steak.  I've never been one to follow convention, and if you don't like red wine, it doesn't matter what wine you choose you just aren't going to appreciate how well it may match your steak.  So if you are a white wine drinker, there are a few findings from my tasting that may help you.
CUT – Go for a leaner cut of steak such as a fillet
COOK – Go for a short cooking time as white wines tend to pair better with rare steak
SAUCE – Maybe go for a creamier sauce on your steak and match the wine with this
In a nutshell - if you like your steak rare stick to leaner, more classic wines whereas if you like it better done (and therefore more heavily caramelised) go for riper, more fruit driven ones.
Superquinn's first Steak and Wine Sale, starts on May 30th for three weeks only. Customers will have the opportunity to save up to 33% on steak, plus enjoy savings on selected wine included in the sale.