Over 200 Centra stores across the country have signed up to host a pink walk which will see thousands of people pounding the pavements this October - Breast Cancer Awareness Month. All funds raised will go directly to this worthwhile charity, which helps provide information, advice and support services for women with breast cancer in Ireland.
23 counties will see their communities turn pink and take to the streets of their local towns, villages and cities to raise much needed funds while increasing awareness of breast cancer in Ireland. Four large-scale walks will take place in Waterford, Galway, Dublin and Cork, with local community walks taking place in localities across the country, from the picturesque village of Union Hall in West Cork to the community of Clonmany in Donegal, to the towns of Maynooth and Urlingford. Centra aims to build on the success of last year's fundraising campaign which raised over €500,000 for the charity.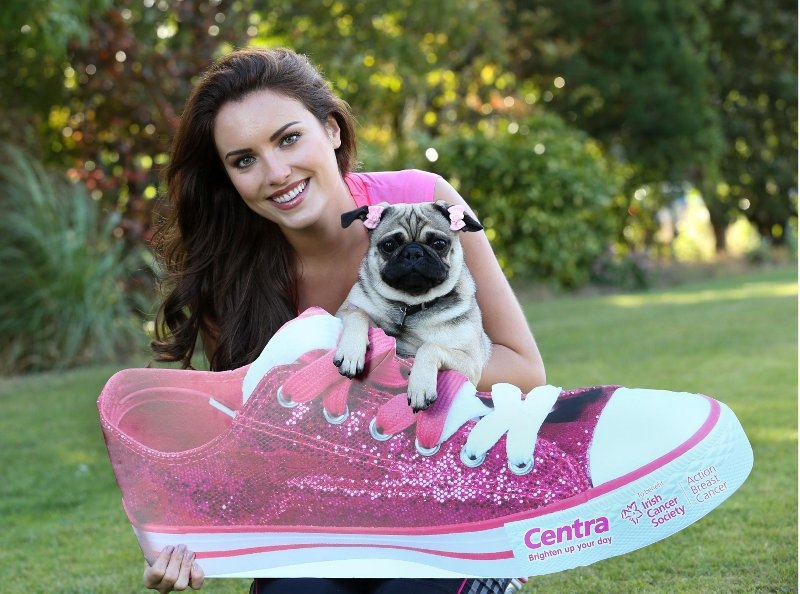 Holly Carpenter Launches Centra's Pink Walks for Irish Cancer Society's Action Breast Cancer
Commenting on the launch of Centra's Walks, Martin Kelleher, Managing Director of Centra, said: "Centra's walks for the Irish Cancer Society's Action Breast Cancer campaign have been a huge success to date growing year on year, increasing two-fold on last years numbers. It is a testament to our stores who show real community spirit and drive much needed funds for a cause that touches so many people around the country. At Centra, we continuously look at new and innovative ways to drive our fundraising endeavours and we hope this year will be the most successful to date."
For those who would like to participate, just visit your local Centra store, register and get walking to raise much needed funds for the Irish Cancer Society's' Action Breast Cancer programme. You can check out the details of walks taking place on www.centra.ie . This is the fourth year that Centra has supported the Irish Cancer Society's' Action Breast Cancer campaign and the walks have been a huge driver of funds by communities coming together with the annual campaign raising over €1 million to date.
In addition, throughout October, Centra will be selling a specially designed 'bag for life' in 460 stores nationwide for €3, with proceeds going to the worthwhile charity. Centra will also be selling special pink products instore, such as flowers, plants, milk, apples and mushrooms, with a donation being made to the Irish Cancer Society Action Breast Cancer fund.
The Irish Cancer Society's Action Breast Cancer is Ireland's leading provider of breast cancer information and support, reaching over 25,000 women who are concerned about breast cancer and breast health every year. The Society strives to ensure that everyone affected by breast cancer has the support they need, when they need it. Anyone concerned about breast cancer or breast health should call the Irish Cancer Society's National Cancer Helpline on Freefone 1800 200 700.
If you plan on bringing your pooch on a pink walk this October then make sure to register him/her with your local Centra store beforehand!!