Nespresso reveal their brand new range to further enrich the coffee experience of their loyal customers.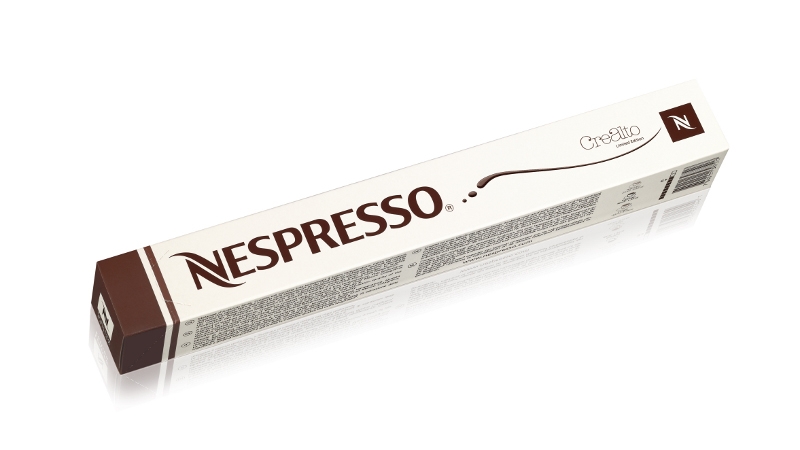 Crealto bursts onto the scene with a rich, heavy aroma, due to the long-roasting technique at a low temperature. On an intensity scale of 1 to 10, Crealto comes in at an 8, the round roasted notes of the blend are best enjoyed as an espresso, but also as a kick to milk recipes, while milk encourages a subtle nutty aroma.
The name  Crealto  stems from the combination of "Createur" and "Alto", referencing the alta cucina (high gastronomy).  Crealto  is the latest Limited Edition coffee from Nespresso  – a one-off unique blend outside the brand's collection of 16 permanent Grands Crus. 
"At  Nespresso  we are always looking for innovative ways to surprise our Club Members with unique coffee discoveries that unveil new sensorial experiences," commented Alexis Rodriguez, Green Coffee Specialist, Nestlé Nespresso S.A. "We have worked with world class chefs for a long time, as there are many synergies between  Nespresso  and the world of high gastronomy, but had yet to collaborate on the development of a Limited Edition coffee."
The unique character of Crealto  is achieved by simmering the beans at a low temperature three times longer than average  Nespresso  roasting times. As with cooking, the longer, meticulous process allowed the extraction of every aroma and flavour, by cooking all notes harmoniously allowing it to develop roasted notes that are round and a long lasting taste.
Crealto  is now available at the  Nespresso  boutiques in Brown Thomas Dublin and Brown Thomas Cork, as well as on the  Nespresso  website  www.nespresso.com