It's coming into summer and fresh food is available in abundance, Patrick Hanlon rounds up ten of the best foods to eat right now...
1. Dublin Bay Prawns
We've just seen another successful year for the Dublin Bay Prawn Festival, which was held on one of the sunniest and warmest weekends we've had so far this year. Dublin Bay Prawns are entering the peak of their season right now, with the freshest taste and best value of the year.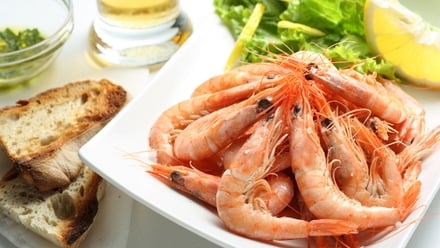 We couldn't profile fish without mentioning Martin Shanahan in the same breath. As Mr. 'Fishy Fishy' himself, he has a great recipe from recent series Surf 'n Turf for a Dublin Bay Prawn salad with razor clam.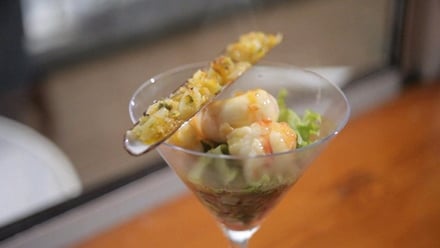 There's lots of recipes on our site which include prawns as a secondary feature in dishes, but two great starring recipes include Derry Clarke's seared DB prawns with Clonakilty black pudding and Aidan McManus' simple and delicious garlic buttered DB prawns.
2. Spinach, watercress and rocket
Summer beckons the freshest salads of the year and the warm air makes cold salads a real refreshing treat. Choose from the many, many salad recipes on our site for simple and quick ideas to enjoy these seasonal greens, but we have a few choice selections from the pack for you to try right now.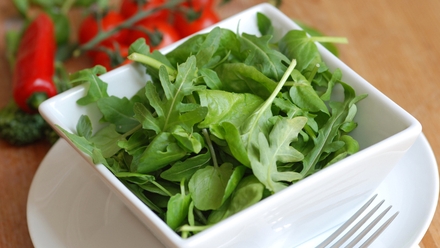 Pasta-making is a skill in itself, so with time and dedication, this MasterChef Ireland rocket pesto tagliatelle recipe from season one is a knock-out and full of seasonal freshness - though maybe leave out the gold leaf!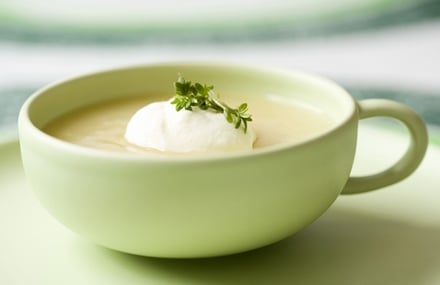 For those unexpected, niggling cold days this watercress soup recipe from Derry Clarke is a bowl full of indulgence, while Donal Skehan's creamy spinach gnocchi is a lovely evening meal.
3. Strawberries
The beacon of Summer's arrival, without question. The sight of fresh, plump and bright Irish strawberries soothes the Irish soul and comforts us with the knowledge that the warm months have finally arrived.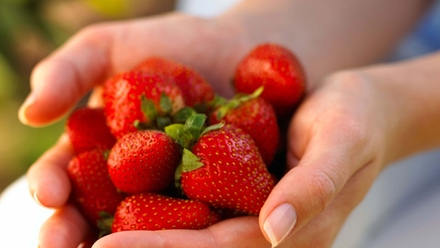 These sweet little pay-offs are almost worth the six months of single figures we patiently put up with beforehand. Drizzle 'em in some balsamic, celebrate them within Eton mess or even devour them right from the punnet. If preparing a meal, here's three of our favourite strawberry recipes.
Jelly and strawberries go hand in hand, and Paul Flynn's strawberry jelly with buttermilk granita is decadent yet straightforward. For something different, try Nicha Maguire's pancakes with strawberry mascarpone from MasterChef Ireland, and for something a little more indulgent, try Sheila Kiely's strawberry, hazelnut and toffee meringue.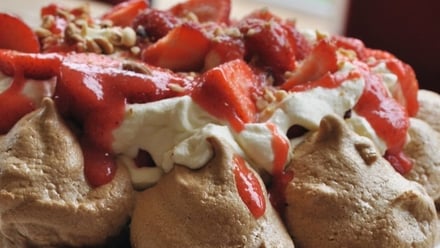 4. Tomatoes and peppers
When you think of summer, you instantly think of brightly coloured fruits and vegetables, fewer of which are brighter than juicy red tomatoes and crisp green, yellow and orange peppers. Both are as good raw as they are slowly stewed or grilled.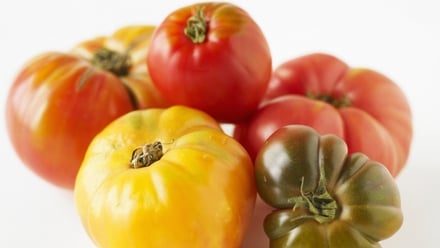 Donal Skehan's slow-roasted cherry tomatoes are stunning whether on their own or as a component of a bigger dish. Tesco currently have their first batch of Irish tomatoes in the form of their Finest Piccolo cherry variety.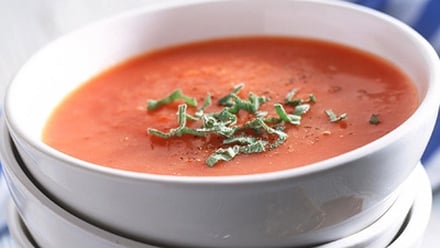 Combining both the above, Neven Maguire's roasted tomato and red pepper soup is great served hot or cold, and either a snack or a starter - Éamonn Ó Catháin's char-grilled pepper bruschetta is a crowd-pleaser without a doubt.
5. Rhubarb
The first of the forced rhubarb was available over the past month or so but now it's the turn of the delicious, colourful and tart outdoor rhubarb.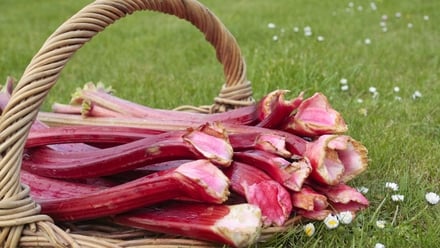 We love Edward Hayden's rhubarb pannacotta, served in lovely little jam jars, or you could try out this sea trout with poached rhubarb and wilted samphire recipe from MasterChef Ireland.
6. Lamb
Though Easter is merely a few weeks past at this stage, most people forget about the beauty of lamb right throughout the late spring and into summer. Lamb is at its absolute best right now, bigger than the lamb available at Easter for obvious reasons. Extra time gives it better flavour, especially after the wet, wild and cold beginning to this year the animals had to endure.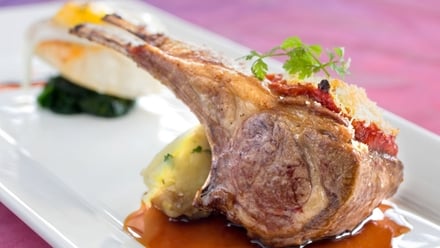 We have a heap of lamb recipes on site, but for an easy choice depending on your cut, try Clodagh McKenna's lamb leg recipe, or Neven Maguire's braised shoulder and rump of local lamb recipes.
7. Asparagus
Some people are averse to trying or being excited by asparagus, if you are to believe the affect they apparently have on certain peoples' bodily functions.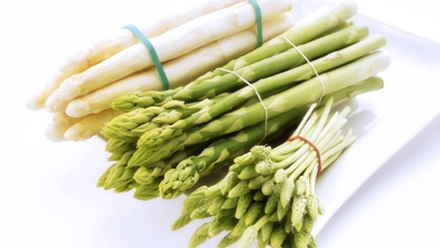 No matter your opinions, asparagus are a crunchy and fresh welcome to summer. Enjoy them roasted in parma ham as a starter from Derry Clarke, in a unique salad with deep fried duck egg and truffle mayo or simply blanched with a sauce of your choice.
8. Crab
Though smaller brown crab is available almost year-round, April/May marks the beginning of the plentiful season for large spider crab. Though a bit of a job to buy whole and prepare from scratch, it's definitely a good skill to have and does bear the most value for money.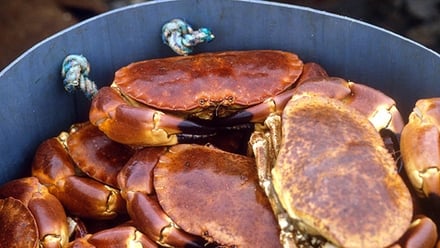 Coming back to the expert of the sea, Martin Shanahan has a great recipe for a rich and creamy crab crumble. Don't you dare throw away those crab shells either! After the hard work of extracting the meat it's a sin to throw away shell when you could make a wonderful fish stock or a crab bisque, using Rachel Allen's bisque recipe for example.
9. Cucumber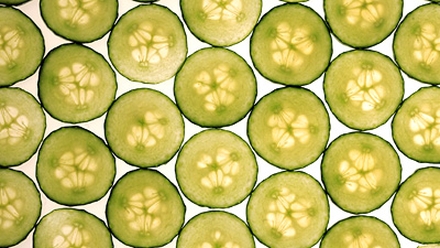 Some can taste 'em, some can't. They say it's genes, and though cucumbers can be up to 90% water, they can be delicious hot or cold in a variety of ways. What better way to ring in the summer season than with cucumber sandwiches and some afternoon ice tea!
Seema Daily's cucumber raita is great as an accompaniment to hundreds of dishes, especially crudités and select curries. If entertaining guests, Paul Rankin's duck teriyaki with cucumber pickle is satsifying and sure to impress.
10. Aubergine
Finally, we come to our last seasonal vegetable and it's the humble, often overlooked aubergine.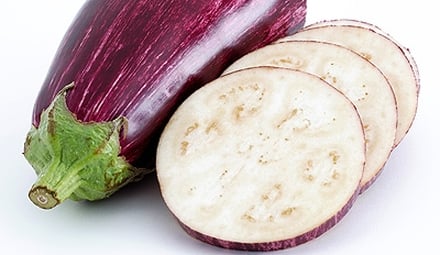 Three simple and easy ways to use this beautifully purple and delicate vegetable include a spiced yet cooling Middle-Eastern baba ghanoush, a grilled aubergine, pepper and mozzarella stack from Jill Dupleix and Dr Eva orsmond's aubergines stuffed with ratatouille.
What are you cooking coming into summer season? Let us know in the comments below or on Twitter if you make anything from above or have your own recipes to try out.
-Patrick Hanlon