Breakfast on Christmas Day is one of the nicest breakfasts for us as a family. Our tradition is pancakes and to be honest, there would be a Christmas of discontent if I tried to change it.
I feel that it is important to have something prepared for Christmas morning, even though we eat far too much on the day. It is best prepared ahead as some will go walking or even swimming in the morning. The recipes below could also be used for weekends before Santa arrives.
Breakfast is such a great meal to share with others; there are two points for me that are important: to have good quality coffee or tea and I prepare as much as possible the night before, to make my time special. And as always, have fun. This time of year isn't about the glitter and the wrappings, it's about being there for everyone.
Wishing you and your family a very Merry Christmas from all of us there in Ballyknocken
Catherine
www.ballyknocken.com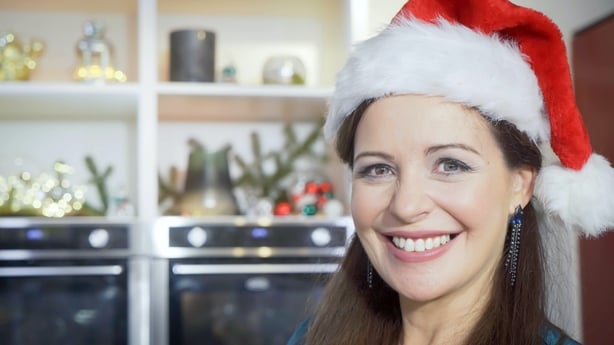 De-stressing Christmas
Place your orders early for turkey and ham.
Have your Christmas recipes to hand.
Do one thing at a time.
Plan ahead, keep those checklists going.
Delegate – everyone will be only too happy to bring something.
Keep up the exercie, it is a great way to de-stress.
Be patient and kind to yourself and have a treat from time to time.
Don't forget to say "no" from time to time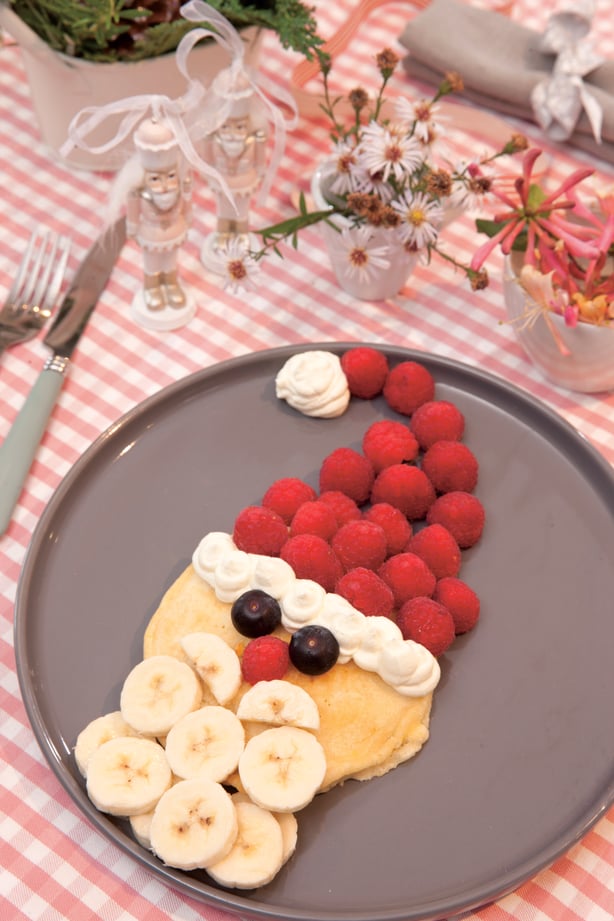 Santa pancakes
I love a bit of food art! The children will love doing this one and being creative. Take loads of photographs for the memory walls!
Serves 6
For the pancakes
180g plain flour
1 tsp baking powder
200ml milk
60ml water
2 eggs
2 tbsp rapeseed oil
Rapeseed oil, for frying
2 bananas, peeled and sliced
A few blueberries for eyes
200g raspberries
200ml whipped cream in a piping bag
To make the pancakes, sift the flour and baking powder into a medium size bowl.
Stir in the milk, water, eggs and oil, whisk until a smooth thick batter is formed.
Heat a non-stick large frying pan with a little rapeseed oil over a medium heat.
Ladle batter into the pan, forming 2 medium-sized circles for Santa's face. When you see bubbles around the edge of the pancake, carefully turn them over and cook on the other side until golden. Keep warm. Repeat to finish the batter.
To assemble, place a pancake onto each plate, arrange slices of banana in the shape of a beard and slice one in half for his moustache. Arrange the raspberries on each for this hat. Place 2 blueberries for eyes and a raspberry for his nose.
Snip the tip off the disposable piping bag and pipe in his hair below the hat. There you have Santa's happy face to enjoy.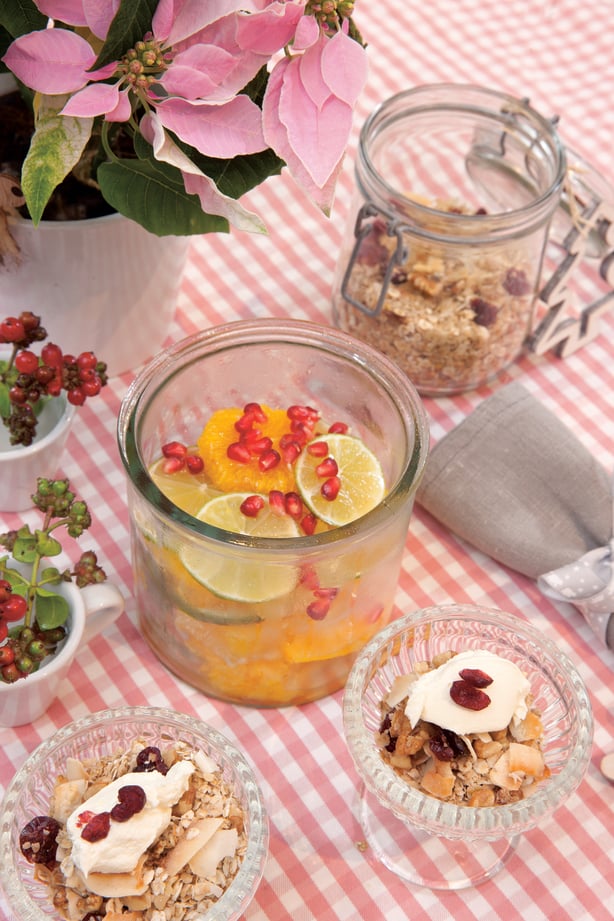 Honey citrus salad with granola
A little bit more adult and it is best made the day before; the granola can easily be prepared a few days before hand for a stress-free morning with really lovely flavours.

Serves 4 to 6
For the citrus salad
3 to 4 oranges, peeled and sliced
2 limes, sliced and halved
3 lemons, peeled and sliced
3 tbsp honey
Juice of ½ lemon
4 to 5 tbsp pomegranate seeds
For the granola
2 tbsp rapeseed oil
200g porridge oat flakes
2 tbsp poppy seeds
60g coconut flakes
4 tbsp dried cranberries
70g walnuts, roughly chopped
½ lemon zest
Natural Greek yoghurt, to serve
To prepare the fruit, layer the oranges, limes and lemons in a pretty bowl. Pour the lemon juice into the honey and stir very well.
Pour this over the fruit and leave overnight in the fridge.
To prepare the granola, pre-heat the oven to 140°C/fan 120°C/gas 1. Place all the ingredients into a bowl, mix well so that the oil is incorporated. Line a tray with parchment and pour out the mix. Bake for 20 to 25 minutes or until golden. Toss from time to time. Leave to cool completely.
Spoon into a jar and can be kept in a sealed jar for 2 to 3 weeks. Serve with natural Greek yoghurt.