In my humble opinion, eating al fresco makes food taste better! Being in nature brings a sense of peace, it is relaxing and de-tressing and a great way to enjoy the fresh air. It doesn't have to be a big investment of time or money to set up for dining outdoors: blankets and cushions will suffice for a simple approach to set up. For effect, why not add herbs in planters? Not only will they look great, but add good flavours when you are cooking.
Festive outdoor tablecloths always look good – I keep a collection of old throws from sofas which work really well too. I don't fuss about matching delph; an eclectic mix gives a great relaxed vibe. And for the final flourish, I string up outdoor lights or use layers of lighting by hanging lanterns at different levels, which will look amazing in the evening. I know this all sounds like a lot but honestly, it's a simple set up and a very relaxed vibe to enjoy your outdoor space.
Catherine
www.ballyknocken.com
Al fresco tips
Let the weather lead your menu preferences, e.g. chilled soups for hot days!
Choose finger foods like slices of quiche or watermelon and grape skewers.
Those "tear and share" recipes for bread are easy to make and work very well.
Have a buffet which is informal and frees up space at the table.
You'll need some citronella candles to keep away the insects!
If it's a daytime meal, have sun protection available or remind everyone to bring their own.
Have plenty of ice in containers for cooling drinks and enough hydrating drinks available as well as slices of oranges or lemons. A simple drinks station is always helpful.
Keeping it cool
A large container is ideal for outdoors and these acrylic ones are superb. A great size to fit in the ice and all the drinks.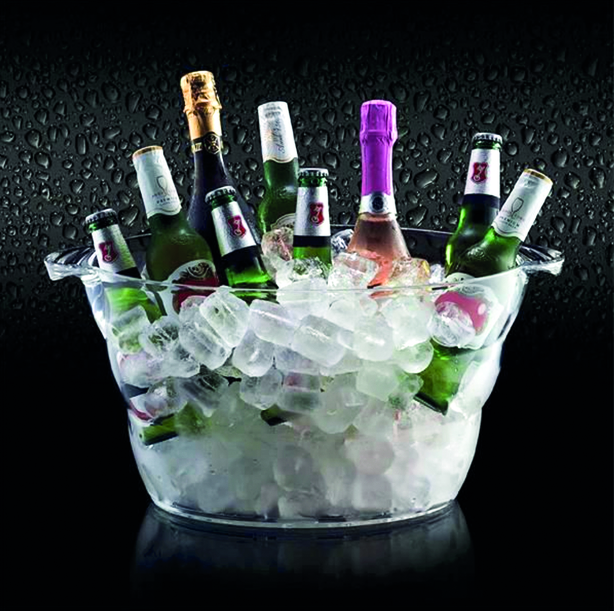 Acrylic Large Oval Drinks Pail, €49.95 + postage, meadowsandbyrne.com

Chilled orange tomato soup with basil oil
Adding orange juice transforms tomato soup to the next level. Ensure that the soup isn't too thick, especially if you are using pretty vintage cups.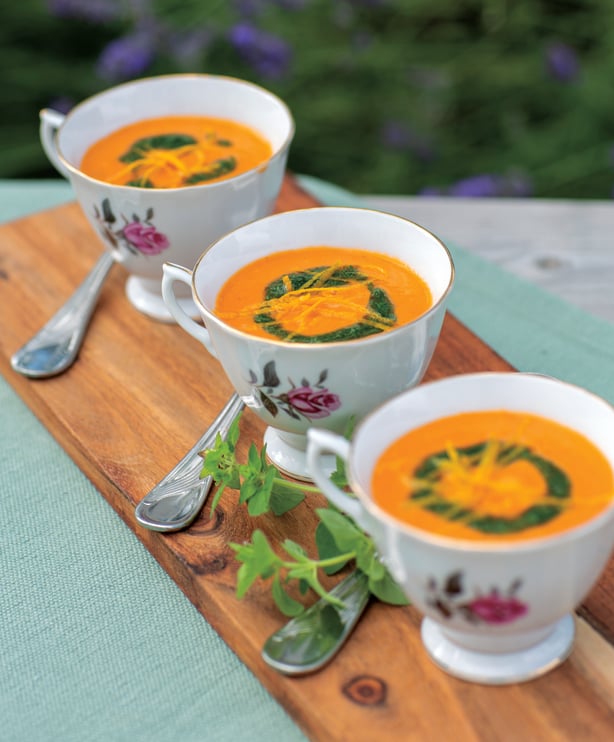 Serves 4
For the soup
1 tbsp rapeseed oil
2 shallots, sliced
2 celery stalks, trimmed and finely diced
2 garlic cloves, finely diced
1 tbsp chopped oregano
400g tinned diced tomatoes
650ml vegetable stock
Juice of 2 oranges
1 tsp honey
4 basil leaves
Salt and freshly ground black pepper
For the basil oil
12 basil leaves
70ml extra virgin olive oil
½ tsp salt
A squeeze of lemon
Orange zest, to garnish
Method
For the soup, heat a little oil in a saucepan over a medium heat. Sauté the shallots and celery until soft and translucent but not brown, this will take about 5 minutes.
Add the garlic, oregano and tomatoes. Season with salt and freshly ground black pepper and simmer this for 5 minutes.
Pour in the vegetable stock. Bring to the boil, reduce the heat to a simmer and cook for 15 minutes. Remove from the heat.
Stir in the orange juice, honey and check the seasoning again, adding salt and freshly ground black pepper. Add the basil leaves and blend until smooth. pour into a jug and leave to cool completely.
Add a few ice cubes and stir well. Check that the soup is not too thick. Add a little more orange juice if necessary.
To make the basil oil, add basil leaves, oil salt and a little lemon juice into a blender and whizz until smooth. Pour into a jar and seal with a lid. This will keep in your fridge for 2 to 3 weeks. You need to take it out ½ hour before serving and give it a good stir.
To serve, pour into pretty cups or mugs. Using a tablespoon, swirl the basil oil on top. Garnish each with orange zest and serve immediately.
Parma ham & berry summer salad
I love this salad: it's easy to put together, delicious, summery and looks great! There is no stress involved and is perfect for al fresco dining.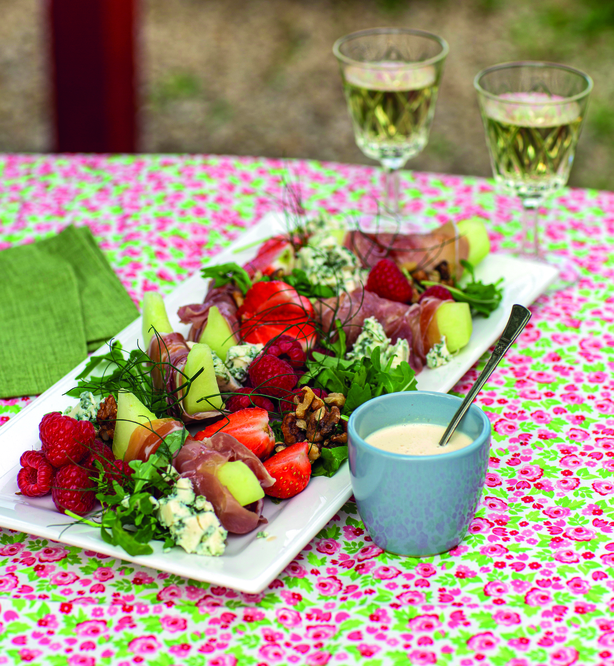 For the salad
1 cantaloupe or honeydew melon, peeled and sliced in medium size wedges
50g prosciutto de Parma
60g baby spinach leaves and or rocket leaves
9 sprigs of fennel
150g strawberries, hulled and halved
100g raspberries
70g blue cheese, crumbled
50g walnuts, roughly chopped
For the dressing
3 tbsp sherry
60ml sherry vinegar
100ml extra virgin olive oil
4 tbsp sour cream
½ tsp Dijon mustard
Salt and freshly ground black pepper
Fennel sprigs, to garnish
You'll need a large platter
Method
For the salad, wrap strips of prosciutto de Parma around each melon wedge and place on a large platter.
Arrange the baby spinach leaves or rocket leaves around on the platter. Arrange groups of strawberries in between and add the raspberries in groups as well.
Crumble the blue cheese in between. Sprinkle the walnuts in small clusters in between.
To make the dressing, place the sherry, sherry vinegar, olive oil, sour cream, Dijon mustard into a bowl and whisk very well. Season with salt and freshly ground black pepper. Serve the dressing separately. Garnish the salad with sprigs of fennel. Serve the salad with thin toasted slices of sourdough.