Pastry, creamy fillings and fruit - this is how I see scrumptious summer tarts. They are impressive and look great and are of course, delicious. What's not to like about such homemade pleasures in a sunny garden, surrounded by pretty flowers and herbs, with a cuppa or glass of vino to relish the summer season?
There is no need to keep to fruits, though, as Irish-grown summer vegetables like courgettes, beetroot or spring onions are ideal for making tarts to take on picnics, to the beach or on a hike. We've the best cheesemakers here as well, so combining all these wonderful ingredients makes perfect sense and it also saves on the shopping bills.
This week, I've included tips on working with pastry, especially useful for this time of the year when it can be a bit challenging in a warm kitchen.
Happy baking!
Catherine
www.ballyknocken.com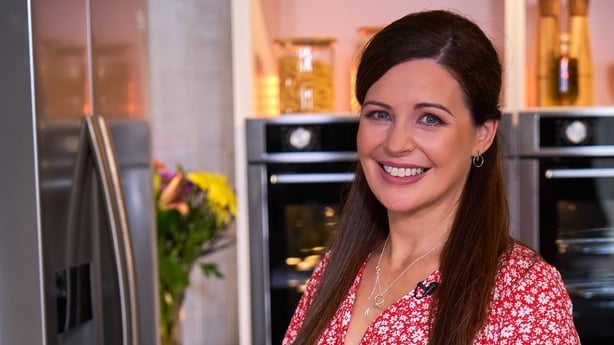 Tips for working with pastry
Keep everything cool, the butter especially.
Make your pastry by hand – machines tend to overwork the dough.
Keep your hands cool – wash them in cold water.
The oven should be hot – 210°C or 220°C for blind baking.
I like to choose a rich pastry for fruity tarts. Use icing or caster sugar and an egg yolk to give a lovely rich buttery smooth pastry base. For vegetable tarts, I would use a basic pastry which uses chilled water to bind together.
Pastry will need at least 20 minutes for it to rest in the fridge. This is so that it does not shrink when baked. I like to wrap my pastry in parchment paper and leave for 30 minutes before I roll out.
Work lightly with your fingertips as overworked warm pastry looks dull.
You'll need a large bowl, knife for cutting the butter into the flour, wrap for the fridge, rolling pin, extra flour to roll out, baking beans and a buttered loose based flan tin.
You can freeze pastry successfully, but you need to give it time to thaw out in the fridge before rolling out.
Tip Tins
Perforated tart or flan tins are great. The point of these holes is to allow the air to circulate during cooking, ensuring a lovely golden colour, crisp pastry and no "soggy bottoms"!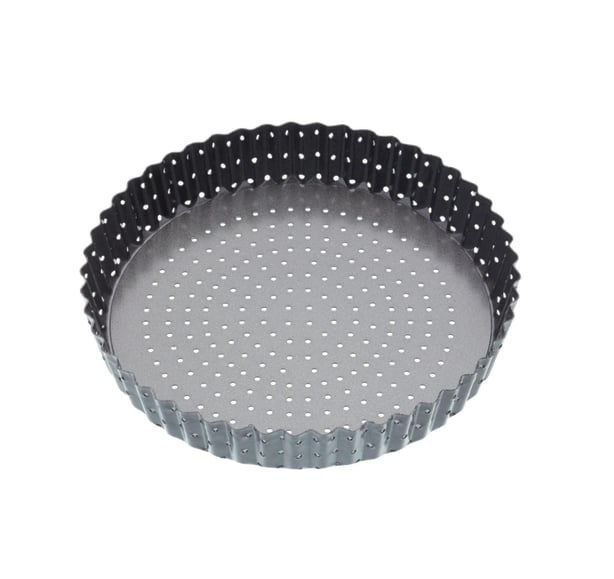 MasterClass Crusty Bake Non-stick Fluted Quiche Tin 25cm, €20.95 + postage, thekitchenwhisk.ie

Beetroot fig & goats cheese tart
This is neither sweet nor savoury – it replaces your dessert and a cheese course in one! I love it as I'm getting some sweetness as well as all the cheese flavours and of course, scrumptious wedges of figs and beetroot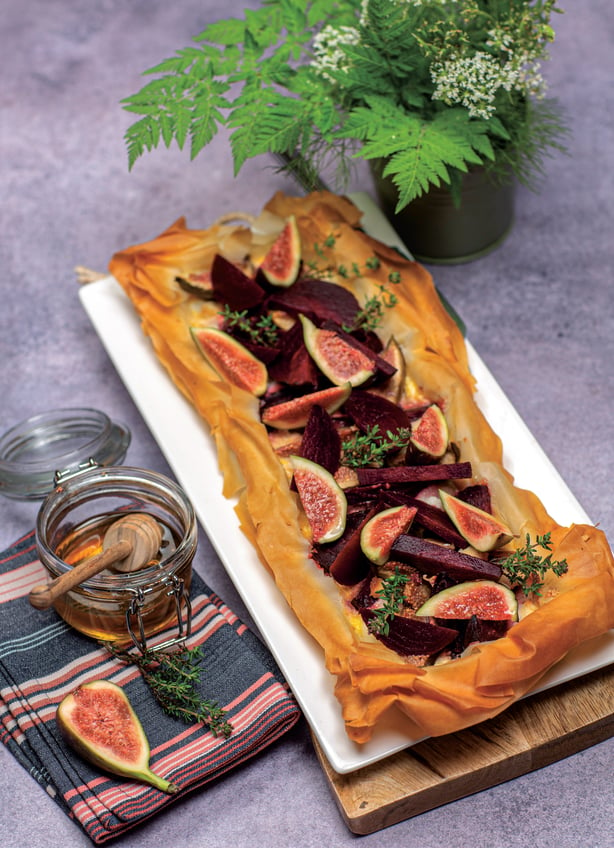 Serves 8
3 sheets filo pastry
4 tbsp melted butter
For the filling
1 tsp butter and 1tbsp olive oil
3 shallots, sliced
1 tbsp chopped chives
80g soft cream cheese
160ml cream
4 eggs
1 tsp chopped thyme
Salt and freshly ground black pepper
2 medium sized steamed beetroots, sliced into wedges (they must be cold)
2 figs, sliced into wedges
60g goat's cheese
Sprigs of thyme, to decorate
2 figs, sliced into wedges, to decorate
1 medium sized steamed beetroot, sliced in thin wedges (they must be cold), to decorate
Honey, to drizzle on top
Method
Pre-heat the oven to 180°C/fan 16°0/gas 4.
To prepare the tin, brush a fluted loose-based rectangle tin, 36cm x 10cm, with melted butter. Place this on a baking tray.
Brush each filo pastry sheet with melted butter and place them on top of each other. Transfer these pastry layers into the tin and lightly press them into the sides, leaving some pastry hanging over the sides.
To prepare the filling, heat the butter and oil in a frying pan and add the sliced shallots, sauté until cooked. Leave to cool slightly.
Mix the chives, cream cheese, cream, eggs, cooked shallots and thyme in a large jug. Season with salt and freshly ground black pepper.
Arrange the beetroot wedges, fig wedges and crumble the goat's cheese into the base of the pastry. Pour the creamy egg mixture over.
Bake for about 20 to 25 minutes until golden but keep an eye on it. If the pastry is becoming too dark, place a piece of foil over the top. Bake until set. Place the tart on a cooling rack.
To serve, add wedges of beetroot and figs on top. Drizzle honey over and arrange sprigs of thyme.
Berry cream tart
Sometimes this is referred to as a tart cake. It is great for special family occasions. The layers can be made the day before and kept in a sealed container. The cream can be ready in the piping bag the day before as well, so all you do is an assembly job when you want to serve. It is so versatile, add use any fruits you want or chocolates and sprinkles, edible flowers, and herbs.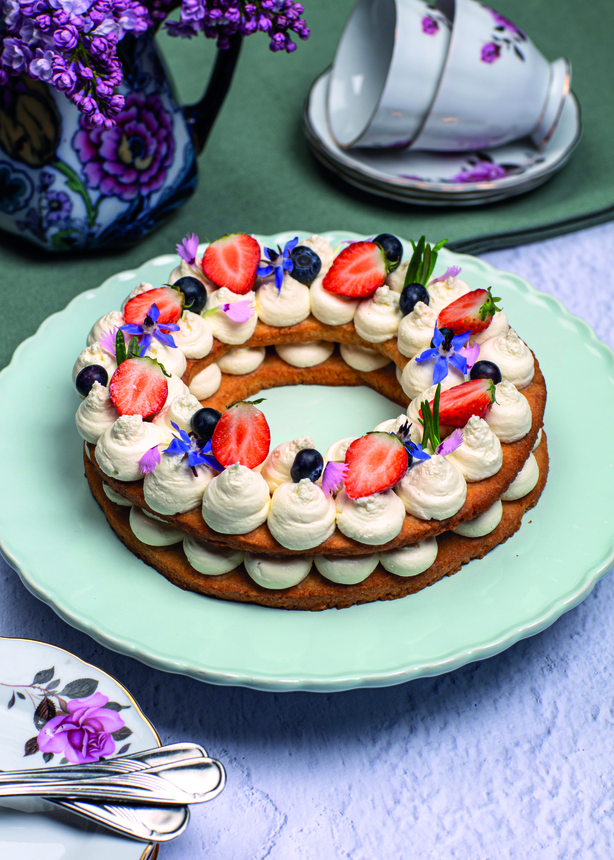 Serves 8 to 10
For the pastry layers
220g softened butter
60g sifted icing sugar
1 whole egg and 1 egg yolk
300g plain flour
80g finely ground almonds
For the filling
250g mascarpone
120ml cream
4 tbsp icing sugar
1 tsp vanilla extract
150g mixed fresh berries, to decorate
Edible flowers, to decorate
Rosemary or thyme or mint, to decorate (optional)
Mini meringues or macarons, to decorate (optional)
You will need a sheet of paper to cut out a shape as a template.

Method
To prepare the pastry layers, cream the butter and icing sugar together until light and fluffing. Add in the whole egg and yolk. Sift the plain flour in and add the ground almonds and mix well. If you feel that it is too stiff, add a teaspoon or two of water.
Divide the pastry in 2, making each round and flatten slightly. Wrap and leave in the fridge for an hour.
Pre-heat the oven to 190°C/fan 170°C/gas 5. Cut out your paper template; I used a circle with a hole in the centre, but hearts are really gorgeous!
Roll out until 1½ cm in thickness. (don't make it too thin) on the parchment paper that you will be baking on. Place this template on the pastry, cut out the shape with a knife. You will need to cut out 2 layers of pastry. Knead together the excess pastry, wrap in parchment and it will keep for up to 4 days so you can make biscuits.
Carefully transfer the parchment piece with the pastry shape on it onto 2 baking trays and bake for 15 minutes. Leave to cool on the tray before moving it.
To decorate, the layers must be completely cold. Place the mascarpone into a bowl, add the icing sugar and vanilla extract, beat with an electric whisk. Add the cream and whisk well until stiff.
Spoon into a piping bag fitted with a plain nozzle. Carefully, place one baked pastry layer onto a cake stand. Pipe small peaks over the first layer. Fit the next pastry layer on top and pipe over that one neatly. Arrange the berries, herbs and edible flowers, meringues and macarons, if you are using them, over the top to finish. Serve immediately.