With the summer looming, I felt it would be good to have some really tasty and colourful recipes to hand for the long, lazy weekends. When it comes to planning for those relaxing days, I tend to choose those recipes that are not only delicious but look great too and don't take too much time to prepare and cook.
My tip is to make a few sauces and dressings ahead when you have a little extra time, so they are ready to use. Have all the ingredients to hand is an added plus to being able to have an enjoyable weekend.
Happy cooking!
Catherine
www.ballyknocken.com

Make the most of your weekend kitchen
Have a well-stocked fridge and a selection of spices, so you don't have to rush to the shops.
Leave time during the weekend to do meal prep for the first half of the week.
Prepare a large, easy one-pot to enjoy and the rest can be frozen for the second part of a busy week.
Make marinades ahead of time and keep them in sealed jars in the fridge for up to 4 days.
Push out the food challenge boat slightly during the weekend so that everyone can experience other flavours.
I treat myself to a new gadget from time to time that will help me work smarter.
Chicken skewers with mint-pineapple salad & an orange-maple dressing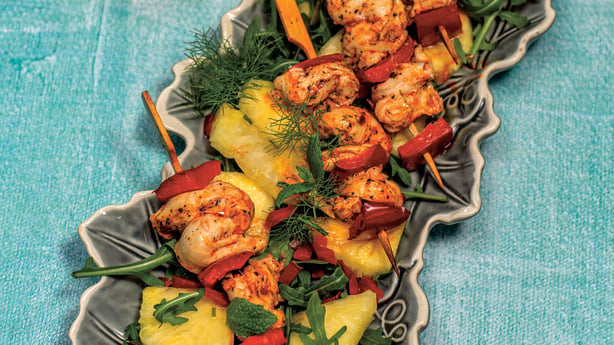 The maple flavours with pineapple and chicken are really delicious, and full of beautiful colour. Change the maple syrup for some local honey in both the marinade and dressing. Instead of pineapple, try slivers of mango for the salad.
Makes 8 skewers
For the marinade
1 garlic clove, finely chopped
2cm grated fresh ginger
1 tbsp chilli sauce
4 tbsp maple syrup
60ml orange juice
2 tbsp water
½ tsp salt

For the skewers
3 large chicken breasts, sliced lengthways into thin strips
1 red pepper, roughly diced
Bay leaves, to thread (optional)

For the dressing
2 tbsp maple syrup
½ tsp Dijon mustard
60ml orange juice
1 tbsp chopped chives
Salt and freshly ground black pepper
For the salad
1 pineapple, peeled, cored and sliced
80g rocket leaves, to serve
8 mint leaves
2 tbsp diced red pepper, for the top
8 metal or wooden medium size skewers (if you are using wooden ones, soak in cold water for 1 hour so they don't burn when chargrilled)
To make the marinade, combine all the ingredients in a shallow bowl.
To prepare the skewers, thread chicken strips in an 'S' shape onto each skewer together with red pepper pieces and bay leaves (if you are using them) in between. Don't pack it too tightly as the chicken must cook through fully.
Leave the skewers in the marinade while you prepare the dressing and salad.
For the dressing, stir the maple syrup, mustard, orange juice and chives together. Season with salt and freshly ground black pepper.
For the salad, arrange the slices of pineapple on a platter and add the rocket leaves. Add the mint leaves on top.
To cook the skewers, heat a chargrill pan, brush the skewers with oil and cook for 9 to 10 minutes, turning to cook on all sides. Check that they are fully cooked. Allow to rest for 2 to 3 minutes while keeping warm.
To serve, arrange the skewers on the salad. Sprinkle over some diced red pepper. Spoon over some dressing and serve the rest of the dressing separately.

Prawn noodle bowl with coriander drizzle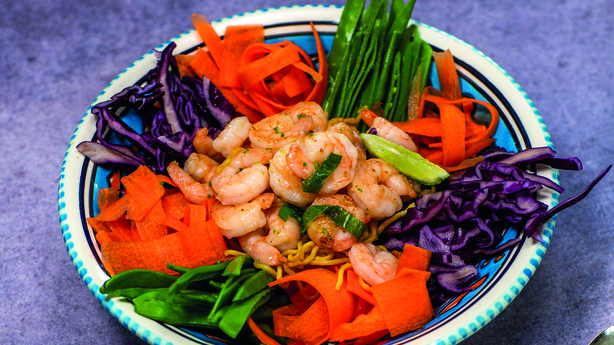 I try to use a selection of bright colours when choosing the vegetables for salads. Shred the red cabbage very finely or even steam it if you aren't a great fan of raw cabbage. Prepare vegetables ahead by slicing them and keeping in sealed containers with a little water in the fridge.
Serves 4
For the dressing
A large bunch of coriander
1 tbsp roughly chopped parsley
1 tsp grated fresh ginger
2 tsp honey
50g toasted almond flakes
4 tbsp rapeseed oil
For the salad
80g carrot ribbons
60g mangetout, sliced in strips
80g red cabbage, finely shredded
250g cooked noodles (your favourite choice)
For the prawns
1 tsp butter and 1 tbsp rapeseed oil
300g prawns, de-veined and shelled
1 red chilli, sliced
3 spring onions, sliced
½ lemon, zest and juice
Coriander leaves, to garnish
Lime or lemon wedges, to serve
For the dressing, place all the ingredients into a food processor and blend until smooth. This should be fluid enough to be spooned over the salad. Add in a little water if you feel that it is too thick.
For the salad, arrange the carrot ribbons, mangetout strips and shredded red cabbage in groups around a large bowl. You can also use individual bowls. Add the noodles in the centre.
To prepare the prawns, heat a frying pan with butter and oil. Add the prawns, then the red chilli and spring onions. Sauté until the prawns are cooked – they will turn pink. Add lemon juice and zest and cook for 30 seconds. Spoon the prawns over the noodles.
Spoon some of the coriander drizzle over or serve it separately. Arrange coriander leaves on top. Serve with limes or lemon wedges.