In some ways, I can't believe that this year has gone so fast and that we are already back into lunchboxes after the summer. This is the time when we can get the family back into a healthy routine and lunchboxes are a starting point.
Over the years, I have found it helpful to involve the children in preparing the lunchboxes; after all, they have a vested interest!
To get ahead, it can be good to have a dedicated prep time on a Sunday which saves time in the mornings. For example, you can get grating the cheese, chopping veg or roasting chicken which will help all week with that constant thought of 'What to do for the lunchbox?'
Children enjoy a variety of familiar foods so if I have a new food to try, I test it first at home, rather than putting it straight in the lunchbox.
Dips are always popular and what a great way to add vegetables to the lunchbox – the likes of celery, carrots and cucumber to dip into hummus or a light cheese dip or perhaps a strawberry or blueberry dip.
Catherine
www.ballyknocken.com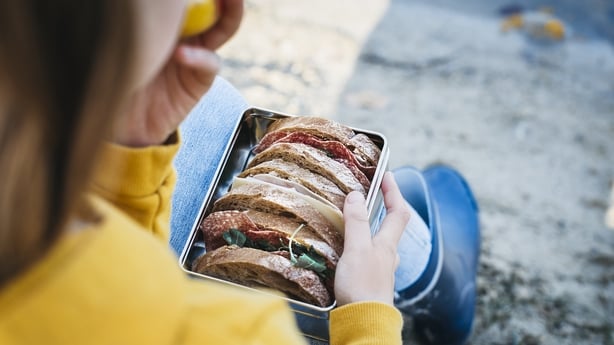 Fresh Lunchbox Ideas
Here are some non-sandwich options
Pasta salad filled with roasted vegetables or steamed greens with a light mayo, Greek yoghurt and herb dressing.
Courgette fritters with grated cheese and tomato sauce.
Brown rice salad with pineapple, spinach and toasted seeds.
Quinoa chicken salad with shredded lettuce, grated cheese and carrots.
Wholewheat pancakes with roasted veg and pesto rolled up like pinwheels.
Falafels with lettuce and diced mango.
Bean, tomato and cheese burritos.
Tortilla triangles filled with beansprouts, avocado, shredded chicken and mayo.
Slice of an 'everything from your fridge' frittata.
Pack a Flask
Having a food flask is a really good investment, a thick hearty soup can be poured in, it will still be warm at lunchtime and as September is generally still warm, a smoothie can be taken as well – versatile!
Black and Blum Stainless Steel Food Flask, €33.95 + postage, thekitchenwhisk.ie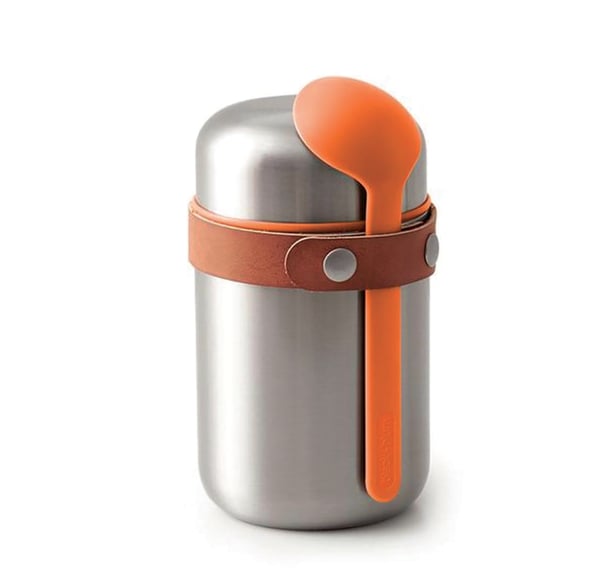 Granola Bites
There are no nuts in these and less refined sugars then most treats, although of course, there are natural sugars in the cranberries and dates. These dried fruits can be substituted with chopped dried pineapple, chopped dried apple, dried banana chips or dried sour cherries.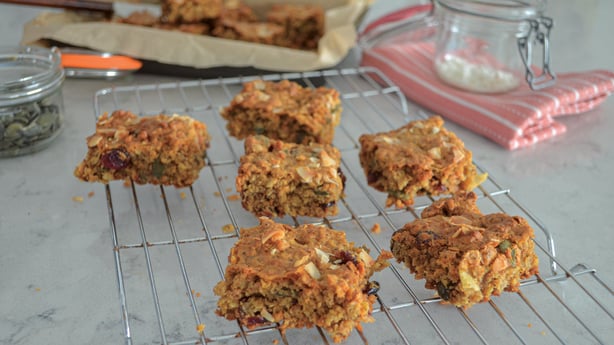 Makes 15 squares
100ml rapeseed oil
2 eggs
2 tbsp honey
150g oat flakes
70g spelt flour
1 tsp baking powder
3 tbsp muscovado sugar
2 tbsp tahini paste
3 ready to eat dates, finely chopped
3 tbsp dried cranberries
3 tbsp pumpkin seeds
2 tbsp sunflower seeds
2 tbsp chia seeds
1 orange, zest
1 tsp vanilla extract
2 tbsp coconut flakes, for the top (optional)
Pre-heat the oven to 180°C/fan 160°C/gas 4. Line a 18cm x 25 cm baking tin with parchment.
Place the rapeseed oil, eggs and honey in a jug and whisk well with a fork.
Mix the oat flakes, spelt flour, baking powder, muscovado sugar, tahini paste, chopped dates, dried cranberries, pumpkin , sunflower and chia seeds in a bowl. Add the orange zest, vanilla extract and stir well.
Stir in the egg mixture and transfer to the lined tin and press out with the back of the spatula or spoon. Bake for 25 minutes until golden and baked.
Cut while still warm into squares and leave for 10 minutes in the baking tin before moving to a cooling rack. When cold, pack into a tin.
Lunchbox Bacon Fusilli Pasta Salad
You can use any green vegetables leftover from the night before ,like peas, celery and broad beans. The grated carrot gives it some extra colour and moisture. Instead of the lettuce, add spinach. Prepare all the components the night before and add the mayo in the morning.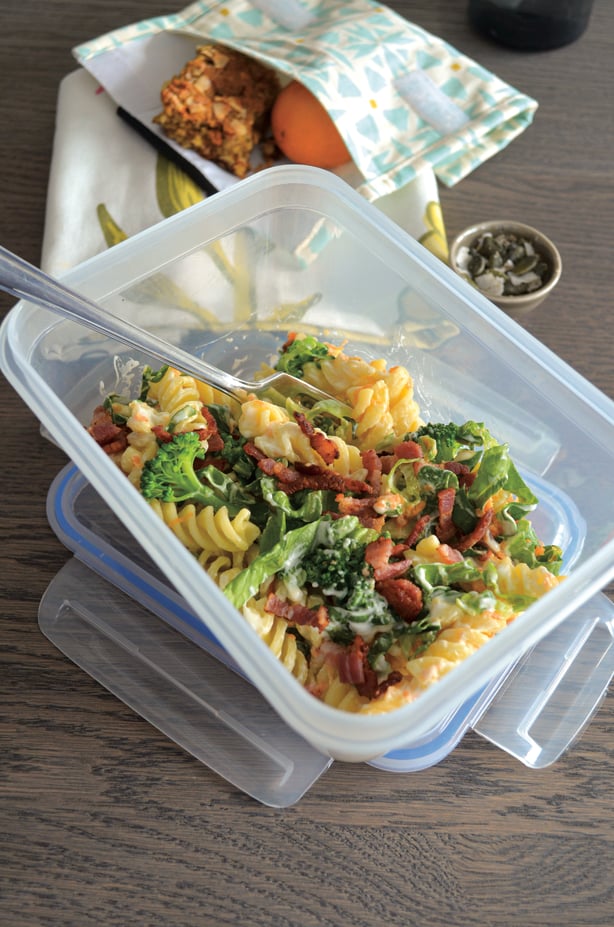 Serves 1
2 rashers cooked bacon, sliced finely into lardons
100g cold cooked fusilli pasta
4 steamed cold green beans
3 steamed cold small broccoli florets
½ medium carrot, grated
A good handful shredded lettuce
5 grapes, halved
1 tbsp mayonnaise
1 tbsp natural yoghurt
1 tbsp water
1 tbsp chives
Heat a frying pan with a little oil, add the bacon lardons and fry until crispy. Leave to drain on a plate lined with kitchen paper.
Place the cooked pasta into a bowl. Slice the beans finely and add to the pasta. Add the broccoli florets, green beanss and grated carrot and mix well.
Combine the mayonnaise, natural yoghurt, water and chives together and whisk well with a fork. Spoon this into the salad and mix lightly before adding the shredded lettuce and the grapes.
Lightly mix and spoon into the lunchbox. Seal tightly with a lid.