Typical of North African and Middle Eastern cooking, dates are always to hand in my kitchen. I love how versatile they are – I can add them to baking such as sticky toffee pudding as well as a savoury dish such as a lamb tagine.
While they are high in sugar, they also are a good source of fibre and contain some excellent nutrients such as iron and calcium.
The Medjool dates that we usually find here are wonderful: they stay fresh for a long time because they are naturally slightly dehydrated, so the natural sugars act a way of preserving them so they will stay fresh in your fridge for a while.
I find them slightly mysterious in cooking as they give the most amazing sweetness that blends incredibly well with a range of spices, meat and vegetables and I hope that you will be adding them to your shopping basket a little more!
Catherine
www.ballyknocken.com

How to make a date paste…
This is a great natural sweetener so you can substitute some of the sugar in muffins, biscuits, marinades and glazes and it is delicious with cottage cheese on a seed cracker. This will keep, sealed in a jar, for up to 3 months in the fridge.
Method
Pour 800ml water into a saucepan and add 220g pitted Medjool dates.
Bring to a simmer and then turn the heat off and leave for 10 minutes to soak.
Spoon the dates into a blender and pour in 300ml of the soaking liquid.
Blend until a smooth paste. Spoon into a jar and seal.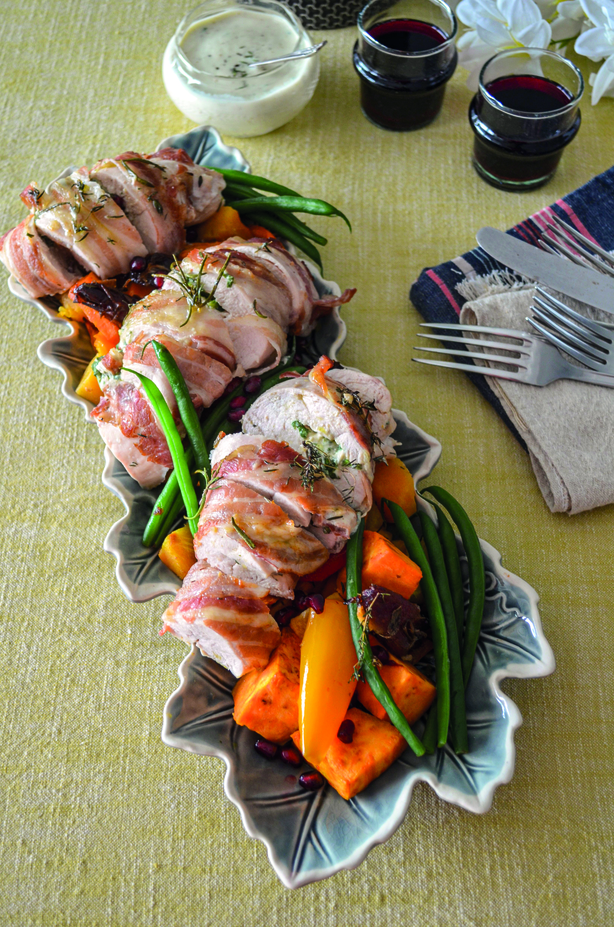 Date & sherry chicken bake
If you have any vegetables leftover here, blend them with stock and a few herbs and you will have a tasty soup
Serves 4
2 yellow peppers, de-seeded and sliced
2 orange or red peppers, de-seeded and sliced
200g diced sweet potato
200g diced butternut squash
8 Medjool dates, pitted and halved
½ orange, zest only
4 sprigs of thyme
For the chicken
20g spinach or chard, shredded
3 tbsp soft cream cheese
½ tsp ground cumin
4 medium chicken breasts, slice a pocket cut on the side of each
8 pancetta strips
Rapeseed oil
Salt and freshly ground pepper
For the sauce
300ml chicken stock
150ml crème fraîche
3 tbsp sherry
1 piece of orange peel
½ tsp ground cumin
2 tsp arrowroot
2 tbsp chopped chives
Rapeseed oil
Salt and freshly ground black pepper
Pomegranate seeds, to garnish
Steamed green beans, to serve
Method
Pre-heat the oven to 180°C/fan 160°C/gas 4. Place the sweet potato, peppers, butternut squash and Medjool date halves on a roasting tray or shallow gratin dish. Season with salt and freshly ground black pepper and spoon over some rapeseed oil and add the sprigs of thyme.
For the chicken, combine the cream cheese, spinach or chard with cumin and add salt and freshly ground black pepper. Spoon the spinach mix into the chicken pockets and wrap each chicken breast with 2 strips of pancetta. Place the chicken fillets in between the vegetables, place in the oven to roast for about 25 to 30 minutes or until the chicken is fully cooked. Move the vegetables around a little so they caramelise on all sides.
For the sauce, combine the chicken stock, crème fraîche, sherry, orange peel piece and cumin in a saucepan, bring to the boil and then reduce the heat to a simmer, stirring from time to time. Season with salt and freshly ground black pepper. Add 2 tbsp of water to the arrowroot and mix well, add to the sauce and whisk until thickened. Check the seasoning again and add the chopped chives.
To serve, leave the chicken to rest for 3 minutes before slicing. Spoon the vegetables onto a platter and arrange the sliced chicken on top. Add the green beans and sprinkle over the pomegranate seeds. Serve the warm sauce separately.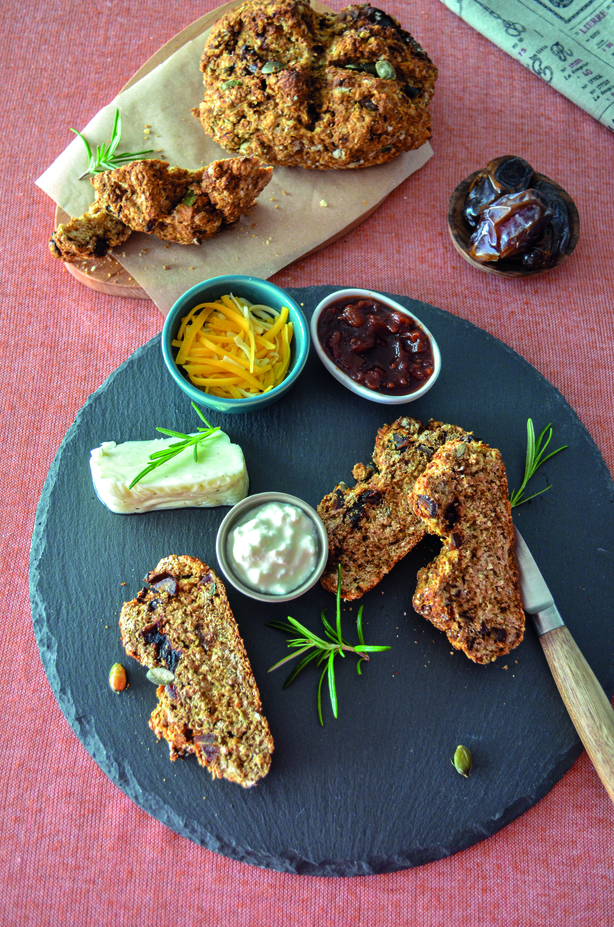 Vanilla date & mini loaves
I love to bake items that can be served savoury or sweet and these little loaves tick that box. They are great for lunches with hummus or pâté but equally delicious with homemade raspberry jam and whipped cream. Serve them on your cheese board too, as they go particularly well with Brie and a mature Cheddar.
Makes 3 small loaves
200g stoneground wholemeal flour
250g plain flour
1 tsp salt
2 tsp milled chia seeds
1 tbsp sunflower seeds
1 tbsp pumpkin seeds
60g Medjool dates or ready to eat dates, chopped
1½ tsp bread soda
¾ tsp vanilla bean paste
2 tbsp treacle
320ml buttermilk
Pumpkin seeds for the top
Method
Pre-heat oven to 200ºC/Fan180°C/Gas 6. Line a baking tray with parchment.
Mix the dry ingredients together in a large bowl with the dates (except the bread soda). Sift the bread soda into the dry ingredients so there are no lumps.
Add the vanilla and treacle to the buttermilk and mix well with a fork. Pour in enough buttermilk to form a stiff dough. Divide into three, place on a floured surface and shape each into an oval, using a knife cut a cross into the dough without cutting all the way through.
Sprinkle over the pumpkin seeds. Bake in the pre-heated oven for about 20 minutes. Reduce the oven temperature to fan160ºC and bake the mini loaves for a further 12 minutes or until cooked and they should be risen and a hollow sound should come from the base of the bread when tapped. Leave to cool on a rack.