Who doesn't love a good picnic? It doesn't matter if they are up in the mountains, at the beach, in a garden or just on my patio, food always seem to taste better outside!
For those of us staying close to home, why not create a little picnic space to escape to? Hang jars of flowers in the trees, put up bunting or a wigwam and paint an old pallet to make a great ground 'table' with loads of cushions around and baskets filled with food and drinks. It's about creating a little getaway but still staying local.
So, this week, I have delicious recipes and lots of tips for the perfect picnic.
Catherine
www.ballyknocken.com
Fab al fresco
If you don't have to carry items too far, then use wooden boards for arranging foods on but there are plenty of gorgeous smaller melamine platters around this season.
Keep the food bite-sized finger food with fresh simple salads which require minimum cutlery.
Wrap rolls or sandwiches, slices of quiche in pieces of parchment, tied with string and tuck in a sprig of rosemary, lavender or even a garden rose.
Add plenty of ice with herbs like lemon balm and mint to drinks in carafes or jugs.
Choose homemade drinks that are seasonal, reflecting the summer vibe, like watermelon, peach or elderflower spritz.
If you are on a cycling or walking picnic, use a rucksack style picnic bag as it will have plenty of compartments to add special items like homemade chocolate chip biscuits, muffins or your own homemade energy seed and chocolate mix.
A thermos for iced homemade lemonade or iced tea will be very impressive.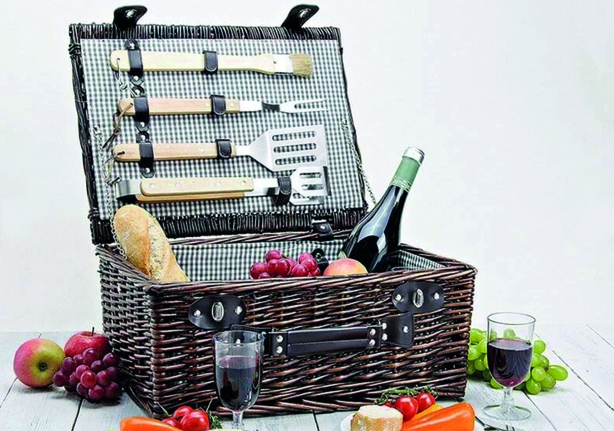 Basket case
The second important item is the picnic basket, the food being first! I do love a large wicker one, that is if you have a few people to share the carrying of it. There are some beautiful artisan ones around and they're durable, tactile and eco-friendly. If it is just one or two of you and you're heading on a hike, then a rucksack style is best.
Picnic Basket For 4 Persons, €79 + postage, foxfordwoollenmills.com
Potato, thyme & feta rolls
Easy finger food is needed for picnics and this one ticks the box. Make the filling the day before or even the entire rolls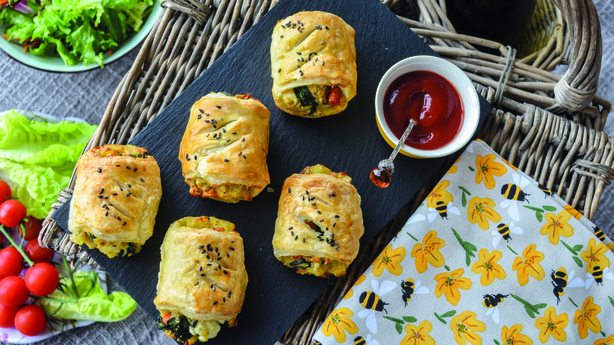 Makes 12
3 shallots, sliced
2 carrots, peeled and finely diced
2 large potatoes, peeled, rinsed and finely diced
2 cloves garlic, finely chopped
2 tsp chopped thyme
½ tsp dried red chillies
4 tbsp red lentils
250ml vegetable stock
20g spinach leaves
60g feta cheese
375g ready roll puff pastry (your preference vegan, vegetarian or made with butter)
Egg wash (1 egg plus 2 tbsp water)
Rapeseed oil
Salt and freshly ground black pepper
Black sesame seeds, for the top (optional)
Method
To prepare the filling, heat a saucepan or a large frying pan with oil, add the shallots, sauté for 3 minutes before adding carrots, potatoes and sauté for 2 to 3 minutes, stirring from time to time.
Stir in the garlic, thyme and dried red chillies and red lentils.
Pour in the stock and bring to the boil, reduce the heat and simmer for about 15 to 17 minutes but this time depends on the size of the diced potatoes and carrots. Stir from time to time until the potatoes and carrots are just cooked.
Check the seasoning, adding salt and freshly ground black pepper. You want this filling to be a little dry, so if you have too much liquid, allow it to cook off but stir it from time to time also trying not to break up the diced potatoes too much.
Take off the heat and stir in the spinach leaves. Leave to cool completely before using. Then, crumble in the feta cheese.
Pre-heat the oven to 200°C/fan 180°C/gas 6. Line a baking tray with parchment.
To make the rolls, unroll the pastry and lightly roll it lengthways 2 or 3 times. Cut it in half lengthways. Mix the filling and divide in half and place one portion along the centre of one half of the pastry, ensuring that it is even across the length. Brush both sides with egg wash and roll up. Repeat for the other piece of pastry.
Slice each roll into 6 portions and place on the parchment-lined tray. Using a sharp knife make 2 small slashes on the top of each roll. Brush with egg wash and sprinkle with black sesame seeds on top if you are using them. Bake for 22 to 25 minutes until golden and the pastry is cooked. Leave to cool on a rack.
Chicken fennel fusilli salad
Pack into jars or small tubs so that the portioning is already done, but one large tub is also fine. Remember to pack a serving spoon!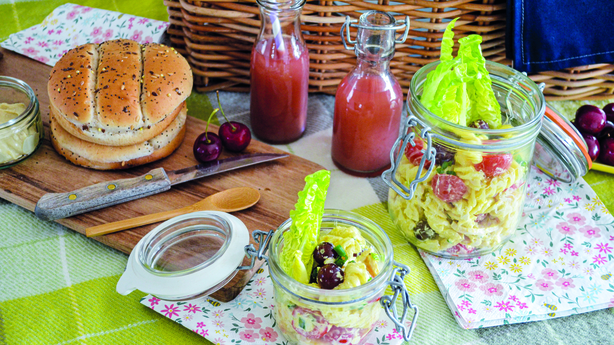 Serves 4
4 tbsp mayonnaise
4 tbsp crème fraiche
¼ tsp turmeric
2 tsp chopped chives
Juice of ½ lemon
¼ cup of cold liquid from cooking the pasta
300g cooled cooked fusilli pasta
150g sliced, roasted chicken, roughly shredded
½ thinly sliced bulb of fennel
8 cherry tomatoes
20 seedless black grapes
2 finely sliced spring onions
Salt and freshly ground black pepper
1 gem lettuce, cut in wedges
Method
Place the mayonnaise, crème fraiche, turmeric, chopped chives and lemon juice in a bowl and mix well.
Place the cooked pasta in a bowl and add the mayonnaise mix. Pour in the reserved cooking water and mix well.
Add the roasted chicken and slices of fennel. Halve the tomatoes and add these in.
Stir in the black grapes and sliced spring onions. Check the seasoning and add salt and freshly ground black pepper if needed. Leave to infuse for 3 hours.
Spoon into containers, jars or one large tub and add the lettuce wedges on the top. Seal and pack into your picnic basket.