Good salad dressings and fresh local salad ingredients tick all the boxes for me at this time of the year. I usually make two to three different dressings at a time so we've a selection in the fridge and it never gets boring. They are inexpensive to make from scratch and taste delicious.
Now, onto the vegetables: those 'cut and come again' salad leaves are easy to grow and you'll get plenty of leaves all summer. In fact, there are a good few salad vegetables that can be grown in a patch or in pots near the kitchen door, including spring onions, courgettes (although these will need a fairly large container), beetroot and radishes are winners for salads. Those will keep your salad bowls filled!
Catherine
www.ballyknocken.com
Mustard & honey classic
2 tsp wholegrain mustard
5 tbsp rapeseed oil
The juice of 1 lemon
2 tsp honey
A little salt and freshly ground black pepper
Whisk all this together and pour into a sterilised bottle.
Asian style
½ tsp wasabi paste
Grate 2cm fresh ginger
5 tbsp rapeseed oil
1 tbsp rice wine vinegar
1 tsp maple syrup
Whisk it together very well. A little secret with salad dressings is to be generous with the sweetening – either honey, maple syrup or sugar; this will bring out all the flavours and your dressings will taste better.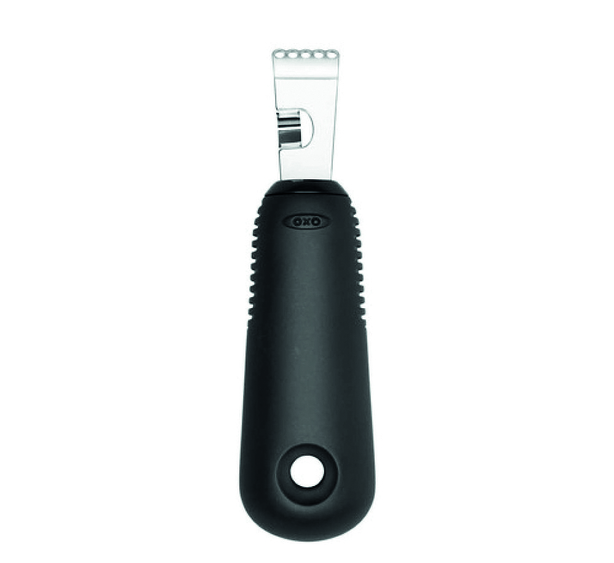 Zest for life
A small gadget like this will transform your salad presentation. In fact, it is invaluable in the kitchen and I wouldn't be without one. The strips look neat and even and it's so easy to use. Choose one that has an easy grip non-slip handle. OXO Good Grips Citrus Zester & Channel Knife, €10.95 + postage, thekitchenwhisk.ie
Broccoli & walnut salad
This sunshine salad is so versatile, I sometimes add shredded spicy chicken or even crispy pancetta, slices of chargrilled haloumi or tofu which are all delicious. You can make the dressing a few days in advance as it will keep well.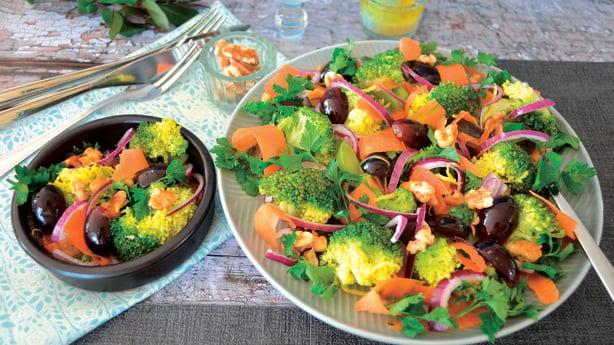 Serves: 4
For the dressing
2 lemons, juice only
75ml rapeseed oil
2 tsp Dijon mustard
1 to 1½ tsp honey
Salt, to taste
For the salad
1 medium size head of broccoli
1 red onion
2 large carrots, peeled
12 seedless red grapes, halved
4 tbsp walnuts, roughly chopped
Flat leaf parsley, to garnish
To prepare the dressing, pour the lemon juice into a bowl, whisk in the oil while adding in the mustard and honey. Season with salt and set aside.
Trim the florets off the broccoli stem. Peel and trim the stem so you can use this as well. Slice the stem into thin slices.
Place into a steamer and cook for 10 minutes. Drain and place into iced cold water. Leave until cold. Placing the broccoli into iced water will keep the bright green colour.
Slice the red onion finely.Using a Y vegetable peeler, peel the carrots into ribbon lengths.
To assemble the salad, place the broccoli florets on a platter. Separate the onion slices and arrange over the top. Arrange the carrot ribbons in between the florets. Spoon over a little dressing. Sprinkle over the grape halves and walnuts. Garnish with flatleaf parsley and spoon over a little more dressing.

Greek style orzo salad
This substantial salad is delicious with barbecued pork fillet and it is perfect for the holiday flavours that we enjoy so much when dining al fresco.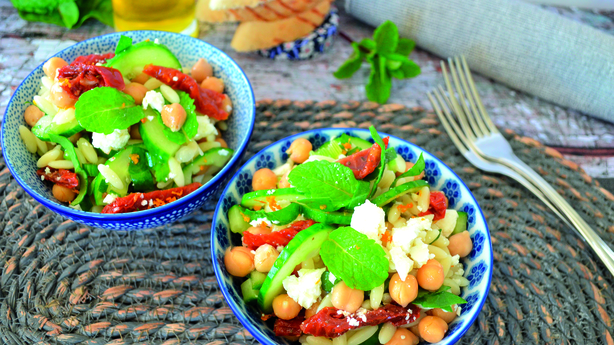 Serves 4
For the dressing
50ml rice wine vinegar
70ml orange juice
1 tbsp honey
2 spring onions, finely chopped
120ml rapeseed oil
For the salad
100g uncooked orzo
4 tbsp chopped sundried tomatoes
300g cooked chickpeas
12 medium sized spinach leaves, washed and shredded
1 medium size cucumber
80g feta cheese, crumbled
10 to 12 mint leaves, to garnish
Orange zest, for the top (optional)
To prepare the dressing, combine all the ingredients except the olive oil in a bowl. Pour in the oil and whisk very well. Check for seasoning, adding a little more honey if needed and salt and freshly ground black pepper. Set aside.
Cook the orzo according to the packet's instructions. Drain and rinse under cold water. The orzo must be completely cold before using.
Combine the orzo and sundried tomato pieces together in a bowl. Retain a few pieces of the sundried tomato for the top. Add the drained cold chickpeas.Spoon in 3 tbsp of dressing and mix well. Season with salt and freshly ground black pepper.
To de-seed the cucumber, slice it lengthways, use a teaspoon to run down the length and take out the seeds, then slice the halves thinly.
Stir the shredded spinach leaves and half the cucumber slices through the salad. Spoon into your serving bowl or platter. Leave in the fridge to infuse for 30 minutes.
Arrange the rest of the cucumber on top as well as sundried tomato pieces. Crumble the feta cheese on the top. Garnish with mint leaves and some orange zest. Serve extra dressing separately.