This Christmas will be unique. To help us adapt, Catherine Fulvio is showing us how to prepare food in style for large or a small number of guests with tasty treats, using delicious Irish artisan producers that won't break the bank.
"I simply love Christmas and all that it stands for – family, food and good times spent together around the table," says Catherine. "In my new series, Catherine Celebrates, I will share with you some of my easy yet impressive Christmas favourites that I hope you can enjoy at home this Christmas."
Watch it back on the RTÉ Player now.
Elsewhere in the show, Fulvio virtually meets some of Ireland's finest artisan producers that are currently supplying us with unique and wonderful tasty choices.
First up is a trip to Carlingford to 'visit' Kian Louët-Feisser of the Carlingford Oyster Company. Viewers are educated on the world of oysters including how to open them and how to serve them.
Catherine will show us how to create a duo of oysters; a raw oyster dish Mignonette Oysters and a and cooked oyster dish of Smokey Oysters.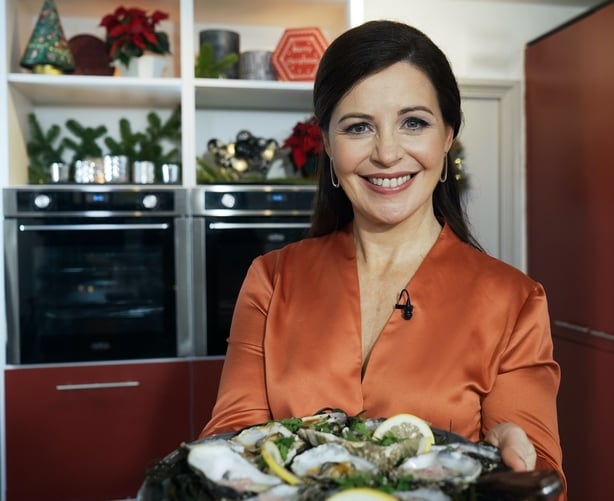 Next, Maria Flynn and husband David, from Ballymakenny Farm chat to Catherine from their Spud Shack. We hear about life as a potato farmer and why they moved into "Heritage Potatoes". Maria explains about the different varieties of heirloom/specialty potatoes they grow spuds like the Pink Fir Apple and Red Emmailie.
These potatoes will add some colour to your dish whilst rich in antioxidants particularly anthocyanin which lays claim to a variety of health benefits including improved cardiovascular health, dementia prevention and increased longevity.
Catherine uses their crop for her Roasted Potatoes with Tenderstem Broccoli and Creamy tarragon Dressing dish which accompanies her main course dish Beef Wellington with Mushrooms and Red Onion Gravy.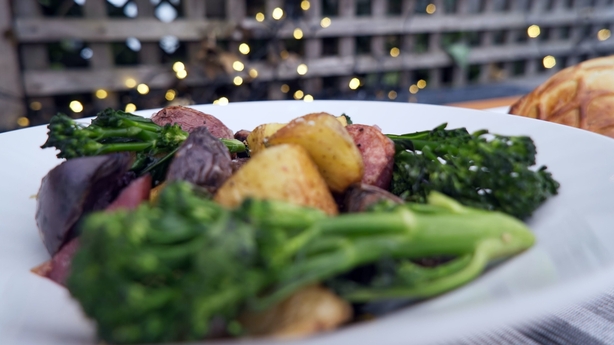 At "Off the Cuffe Bitters", Jarrod Cuffe takes Catherine through an array of bitters in his studio as he shows Catherine how to do a tasting on the back of her hand and drink bitters with just sparkling water so they can discuss the flavours.
Bitters are the spice rack of the cocktail world, used to enhance the taste and flavour of cocktails and mocktails. They are highly concentrated liquids that only require a few drops to drinks to balance out flavours and add depth to a drink.
Catherine than uses Jarrod's Marmalade Citrus Bitters to make her decadent Christmas Negroni Mocktail and Christmas Negroni Cocktail. Off the Cuffe Bitters come in small bottles and are alcoholic spirits that are infused with herbs, roots, fruit and leaves.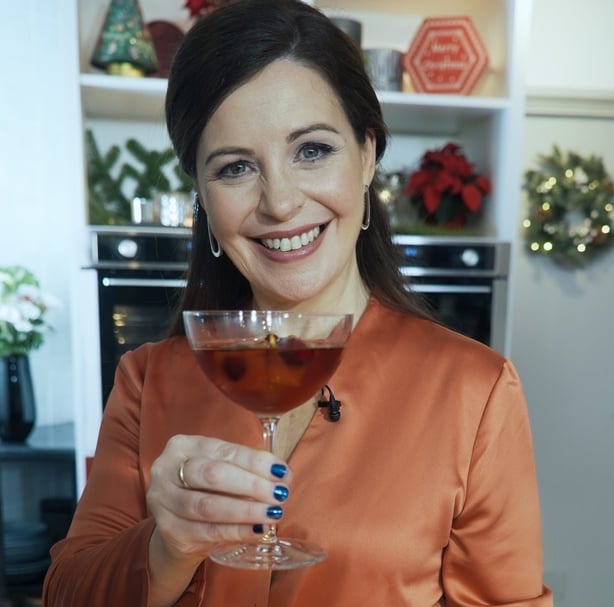 Catherine finished on a sweet note dishing up one of her own favourite desserts, Eggnog Panna Cotta with Cranberries.