This week, I have another skill, one which I'm asked about all the time in my cookery school and online –adding flavour to sauces. My biggest tip is that the process works best if layered – there is no point in just adding a whole lot in the beginning or at the end of your cooking process.

Base flavours to build sauces
Lemon pepper – a mix of dried oregano, lemon powder (see below for how to make citrus powder) and pepper.
A Cajun mix of paprika, garlic, thyme, oregano, black, white and Cayenne pepper.
Another lovely blend is Chinese five spice: blend a mix of star anise, cinnamon, cloves, Sichuan pepper and fennel seeds.
To achieve Jerk flavours, combine ground allspice, cloves, cinnamon, nutmeg, thyme, red chilli and garlic and lime juice to lift your sauce to the next level.
Those classic Italian flavours try a blend of basil, oregano, rosemary, garlic and red pepper.

Pork chops with thyme & mushroom sauce
"Pork chops are so convenient to prepare for family meals and of course it is so important to serve a delicious sauce"
Serves 4
4 pork chops, trimmed
2 tsp Dijon mustard
2 tbsp rapeseed oil
For the sauce
1 tbsp butter
1 tbsp rapeseed oil
2 spring onions, finely sliced
5 chestnut mushrooms, sliced
2 tsp chopped fresh thyme
1 tsp chopped fresh rosemary
2 garlic cloves, sliced
½ tsp Dijon mustard
3 tbsp sherry
100ml cream
Sautéd carrots and rainbow chard, to serve
Thyme, to garnish
To make the sauce, heat the butter and oil in a large frying pan. Add the spring onions and sauté for 2 minutes. Add the sliced mushrooms, the thyme, rosemary and garlic and sauté for 2 minutes.
Add the mustard, sherry and pour in the cream, simmer slowly for 1 to 2 minutes.
To cook the pork chops, heat a large chargrill pan on medium to high heat, Mix the mustard and oil together with a little salt and freshly ground black pepper. Brush this mixture over both sides of the chops.
Place the chops onto a chargrill pan and cook for 6 to 7 minutes on each side depending on the thickness of the chop, ensure that the fat on the edge is golden brown. Leave on a warm plate and keep warm. Drain the juices into the sauce and stir well.
Arrange the sautéed carrots and chard on serving plates, place a pork chop on top.
Spoon sauce over and serve the rest of the sauce in a jug. Garnish with sprigs of thyme.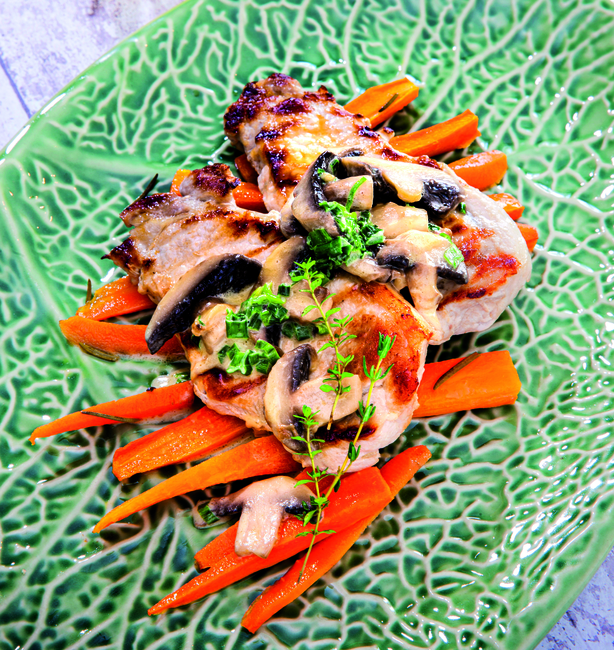 Potato Cakes with chermoula sauce
"A chermoula sauce is so versatile; serve it over chicken, fish or roast vegetables, it is one of those that I'm hoping will be a 'go-to' sauce for you.
Makes 8 cakes
For the chermoula sauce
20g bunch of coriander
20g bunch of parsley
1 tsp cumin seeds
1 tsp coriander seeds
2 garlic cloves
100ml olive oil
½ lemon, juice and zest
¼ tsp chilli flakes
Salt, to taste

For the potato cakes
500g mashed potatoes
2 tbsp chopped chives
4 tbsp warm milk
Salt and freshly ground black pepper
2 eggs, beaten
70g breadcrumbs
To make the sauce, place the coriander and parsley bunches in a food processor, add the cumin and coriander seeds, garlic cloves and oil.
Blend until textured and stir in the lemon juice and zest. Add the chilli flakes and season with salt. Check the seasoning and spoon into a jar. Set aside until ready to serve.
To prepare the potato cakes, place the mashed potatoes into a bowl, add the chopped chives, warm milk, salt and freshly ground black pepper. Divide the mix into 8 portions and shape into potato cakes.
Coat in the beaten eggs and then into breadcrumbs. Leave to set for 30 minutes in the fridge on parchment paper.
To cook, heat some oil in a large frying pan and place a batch of potato cakes in, cook until golden and then turn over. Keep warm until serving and repeat the rest of the batch.
Serve the potato cakes on a platter, spoon over some of the chermoula sauce. Serve the rest of the sauce in a separate little bowl. The sauce will keep for up 2 weeks in the fridge.