I'm very excited to have launched my Catherine Fulvio, The Curious Foodie online cookery school, with tips, skills and great recipes for people of all levels and interests to hone their kitchen skills.
This week, I am focusing on batters. They have so many uses, but so often, people tell me their attempts turn out claggy and soggy. The end result isn't delicious at all. Below, I've listed a few tips to avoid a bricklayer's mortar!
Tip for a light batter
* Use a blend of milk and water or even just a sparkling water – the fizz will lighten the end result.
* A light almond or oat milk also works very well.
* Don't overmix – just enough to combine the ingredients.
Lemon blueberry pancake stack with dark chocolate
"A great classic batter which can be used sweet or savoury. Leave out the sugar and add 3 tbsp grated Parmesan, chopped chives and a pinch of paprika"
Makes 8 to 10
160g plain flour
1 tsp baking powder
3 tbsp caster sugar
180ml milk
4 tbsp water
2 eggs, beaten with a fork
2 tbsp rapeseed oil
½ lemon, zest only
4 tbsp blueberries
Rapeseed oil, for frying
100g melted dark chocolate, to drizzle
Blueberries, to decorate and serve
Method
To make the pancakes, sift the flour and baking powder into a medium size bowl. Add the sugar. Stir in the milk, water, beaten eggs and oil, whisk until a smooth batter is formed. Carefully stir in the lemon zest and blueberries.
To cook, heat a non-stick medium size frying pan with a little rapeseed oil over a medium heat. Ladle some batter into the pan, forming circles of the same size.
When you see bubbles around the edge of the pancake, carefully turn them over using a spatula and cook on the other side until golden. Keep warm.
To assemble, pile the pancakes up on each plate. Pour melted chocolate over the top. Decorate with blueberries and serve warm.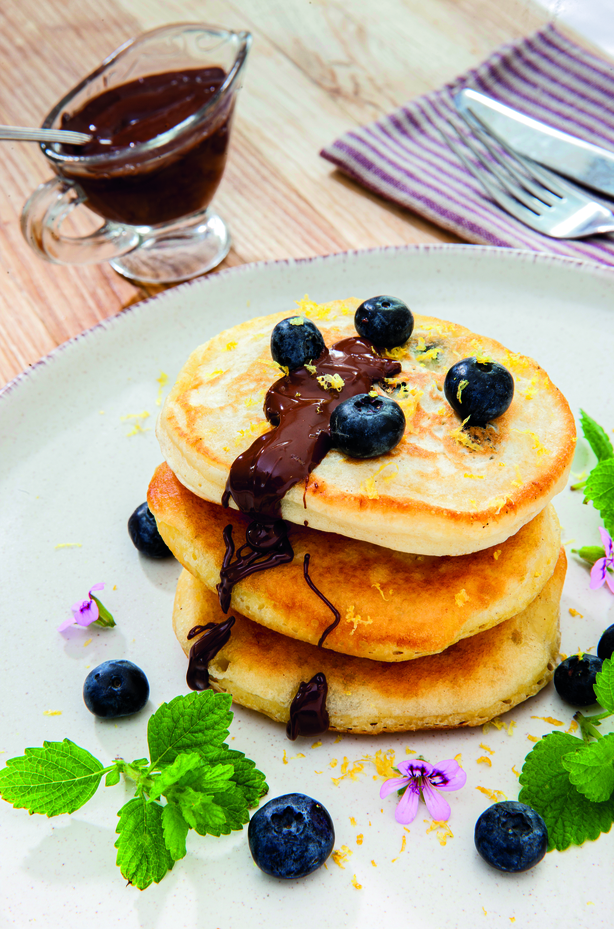 Tempura vegetables with chilli dip
"Tempura battered vegetables make a tasty starter but also lunch or dinner for two, especially with the chilli dipping sauce. You will need to have the dipping sauce ready to serve"
Serves 4 as a starter or 2 as main course
For the dipping sauce
2 red chillies, finely chopped
60g caster sugar
2 tbsp rapeseed oil
100ml water
½ lemon, juice and zest
For the vegetables
8 medium size cauliflower florets
8 medium size broccoli florets
10 strips of carrot (4cm in length)
10 thick slices of radish
10 strips of courgette
For the batter
80g cornflour
40g plain flour
Good pinch of sea salt
About 100ml chilled sparkling water
Oil, for frying
Method
For the dipping sauce, place the chopped red chilli, caster sugar, oil and water into a small saucepan and bring to the boil, reduce the heat and simmer for about 4 to 5 minutes until thick and syrupy.
Stir in the lemon zest and juice and pour into small serving bowls.
To prepare the vegetables, steam the cauliflower and broccoli florets and carrots for 3 minutes, then dip them into iced cold water. When ready to use, drain and pat dry. The radish and courgettes and other softer vegetables do not need to be steamed.
The oil must be just about ready before you make your batter – take care. Heat some oil in a medium saucepan over medium high heat. The oil must be 3cm in the pan.
For the batter, sift the cornflour and plain flour together into a large bowl. Add a pinch of sea salt. Pour in enough chilled sparkling water to make a thick batter and stir lightly to combine.
Dip the vegetables into the batter and using a pair of thin tongs, lower batches into the hot oil. Fry off for 1½ minutes before turning over. Test one first to check that the oil is hot enough. Place on kitchen paper to drain.
To serve, arrange on a platter and serve them immediately with the homemade chilli dipping sauce.