With all the news about getting everyone back to school, I'm on the shelf (pardon the pun!) about whether I should even mention lunchboxes. But then, I can always re-purpose these delicious treats for a picnic or at-home snack – so we are getting a few "bites of the cherry" (no more puns, I promise!)
My main challenge is: not too much washing up, hardly any whisking, a quick recipe, nothing overly complicated in the ingredients section, as well as being fairly healthy and bearing in mind not to include nuts.
I have always liked to add fresh fruit like bananas, berries, apples and pears which gives them something sweet, adding seeds, like pumpkin, sesame or sunflower for an extra crunch.
I hope you enjoy this week's treats!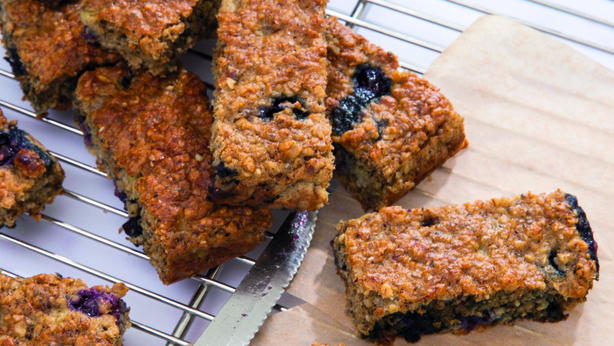 Oat bars
"These oat bars are not overly sweet, so I think they are a perfect snack. Blueberries and oats blend very well here and banana is great for an energy boost. There are some really great little eco food bags around these days or you could wrap them in parchment"

Makes 12 to 14
4 tbsp rapeseed oil
2 medium ripe bananas, peeled and cut into 4
1 tsp vanilla extract
3 tbsp honey
3 eggs
150g oats
1 tbsp chia seeds
1 tsp bread soda, sifted
60g blueberries

Method
Pre-heat the oven to 180°C/fan 160°C/gas 4. Line a 20cm square baking tray with parchment paper.
Place the rapeseed oil, banana pieces, vanilla extract and honey in a bowl and mash well.
Beat the eggs with a fork. Add them to the banana mixture. Fold in the oats and sift in the bread soda and mix well.
Add the blueberries and spread the mixture into the baking tray. Bake for 20 to 25 minutes until set and golden.
Slice into bars while still warm and leave to cool before transferring to a cooling rack. They will keep in a sealed container for 2 to 3 days.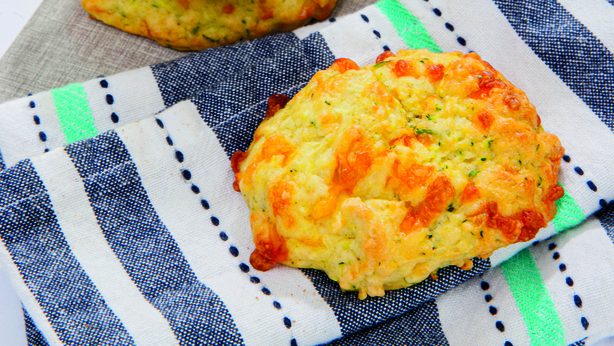 Courgette cheese bites
"These are delicious packed in a picnic or taken on a hike. As a variation, add half a medium carrot, grated, instead of the courgette or even a handful of baby spinach leaves. I like to use coarsely grated vegetables in these for texture"
Makes 12
80g coarsely grated courgette
70g Cheddar cheese, grated
2 eggs, beaten
80g plain flour
1 tsp baking powder
3 tbsp melted butter
Pre-heat the oven to 180°C/fan 160°C/gas 4. Line a baking tray with parchment baking paper.
Mix the grated courgette, Cheddar cheese, eggs, plain flour and baking powder together in a bowl. Pour in the melted butter and carefully mix in.
This should be a stiff mixture but it does depend on the moisture from the courgettes. If you feel that the mix is too dry, add 2 to 3 tbsp milk and mix well.
Place spoonfuls of the mixture onto the lined tray and bake for about 16 to 18 minutes until risen and set; this time does depend on the size. Keep the spoonfuls apart as they spread slightly.
Leave to cool on the tray before transferring to a rack.