For many of us, the thought of sitting down at our favourite local cafés, sharing a meal at a special restaurant or even calling by a bakery for a sweet treat has kept us going through lockdown. Now, as many restaurants and cafés reopen their doors this week, many are wondering what dining out will look like now.
Fáilte Ireland has published guidelines for reopening restaurants and cafes, with advice gathered from the HSA, HSE, FSAI, WHO?and other?relevant bodies. Hand sanitisers, face masks for staff, spacing of at least 1m between tables – if meeting someone from another household – and informative signs are just some of the changes coming into place.
It's week one, so there are still some nerves about: some customers worry about the loss of ambiance, while some restaurant owners worry about making sure customers follow the rules. But one thing is for sure, those opening their doors to customers again are eager to adapt and tweak as need be.
Here, we have listed just some of the restaurants that are adapting to COVID-19 guidelines, and making booking a table worth doing.
1. Brother Hubbard
This palatial Dublin spot is one of the original brunch vanguards, opening eight years ago and quickly attracting loyal customers with their fresh and comforting Middle Eastern-inspired fare.
"I went through a bit of an emotional journey", owner Garrett Fitzgerald says of the months of quiet, his first real time off since opening the café with his partner, James Boland, before launching their takeaway service. They reopened their doors on Monday, starting with breakfasts, lunches and takeaway, before starting their evening service again on Tuesday.
"The profile of the day has changed", he says. "Lunch starts later than it used to, people aren't in for breakfast first thing in the morning like they used to. It's like the day has shifted out a bit. Aside from the new way of doing things, there's new patterns that people are living their lives by."
Staff have been trained when it comes to new hygiene guidelines and will wear masks and gloves when serving. With two locations, there are two different stories to reopening: Brother Hubbard South is a "small neighbourhood café" and so has had to lose 50% of seating, whereas Brother Hubbard North is large and features an outdoor terrace and an upstairs floor, so accommodates the 1m-2m distancing well.
When it comes to seating, they'll avoid filling one area up too much, instead keeping it loose and spread out. Menus will be used once, and the offerings will be slightly paired back, while keeping plenty of options and firm favourites.
Ambiance is still a priority for many customers, Garrett says, with one customer asking whether it'll "feel strange". "We're hoping it won't", he says. "When we start operating [the guidelines] it's not vastly different."
2. Lignum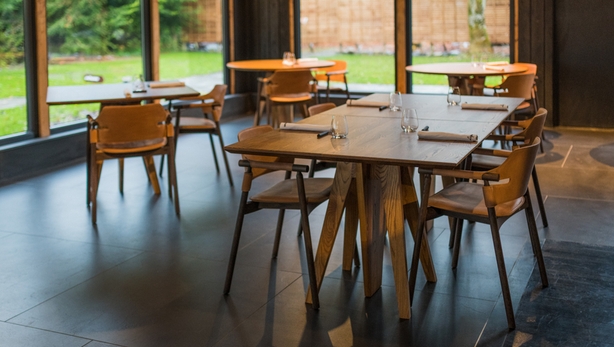 Set amid the lush countryside, and with a focus on seasonal produce, this Galway restaurant put the weeks off from dishing up to good use, says chef Danny Africano. "Most of my team live on site so we took the time to go foraging, preserving , pickling and doing lots of jobs that up until this had not the time to do as the first few months were pretty hectic.
"Even little things like sitting in the dining room at different times of the day and looking at the surroundings from the guests perspective."
Blessed with a spacious dining room, they haven't had to make too many changes or lose many tables, he says. "We have changed our booking system so that guests arrive every 15 minutes to allow them be seated before the next table arrives. And the obvious things like hand sanitisers in key points, staff wearing masks, etc.
"I think everyone is a little apprehensive but people are also eager to get out and about again."
They're kicking things off with a revitalised menu full of seasonal treats once they reopen on 9 July. One of the restaurants best features – the bustling kitchen where all food is cooked over wood fires – is still the main attraction, as the kitchen tours will continue with some changes. "We will still ask guests whether they would like to see the kitchen but obviously there will be changes in this, social distancing and masks provided."
3. Canteen
Neighbourhood cafés have been sorely missed, and with many of us eager to get out and meet friends, their moment is definitely here. Canteen is one such spot, a beloved community staple in Limerick, and renowned for its breakfasts, crafted by chef Paul Williams.
Like many, they pivoted to takeaways from a side door, bringing back staff members they'd been forced to lay off once restrictions came in. Small and cosy, their usual seating is for 45 people, but they've cut that down to 20 to accommodate social distancing.
"The idea would be that if you want to order a takeaway coffee or lunch, you still come up to the side door so there's not a lot of people inside", Paul says. If you're eating in, there is a rope line 2m from the counter and your food is brought down to you. Hand sanitiser is available at the door, and outdoor seating adds for a little more room.
However, as with every restaurant and café now, there will be tweaks. "We have a daily meeting at the end of the day with the service staff. The customers are figuring it out, we're figuring it out so we'll have a 10 minute meeting and say 'this works', or 'this doesn't work' and we might change it for the next day."
"I think the next two weeks are going to be kind of stressful, because the customers don't know what's happening either", he says. "Every place is going to have a different system." With a loyal customer base, however, he's certain that given these early weeks of growing pains, everyone will get the hang of it.
4. Kinara
Reopening one restaurant would be challenging enough, but reopening multiple is a true task. Thankfully for Sean Collender of the Kinara Group – behind Kinara, Kinara Kitchen and Kajjal restaurants – they have the experience to tackle it. "It's been a bizarre 12 weeks or more", Collender says. They closed on the 15 March, before pivoting quickly to food collections, which he says were well-received.
The Pakistani spots will be opening on the 8 July and hope to draw on their communities to get things back to normal, as much as possible."We would have a very loyal customer base of 19 years", he says, which helped support the businesses. "Now more than ever, community is important."
"Until the end of August we're going to run sit-down in tandem with our food collection and phase out the food collection on the 30 August, sooner if I thought I could", he says. "We'll have a lot of hand sanitisers, a few signs up but there's no legislation or law that you have to put screens up so we will just create space."
The Clontarf location, for example, will half capacity from 100 seats to 50. Bookings will be staggered throughout the hours of service. All tables will adhere to the 1m restrictions, too.
"Common sense and personal responsibility are going to come into this massively", he says. "We're not medical, we're not a hospital, we're trying to provide an environment to enjoy yourself in. We're going to accept that there are restrictions and we're going to do our best to adhere to those, even though they're changing almost every day."
"We're looking for our customers to understand and respect that and give us some leeway."