The warmer days have been so good to the elder trees around the farm here and I've been able to gather some great basketfuls of flowers while also having wonderful walks.
There are so many uses for elderflower syrups and cordials – a dash in with some sparkling water or prosecco, drizzled over lemon cakes or as a brush-on syrup for sponges or muffins. Add a dash when making strawberry jam or a berry compôte and it is great in jellies too.
It's one of those ingredients that we don't make enough use of. It's a short season for these blossoms, so maybe now is the time to gather it before it's all gone!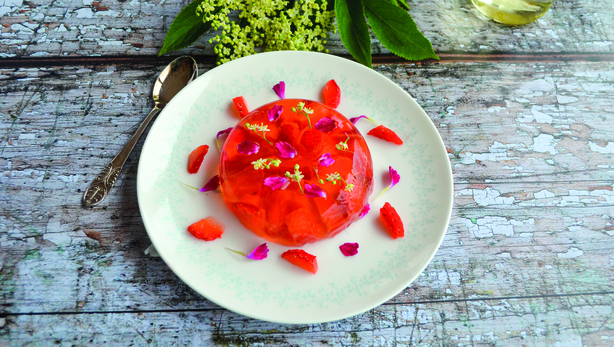 Elderflower & strawberry jellies
"There are two recipes in one here, making the cordial and then the jellies! They are delicious and I didn't add wine to them so that everyone can enjoy them"
Makes 4 x 100ml
To make the cordial
900g caster sugar
1 litre cold water
10 fresh elderflower heads
1 lemon, zest and sliced
3 tbsp citric acid
For the jellies
75ml elderflower cordial
360ml water
3 tbsp caster sugar
Juice of ½ lemon
3 gelatine leaves
8 large strawberries, diced
Edible flowers (optional)
Edible flowers, to decorate
A few strawberries, to decorate
Method
To prepare the cordial, place the sugar and water in a large saucepan and gently heat until the sugar has dissolved. Once this has happened, then turn up the heat and bring it to the boil, stirring from time to time until a light syrup forms. Remove from the heat.
Fill a bowl with cold water and dip the flowers into it to wash them and remove any dirt. Place the flowers on a clean tea towel to drain / dry and then add to the hot syrup.
Stir in the lemon zest and the slices of lemon and citric acid. Cover and leave for 24 hours.
Strain using a colander lined with a clean tea towel into a large bowl. Ladle into a jug and pour into sterilised jars or bottles. You won't need all of it but the cordial keeps well in the fridge.
To make the jellies, place the moulds, glasses or ramekins on a tray in the fridge to chill before using them.
Pour the elderflower cordial, water and caster sugar into a medium saucepan and heat over a medium heat until the sugar is dissolved. Add the lemon juice.
Soak the gelatine leaves in 100ml water. Squeeze the excess water out of the leaves and add to the warm elderflower lemon and water mix and stir until the gelatine is melted. Pour into a jug.
Arrange the diced strawberries and edible flowers into the moulds / glasses or ramekins. Pour in the jelly mix. Place in the fridge for at least 6 hours or preferably overnight. When ready to serve, un-mould, if you need to onto a plate and decorate with edible flowers and strawberries, ready to serve.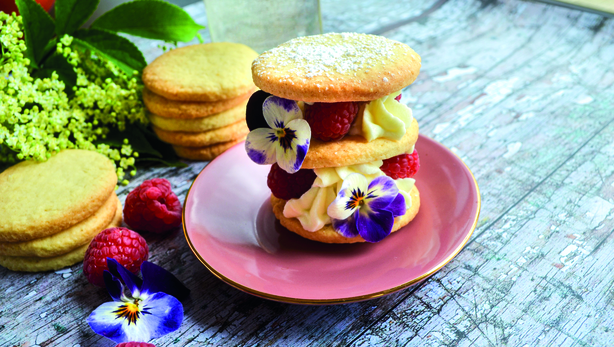 Elderflower cream biscuit towers
"These are great for an easy summer dessert. I love a food tower effect but you could just do a 'sandwich' of the two biscuits too"
Makes 8 towers with filling in between 3 biscuits
For the biscuits
180g plain flour
50g caster sugar
80g softened butter
4 tbsp ground almonds
1 tsp crushed edible lavender (optional)
1 tsp vanilla extract
4 tbsp milk

For the cream
3 tbsp elderflower cordial
100g mascarpone
2 tbsp icing sugar
½ lemon, zest only
100g raspberries, to decorate
Icing sugar, to dust
Edible flowers, to decorate
Method
To make the biscuits, pre-heat oven to 180°C/fan160°C/gas 4. Line a baking tray with parchment.
Place the flour and sugar into a bowl and rub in the butter. Add the ground almonds, edible lavender (if you are using it) and vanilla extract. Pour in enough milk to form a biscuit dough and very lightly knead it together. Wrap the dough up in parchment and leave in the fridge for 40 minutes.
Roll the dough out thinly and cut out circles with a cutter. Place them onto the pre-lined baking tray. Bake them in a pre-heated oven for 14 to 16 minutes depending on the size of the biscuit.
Leave on the tray for 10 minutes to set before transferring to a cooling rack.
To prepare the cream, add all the ingredients together and whisk well. Spoon into a piping bag with a nozzle fitted. To assemble, pipe small rosettes around the outside of a biscuit. Place raspberries in between the cream and place on a serving platter, adding another biscuit and repeating the cream and raspberry layer. Press down slightly. Dust the top with icing sugar. Decorate with edible flowers.
Note: Lavender is a wonderful flavour, but use sparingly as it is quite a strong one. If you are using it, you can find culinary lavender online.