For anyone who bakes regularly or for anyone who was thinking of taking up baking during the current restrictions, one vital ingredient has been harder to come by these days than toilet roll: flour.
You want to make some bread? A birthday cake? Pizza with the kids? Not so fast. Everywhere you look, there's only a dusting of white powder on the empty shelves where the flour once stood. But, Brian O'Connell told Seán O'Rourke on Thursday, this isn't because there's a shortage of flour. It's a little more… nuanced than that.
Brian paid a visit to the Odlums Flour mill outside Portarlington in Co Laois to see if he could sift through the uncertainty and find out where in the supply chain the problem was. But first, some numbers:
"Tesco Ireland reported they had sold 600,000 bags of flour in one week alone."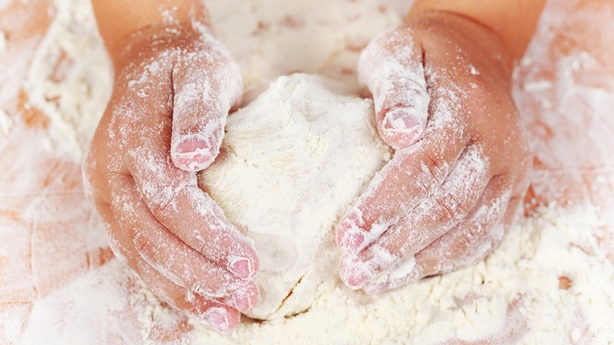 On a tour of the mill, Brian – in full PPE – had a first-hand view of the flour-making process from field to bag, in the company of operations director Nigel Odlum, a fifth-generation member of the family. Nigel brought Brian through the journey the wheat makes, from the back of the truck to the packing area, where the milled flour is put into bags at an astonishing speed:
"Here we have our 2-kilo line, which is running at 60 bags a minute. That's one bag a second that we're filling. 2-kilo bags of flour."
That's the cream and self-raising flour line and, Nigel told Brian, they've seen sales on that line alone go up by 300%. Like most other companies, Odlums would have made plans in late 2019 for this year, unaware that the world would be turned upside down in the way that it has been and that so many of us would become part of, as Brian put it, "this great Covid-19 bake-off".
So Odlums would have expected to be at 60-70% capacity at the mill in Co Laois at this time of year. The reality is very different:
"Right now at the moment, the Odlums plant is at 110% capacity. They're working 24/7 for the first time in their history."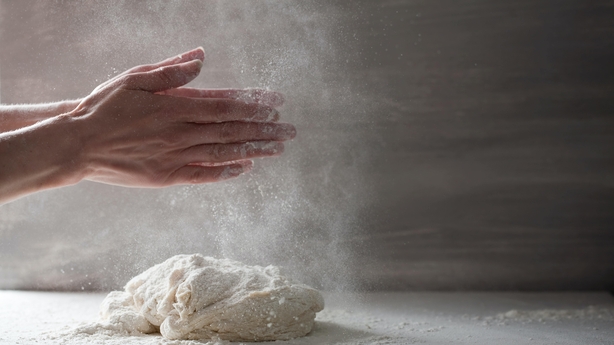 And, that supply-chain problem? It's mainly down to getting the flour packaged and onto the shelves, as Nigel Odlum explained to Brian:
"People have an idea, thinking there's a shortage of flour. It's not actually a shortage of flour, it's the packing capacity, because the demand has gone to the level it has."
Despite the problems with getting the product to consumers, Nigel is delighted that the lockdown has given people the breathing room to take up baking, either again or for the first time, and to introduce their children to what he sees as something that, once you've picked it up, proves to be a life-long skill.
"As the years have gone on, I suppose people have lost some of those skills that maybe their parents had in the past… It's great to see that it's getting a new lease of life."
Brian also spoke to Tony Kane, baking specialist at Odlums, where he got to taste some sourdough straight out of the oven – and you can hear that, as well as Brian's full report, here (it starts at the 50-minute mark).