Social distancing is turning people into absolute baking fiends. If you too have newly acquired the dough bug, you may be dismayed to discover that packets of yeast can be difficult to track down – they've just become too popular.
But you can still whip up homemade bread without yeast, thanks to this double-whammy of recipes from Katy Beskow, author of Five Ingredient Vegan…
1. Easy flatbreads
Beskow says: "These rustic flatbreads are so easy to make, you'll never need to buy them again! The trick is to get the pan really hot before you cook each flatbread, then keep an eye out for the classic golden-brown patches to appear. Serve with parsnip and chickpea tagine."
Makes: 8
250g self-raising flour, plus extra for dusting
250g unsweetened
Soya yogurt
1tbsp sunflower oil
In a large bowl, mix together the flour and soya yogurt to form a dough, bringing it together with your hands towards the end. Set aside to rest for 30 minutes at room temperature.
Lightly dust a clean work surface with flour and cut the dough in half. Cut each half into four pieces. Use a rolling pin to roll each piece to the size of a small plate.
Heat a flat pan over a medium–high heat until hot. Rub each doughy flatbread with a little oil, then use tongs to place onto the hot pan. Cook for 20–30 seconds until golden-brown patches appear.
Carefully turn the flatbread and cook the other side for 20–30 seconds.
Repeat until each flatbread is cooked. Serve warm or at room temperature.
We need your consent to load this Instagram contentWe use Instagram to manage extra content that can set cookies on your device and collect data about your activity. Please review their details and accept them to load the content.Manage Preferences
2. Three-ingredient beer bread
Beskow says: "Lazy bakers rejoice! This three-ingredient bread recipe takes under an hour to become a delicious loaf – and it requires no kneading or proving. The magic/science lies in the beer: the yeast reacts with the sugar and the fizzy bubbles add extra carbon dioxide, meaning you'll get a fluffy, tearable loaf, with a satisfying crust."
Makes: 1 small loaf
450g self-raising flour
1tbsp granulated sugar
330ml bottle of beer (vegan)
Preheat the oven to 180°C/350°F/gas mark 4. Line a small 23 x 12cm (9 x 5in) loaf tin with baking parchment.
Mix together the flour and sugar in a large bowl. Pour in the beer and mix to form a thick batter. Stir to ensure the mixture is combined, then pour into the lined loaf tin.
Bake in the oven for 50–55 minutes until a golden crust has formed. Allow to cool a little before removing from the tin and peeling away the baking parchment.
Note: The type of beer used affects the flavour of the loaf. Dark ales create a complex and deep flavour. I love using a good-quality IPA, which gives an almost bitter, sourdough taste. Or give beer the boot and add cider to the mix for a sweet loaf.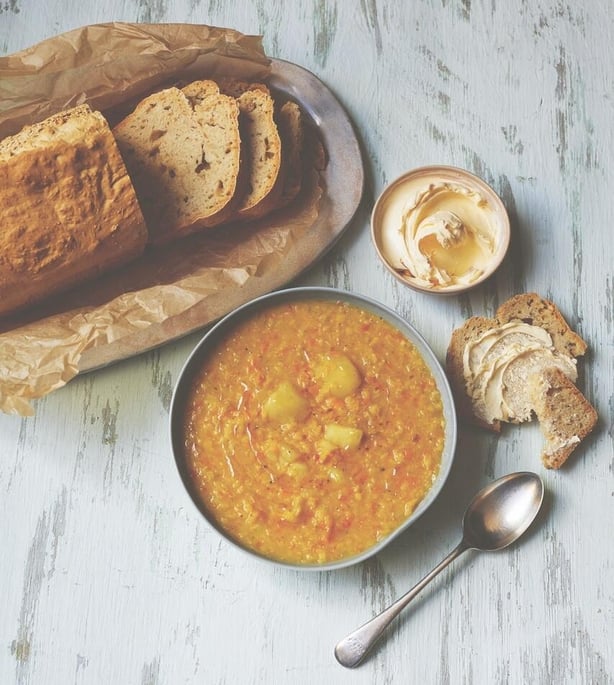 Five Ingredient Vegan by Katy Beskow is published by Quadrille. Photography Luke Albert. Available now.