Doolin Surfest, a surf, music and film festival hosted by Hotel Doolin in Co. Clare will take place from the 20th to the 22nd of March, to celebrate the passion and talent of Ireland's surfing community and offer attendees the chance to learn more about the West of Ireland's connection to the ocean.
Chef and surfer, Finn Ni Fhaolain, will be teaming up with the hotel's acclaimed chefs to create delicious dishes using sustainable ingredients to keep hungry surfers and other adventurers feeling full and nourished throughout the weekend - needed after a chilly time soaking in the Wild Atlantic Way.
She says, "My Surfer's Sweet Potato Pie makes a huge portion, enough to last you several days or feed a small army. It's gluten-free as I'm a coeliac but can also be modified to be vegan. This keeps incredibly well for days. I love to make this on a Sunday so I have it to hand all week as a comforting, nutritious and delicious meal when I get in from a long day on the water.
"I've always been intrigued by the Mexican diet and flavours – their staples, like beans, rice and corn make for a perfectly complete plant-based diet. I went to Mexico last year and this dish takes me right back."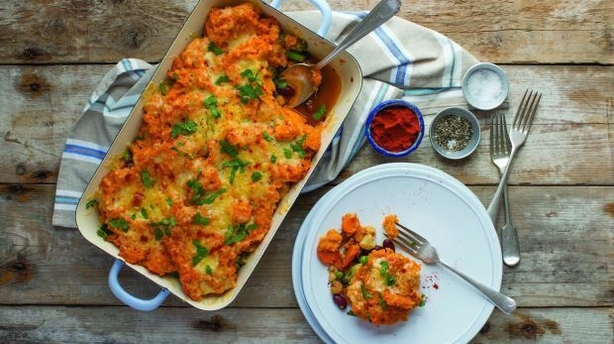 Serves: 5+ hungry humans
5 small sweet potatoes or 2 massive ones
400g tinned mixed beans
400g tinned kidney beans
200g bag frozen veg (e.g. carrot, broccoli and pea mix)
1 red onion
Olive oil, for frying
1 pack Mexican spice mix or your own mix of 1 tbsp sweet paprika (or pimento if you have it)1 tsp cayenne pepper, 1 tsp coriander seeds (crushed), ½ tsp garlic powder, salt and pepper (careful with the quantities or you will blow your nose clean off)
Cheese of your choice to grate over the top (I like mature cheddar, or a low-fat mozzarella when I'm feeling less bold)
Method
Preheat your oven to 200°C. Put the sweet potatoes on a roasting tray and bung it in the oven. That's right, skin and all. Let them bake till they're soft – i.e. when you smack them with the back of a spoon they should be soft and squishy - this usually takes about 30-40 minutes. I used to boil them, but they have a much lovelier flavour when baked.
Drain your tins of beans and rinse them in cold water. Set aside.
If you're super organized, defrost your frozen veg the night before. If you're not, sacrilege here, but blast them in the microwave till they defrost.
Finely chop your onion. Heat a frying pan over a medium-high heat. When it's hot, lash in your olive oil. Test it with a little piece of onion. When it sizzles, lash in the rest of onion. Cook the onions until soft.
Chuck in the spices with the onion and sauté for a few minutes. In go the defrosted veggies and stir-fry for 5 or so minutes. Pop in the beans and cook for a few more minutes. Set to one side while you wait for your sweet potatoes.
When the sweet potatoes are soft, take them out of the oven – but keep the oven on. When they are cool enough to handle, shake them out of their skins into a big bowl. Mash using a potato masher with a little butter, or olive oil if you're dairy free. Season to taste.
In a baking dish, spread out your veggie and bean mix. Then spoon the mashed sweet potato on top and smooth it over. Top with whatever obscene amount of cheese you like or leave it out for a dairy-free option. Pop back in the oven till the cheese is melted and bubbly, 10-15 minutes.
To Serve
Since this is protein, carbs and fat in one place, the only addition I usually go for is a little sweet chilli sauce on the side. For a vegan option, leave out the cheese and top with a 'vegan parmesan' of 1 cup (150g) salted cashews blitzed with 1 tsp garlic powder.
Enjoy, surf grub is up.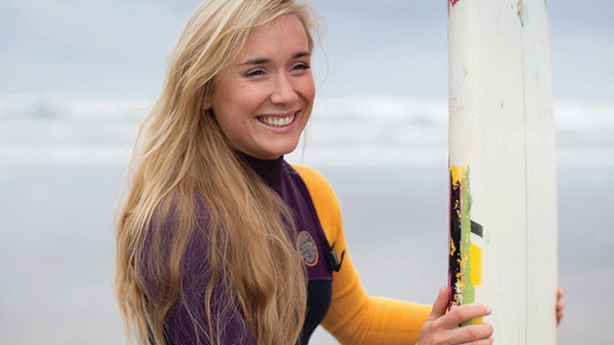 Along with Finn's creations, a surfer's market, bouldering, foraging, yoga, cliff walks, sea swims, pier jumps, BBQs, some other highlights of the weekend include:
A beach clean-up at Doolin Pier in association with Clean Coasts
A Wim Hof Method Workshop. Also known as The Iceman, Hof is an extreme athlete noted for his ability to withstand freezing temperatures.
A panel discussion on ocean health. Although typically associated with developing countries such as Mexico or Indonesia, here too in Ireland, surfers endure serious pollution in our waters. This panel will discuss what the main pressures are on our coastal waters, what the impacts are on us as individuals and how we can mitigate them.
A wetsuit repair stand, encouraging surfers to prolong the life-cycle of their surfing equipment
Live music from much-loved Irish acts, DJ Kormac and King Kong Company
For tickets to Surfest, visit doolinfestivals.ie. For more recipes from Finn, visit saltwaterstories.me.