Want to make your favourite takeaway recipes at home? It seems great minds think alike – Eat Well For Less? presenter Chris Bavin, The Medicinal Chef Dale Pinnock and Chinese food aficionado Kwoklyn Wan, have all just released cookbooks that revolve around the idea of making takeaway food at home.
So if you're looking to cut down on ordering in, save a little cash and maybe boost the nutritional value of your go-to comfort food, these tried and tested 'fakeaway' options might be worth your while.
The flexitarian…
Ella Walker tested: Healthy Baked 'Scampi' from Fakeaway by Chris Bavin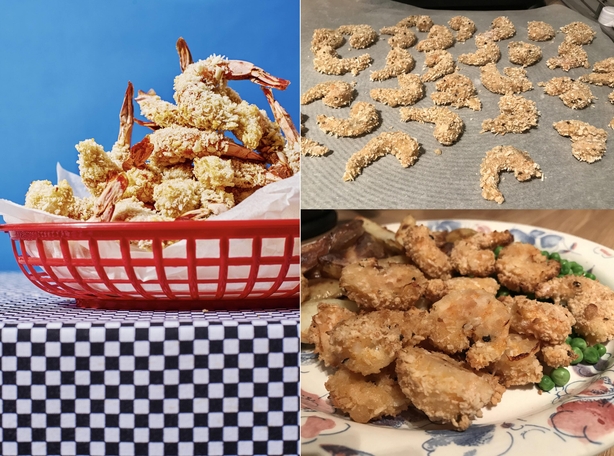 I am very partial to a takeaway. Crispy chilli beef and chow mein from the Chinese, a mild chicken dansak, mushroom rice and onion bahji from the Indian. Szechuan pepper ribs and triple cooked pork slices, pad Thai, fish and chips – is it even Friday night if no one says the all-important words, 'Shall we…?' while swerving the kitchen and dialling for takeout?
Making what would presumably be a sub-standard version at home is not really my thing – unless you're talking those beige boxes of frozen 'starter-y bits' (as they're known in my family, aka prawn toast, spring rolls and wontons) which you buy from Iceland and blast in a hot oven. However, Chris Bavin's 'healthy baked scampi' appealed. A cross between coconut shrimp, deep-fried scampi and tempura prawns – a Chinese-Fish-and-Chip-shop hybrid if you will – they seemed worth a go.
I set up a three bowl prawn conveyor belt: flour and paprika in one, beaten egg in the second, lemon zest, desiccated coconut and breadcrumbs in the third, and tried (really quite successfully) to not get them all muddled together. After being dunked and coated in each, my 'scampi' hit a baking tray and then the oven for 10 minutes. So far, so by the recipe.
After their allotted 10 minutes though, they were all a little soggy on the underside, so I flipped them and gave them another five while whipping up the accompanying tartare sauce (mayo, gherkins, capers, lemon zest – I left out the dill, mainly because I forgot to buy any). A side of peas and wedges later, a bit of chilli sauce, and honestly, they were amazing.
Crunchy and golden with a huge, zingy hit of lemon, they were a doddle to pull together, and all that dunking was rather fun. I'm not saying I'll never order in again, but if there's a bag of prawns in the freezer just asking for a crumbing, I'd definitely reconsider.
The carnivore…
Lauren Taylor tested: Kung Pao Chicken from Fakeaways by Dale Pinnock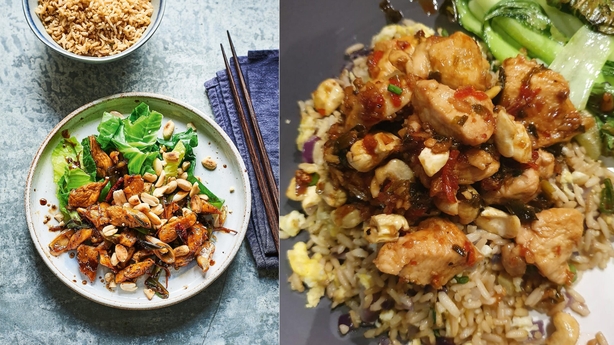 The trick with a fakeaway recipe is it has to be simple and fast, with ingredients easy to source from whatever shop is nearest your house. If I'm in the mood for a pad Thai delivered to the door, I'm not in the mood to spend an hour-and-a-half at the stove with a work surface full of stuff and a long recipe. That's why Dale Pinnock's Kung Pao Chicken was such a hit – very few ingredients, half of which were already in the cupboard, the other half just a five-minute walk away.
The cooking prep time of 10 minutes is a bit ambitious – my knife skills clearly aren't up to Pinnock's standard – and the ginger seemed a huge amount for two people (turned out I was wrong). But it really was just a case of throwing the spices in a wok for five minutes, adding the chicken, splashing in some sauce (honey, soy and rice vinegar) and leaving it to go sticky around the meat.
I couldn't find raw peanuts, but cashews made a good alternative for a bit of texture. I also made a quick egg-fried rice (pre-cooked cheat's brown rice with two eggs and a red onion) and stir-fried pak choi to serve.
The whole thing took 35-40 minutes (and I'm not an efficient cook), which is probably faster than a takeaway would take to arrive and without the additional nasties found in some. It ends up being a smaller portion size too – because who doesn't add on some prawn crackers, spring rolls and maybe duck pancakes when they order a Chinese?
The finished result was tasty and flavourful – with a great balance of saltiness, sweetness and heat – along with a dose of satisfaction for the money and calories saved. I'll be making this easy midweek meal again.
The vegetarian…
Prudence Wade tested: Udon Noodle Curry Soup from The Veggie Chinese Takeaway Cookbook by Kwoklyn Wan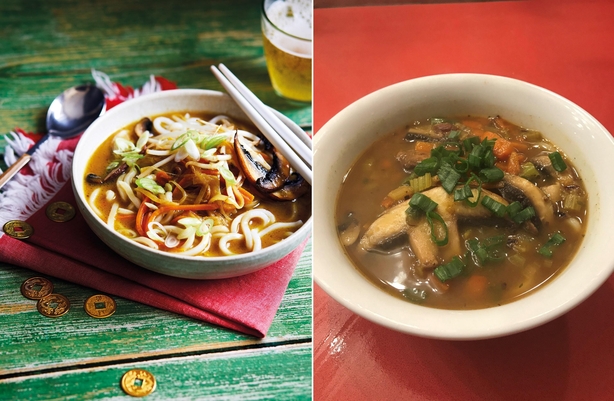 Udon noodles, curry, soup – those are three of my favourite things, so choosing this recipe was a no-brainer. Luckily, it well and truly lived up to expectations. It was simple to make, even if it took a lot longer than the half-hour Wan specifies. Total cooking time was closer to an hour, but admittedly a fair amount of this was down to me re-checking the instructions every two seconds (anyone else do this with a new recipe?).
I added ginger to the curry sauce because a dish without ginger isn't a world I want to live in, and it definitely amped up the flavour. The sauce itself was rich, delicious and well-balanced. The only critique I have is that the recipe calls for the sauce to be sieved, which feels like a waste of the carrots, onions and celery which had been bathing in the lovely curry flavours, so I ended up chucking it all in.
Once the curry sauce is made, you fry up some veg, throw in the sauce and some stock and sort your noodles, then you're good to go. Sadly, my local area seems to be experiencing a brutal beansprout shortage, and the dish really would have benefited from that extra crunch.
Even if it took a bit longer than expected, it was easy to make and you can tailor it to however hot you want. With the noodles and rich curry sauce, this dish really did feel like a treat – even though there was nothing naughty in it.