If you want to follow the Operation Transformation leaders' meal plan, print off this shopping list for your next trip to the supermarket. Following the Vegetarian Meal Plan? Click here.
Thursday: Pork & Carrot Stir-Fry
Friday: Portuguese-Style Fish
Saturday: Courgette & Corn Chilli
Sunday: Mixed Herb Roast Chicken
Monday: Black Bean Burrito
Tuesday: Chicken & Chorizo Pasta
Wednesday: Spaghetti Bolognese
Note: Herbs can be fresh or dried and always remember to wash raw vegetables.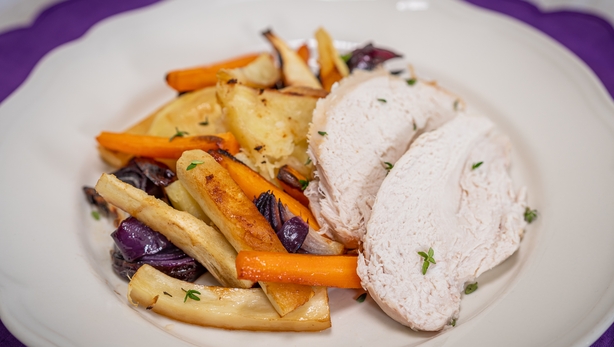 Fruit & Vegetables
Baby salad potatoes (350g)
Baby spinach leaves (10g)
Bay leaf
Carrots (7)
Coriander (15g)
Courgettes (3)
Flat-leaf parsley (5g)
Garlic (2 bulbs + 6 cloves)
Lemon (1)
Lime (1/2)
Mushrooms (chestnut or ordinary – 150g)
Onions (2 + 1 small)
Parsnips (2)
Potatoes (250g)
Red chilli (1 + 1 optional)
Red onion (1 + 1 ½ small)
Red peppers (2)
Rosemary, (5g)
Sage (5g)
Scallions (2)
Thyme (5g)
Yellow peppers (2)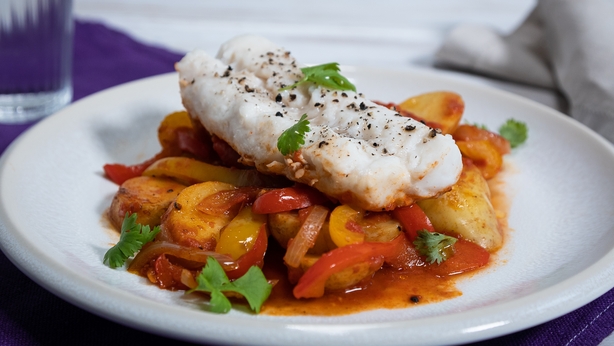 Fresh/Frozen Produce
Butter (7.5g)
Cheddar cheese (20g)
Chicken fillets (skinless – 2)
Firm white fish fillets, skinned (such as haddock, cod or hake – 2 x 150g)
Frozen sweetcorn (200g)
Lean steak mince (200g)
Pork loin chops (well trimmed - 2)
Raw chorizo (30g)
Salsa (chilled – 30g)
Whole chicken (1.5kg - serving 200g cooked chicken per person – the remainder can be used for the rest of the week in wraps, sandwiches and salads)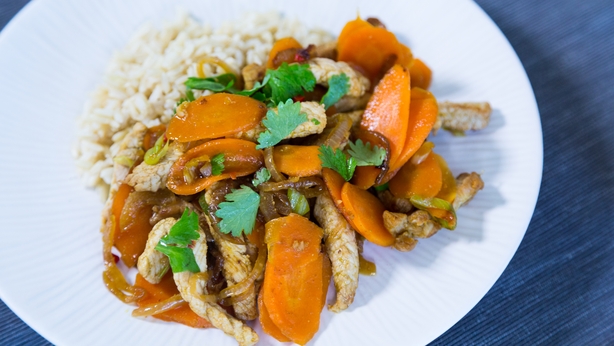 Dried Goods
Black beans (2 x 400g tins)
Chilli powder (7.5g)
Chopped tomatoes (4 x 400g tins + 200g tin or use ½ 400g tin)
Dried basil (2.5g)
Dried chilli flakes (1.25g)
Dried oregano (2.5g)
Dried parsley (2.5g)
Freshly ground black pepper
Ground cumin (15g)
Honey (5g)
Kidney beans (45g drained from a tin)
Paprika (sweet or smoked – 5g)
Rapeseed oil (82.5g)
Reduced salt chicken stock cube (1/4)
Reduced salt vegetable stock cube (1/2)
Reduced sodium soy sauce (15g)
Salt (if using)
Sun-dried tomatoes (60g well drained from a jar)
Tomato puree (35g)
Wholegrain brown rice (80g)
Wholemeal wraps (2)
Wholewheat penne pasta (80g)
Wholewheat spaghetti (100g)
Worcestershire sauce (2.5g)