If you want to follow the Operation Transformation leaders' meal plan, print off this shopping list for your next trip to the supermarket. Following the Vegetarian Meal Plan? Click here.
Week 1
Thursday, January 9th: Mango Chicken
Friday, January 10th: Tuna Pasta with Sweetcorn & Peppers
Saturday, January 11th: Veggie Quesadilla
Sunday, January 12th: Pork Chops Cacciatore
Monday, January 13th: Veggie Satay Noodles
Tuesday, January 14th: Chicken Fajitas
Wednesday, January 15th: Spicy Beef & Pepper Stir-fry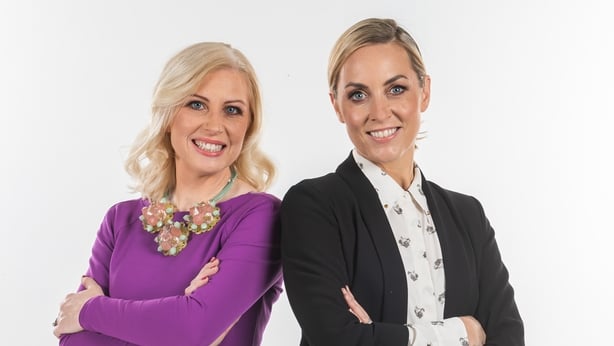 Aoife's Core Equipment List
Sharp knife
Wooden spoon
Medium saucepan
Roasting tin
Frying pan
Casserole dish
Weighing scales
Tongs
Measuring jug
Potato masher
Fish slice/Slotted turner
Chopping board
Box grater
Tupperware containers
Vegetable peeler
Petal Steamer
Kitchen scissors
Sieve
Ladle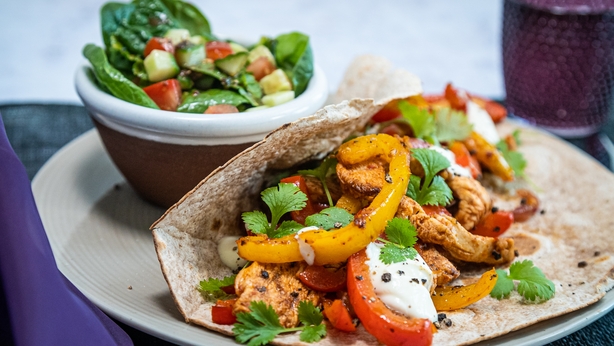 Fruit & Vegetables
Baby new potatoes (550g)
Baby spinach leaves (130g)
Basil leaves (5g)
Broccoli (1 small head - you need 240g florets)
Butternut squash (1/2 - you need 240g cubes)
Celery sticks (2)
Cherry tomatoes (10)
Chives (5g optional + 5g if making vinaigrette)
Coriander leaves (5g)
Cucumber (1/4)
Garlic cloves (5)
Green peppers (3)
Lime (1)
Mushrooms (200g - chestnut or ordinary)
Onion (2 small)
Red onion (1 1/2 small)
Red peppers (6)
Root ginger (1 small knob - you need 5g freshly grated)
Scallions (4)
Tomato (1 ripe)
Yellow peppers (2)
Fresh Produce
Butter (25g)
Cheddar cheese (60g)
Chicken fillets (skinned - 4)
Low fat milk (1.5% fat – 200ml)
Natural yoghurt (3% fat) – 115g)
Pork loin chops (well trimmed - 2)
Salsa (chilled – 30g)
Sirloin steak (lean – 200g)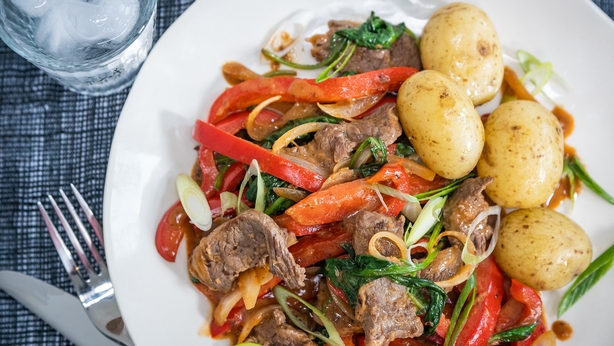 Dried Goods
Balsamic vinegar (30g – if making vinaigrette)
Chinese five-spice powder (2.5g)
Chopped tomatoes (400g tin)
Coconut milk (2 x 160g tins)
Cornflour (5g)
Dijon mustard (or use tomato puree - 10g)
Dried basil (5g or use fresh)
Dried chilli flakes (2.5g)
Freshly ground black pepper
Ground cumin (10g)
Honey (5g – if making vinaigrette)
Kidney beans (200g tin or use ½ 400g tin)
Mango chutney (40g)
Natural peanut butter (5g - preferably crunchy with no added sugar & salt – check the label the sugar should be no more than 5g per 100g)
Natural skinned peanuts (10g)
Paprika (sweet or smoked – 5g)
Plain flour (25g)
Rapeseed oil (60g + 50g if making own vinaigrette – cold-pressed for stronger flavour)
Reduced sodium soy sauce (30g)
Salt (if using)
Sriracha chilli sauce (optional - 7.5g)
Sweetcorn (200g tin - salt free)
Tuna (in spring water - 130g tin)
Wholegrain mustard (30g + 15g if making own vinaigrette)
Wholemeal wraps (4)
Wholewheat noodles (dried - 100g)
Wholewheat penne pasta (80g)
Wholewheat spaghetti (80g)
Vinaigrette salad dressing (15g - or make your own)
Operation Transformation airs every Wednesday on RTÉ One.