"This cake almost feels regal. It's rich and luxurious and is packed with fibre from the flax and the dates. It feels so moist due to the almonds and coconut oil, too. Topped with the sauce, it's as close as it gets to pure heaven," says telly gal and cookbook author, Fearne Cotton.
"I love making this sauce as it can be used in so many ways. Pour it over cakes, swirl into yoghurt or let your kids dip fruity kebabs into it as a little treat. The miso gives it such warmth and a dreamy richness."
Ingredients:
(Makes 1 x 23cm round cake)
For the caramel:
2tbsp maple syrup
2tbsp sunflower oil
2tsp vanilla extract
2tbsp white miso paste
4tbsp coconut milk yoghurt
For the cake:
3tbsp ground flax seeds
130ml boiling water
100g pitted Medjool dates
75ml non-dairy milk
200g ground almonds
100g desiccated coconut
150g coconut palm sugar
150 coconut oil, melted
Zest of 1 lemon
1tsp baking powder
1/4tsp sea salt
1tsp vanilla extract
Non-dairy yoghurt, to serve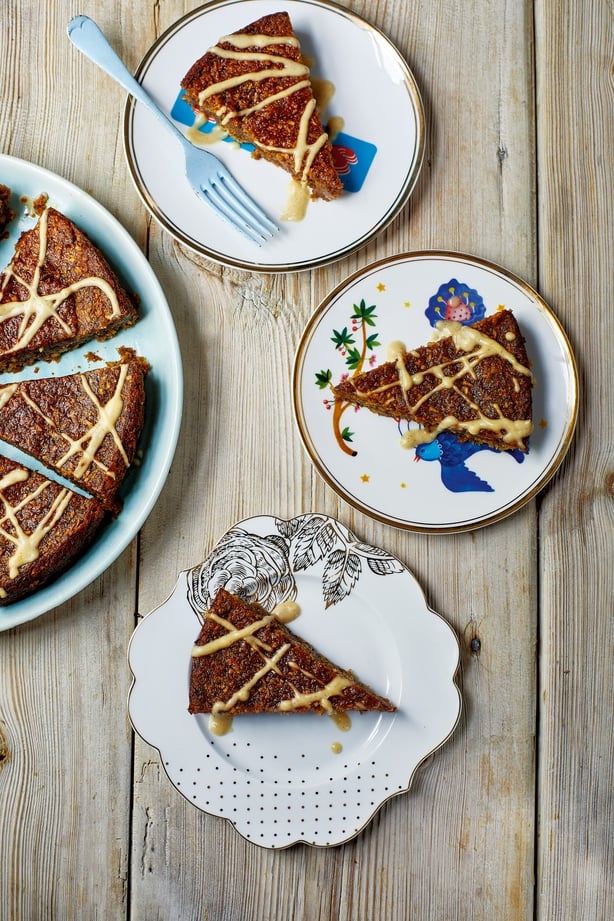 Method:
Preheat the oven to 180°C/160°C fan/350°F/gas mark 4. Line the cake tin fully with baking parchment.
For the caramel, combine all the ingredients together in a bowl until completely smooth, cover and refrigerate.
In a small bowl, whisk together the ground flax seeds and water. Set aside for two minutes.
Place the dates in a food processor and add the flax seed mixture. Blitz to form a sticky paste. Add the milk, with the motor still running, and blitz until combined, then transfer to a large bowl.
Add the remaining cake ingredients to the food processor and mix until thoroughly combined. Pour the mixture into the cake tin and use the back of a spoon to level the surface. Bake in the centre of the oven for 35-45 minutes or until an inserted skewer comes out clean. If the top is browning too quickly, cover with foil. Remove and leave to cool in the tin for 10 minutes, then turn out onto a wire cooling rack to cool completely.
When ready to serve, remove the caramel from the fridge, stir and then drizzle over the cake and serve with some yoghurt on the side. Keep any leftovers for up to three days in an airtight container.
Happy Vegan: Easy Plant Based Recipes To Make The Whole Family Happy by Fearne Cotton, photography by Andrew Burton, is published by Orion Spring. Available now.