Although he's closely associated with his roots in Co Cavan, chef Neven Maguire has always had a bit of a travel bug, especially when the trip involves discovering local food.
In this brand new series of Neven's Spanish Food Trails, popular chef Neven Maguire explores the spectacular Northern regions of Cantabria, Asturias and Galicia.
This six-part series highlights the local cuisine as Neven enjoys a huge range of produce, from Cabrales blue cheese matured in mountain caves, to Galician veal, octopus pie, grilled sea bass, clams, traditional Spanish Cider, and Albariño Wine.
Neven also creates a new recipe every week and you can find the recipe on RTÉ Food every Thursday.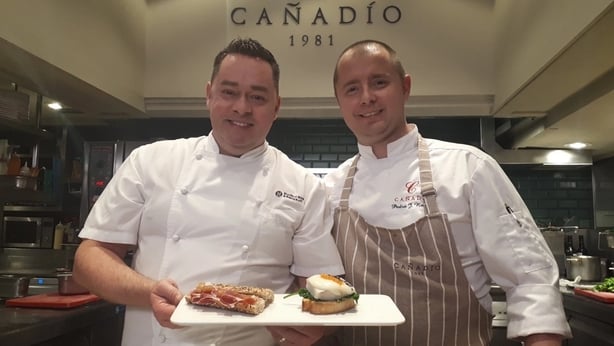 In tonight's episode, Neven heads to the spectacular region of Cantabria in Northern Spain. His first stop is the historic city of Santander, situated on a stunning bay overlooking the Cantabrian Sea.
For his first stop, the Cavan man heads to the Cañadío restaurant where Chef Pedro Román shows him how to make a selection of local tapas or 'pinchos', including Smoked Salmon topped with a Poached Egg and fired with a blow-torch for a finishing touch - as you do.
Next, Neven takes a ferry trip across the Bay Of Santander with Irish journalist Pamela Cahill before joining one of Cantabria's top chefs Sergio Bastard on his daily trip to the Mercado De La Esperanza, a famous food market celebrated for its vast array of fresh fish and local delicacies.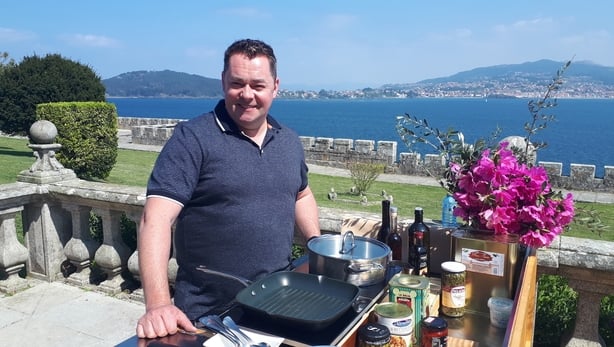 Heading inland, Neven takes a short drive South West of Santander to the Monte Castillo caves, a UNESCO World Heritage Site famous for its ancient cave art. The cave paintings of horses, deer and even human handprints are thought to be 25,000 years old.
Following a fast-paced fish auction in Santoña, Neven heads to Conservas Catalina, one of the region's best-known fish canning companies where he meets the highly skilled women who painstakingly prepare each individual anchovy by hand to be preserved in jars and cans.
Finally, our host visits La Caseta de Bombas, a grill restaurant typical of Northern Spain where he meets owner Carlos Zamora to learn all about the local cuisine and samples Rabas, a traditional fried squid dish in which every part of the squid is used.
Inspired by his trip to Cantabria, Neven's own recipe this week is a Grilled Marinated Chicken Caesar Salad with Anchovies - get the recipe here.
Watch Neven's Spanish Food Trails every Thursday on RTÉ One at 8:30pm.