"Green Gold". "King of the herbs". Wasabi, traditionally served with Japanese cuisine, has a lot of nicknames. But according to the first man on the island of Ireland to grow wasabi commercially, Sean Kitson, all may not be as it seems. He joined Ray D'Arcy to give him the lowdown on the most expensive vegetable in the world.
How expensive, you may wonder? Just about €1.5million per acre, according to Sean.
"It's been in use over a thousand years…It will definitely clear your nasals and give you a bit of a high."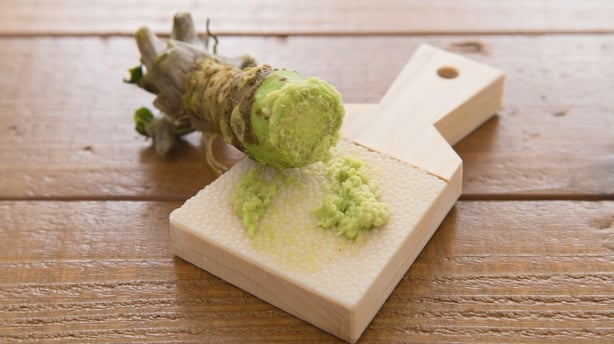 Sean had some surprising news for listeners when it comes to the tubes of bright green wasabi we might see in the supermarket. It's not genuine wasabi.
"Most wasabi in the supermarkets, it's all fake. And if it does contain wasabi, such as wasabi peas, it only contains .3% wasabi. Most of it is horseradish."
The real deal, Sean says, needs to be grated just before serving.
"If they don't actually physically grate in front of you, it is fake. Actually, you're just eating horseradish, mustard and green dye."
Listen back to The Ray D'Arcy Show, click on the video above.