Once the presents are open and the wine is flowing, you'd be forgiven for not caring about what the festive feast looks like on December 25. But as the carving begins, so many of us will be spotted dashing around the table, sprinkling starry confetti, lighting candles and tweaking placement cards – it's tradition.
And according to a survey by Heinz [Seriously] Good Mayonnaise, more than one in three Instagrammers are planning to post pics of their Christmas dinner table this year, so the little details are important.
But how do we pimp up our plates, titillate the table and work some style on our wine glasses? Interiors blogger and Instagrammer Emily Murray from The Pink House shares her top tips…
1. Pick a pretty tablecloth
There's something about a tablecloth that screams 'posh celebration'. If you have children, a tablecloth carries the extra bonus of hiding your well-worn table's multitude of pen-stain sins. OK, a pure white linen tablecloth is undeniably chic and looks de rigeur in Claridges, but my kids would ensure it looked like a turkey massacre had occurred in about 10 minutes, so I opt for a patterned tablecloth instead – pretty, practical AND you can hide sprouts on the green bits.
Bonus tip for extra styling points: Pin or tape the tablecloth around the table legs, so it stays nice and straight along the front, thereby avoiding you having to iron it while looking great in photos.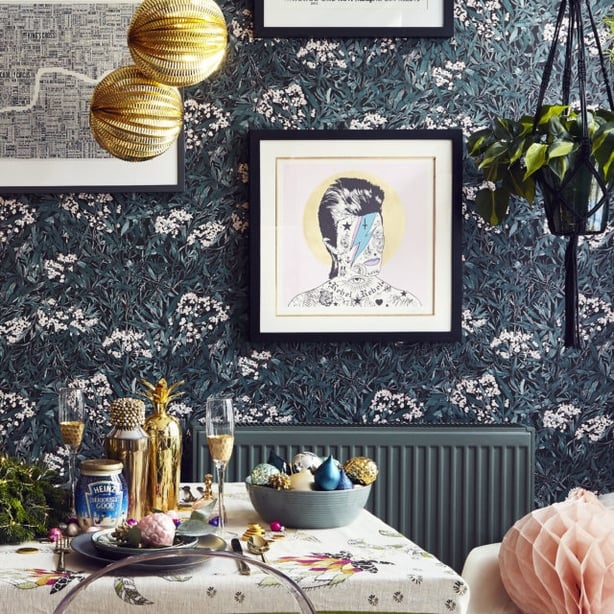 2. Layer your plates
This is something you see a lot in magazine photo shoots, and that's because layered plates are an opportunity to add depth, colour and a bit of bling to each place setting. It's also a great way of upgrading your festive table because it's a) easy, and b) handy – no need for your sherry-addled brain to remember to bring in plates for each course because THEY'RE ALREADY ON THE TABLE. Just start with the biggest plate and work up, either keeping to a colour palette, or clashing colours and patterns – there are no rules!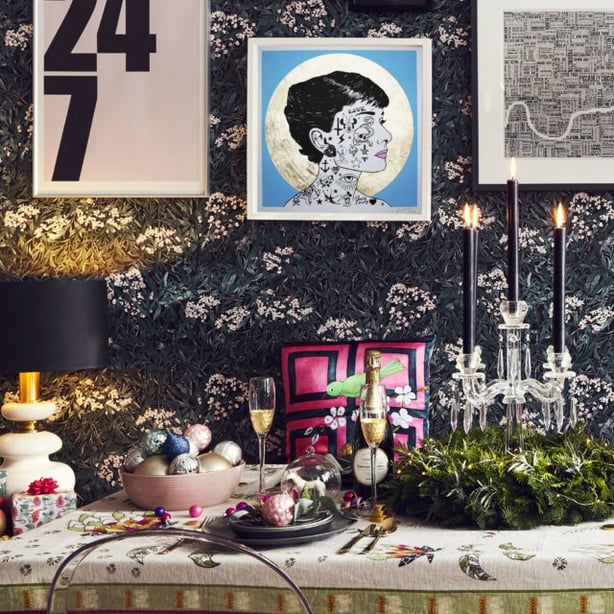 3. Re-purpose your tree decorations
If you're like me, chances are you have more decorations than can actually fit on your tree. Feel bad for those neglected ornaments no longer – because your Christmas table is the perfect place to house them and make them feel loved again. I've used pink pineapples to decorate the plates, scattered multi-coloured mini baubles around, and filled large gilt-edged bowls with gold, silver and blue decorations to make the table look full of festive fun before the food has even arrived.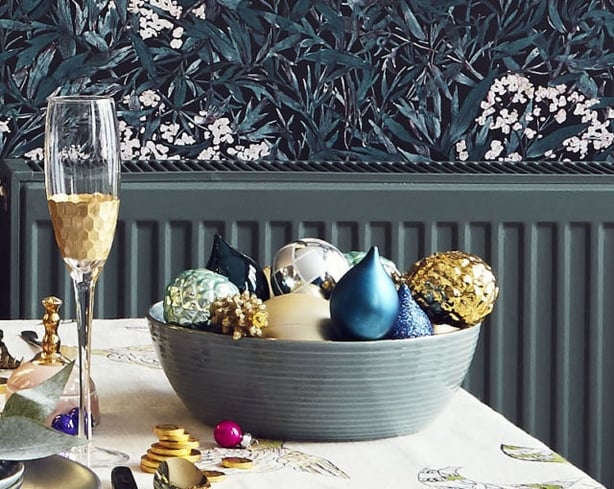 4. Love it? Add it
You don't just have to use Christmas-themed objects to decorate your table – anything gorgeous (and ideally shiny) will do. I have a current obsession with this random little pink-and-gold pot I brought back from a recent trip to Sweden so on the table, it goes. I might even fill it with salt crystals on the big day to give it a purpose.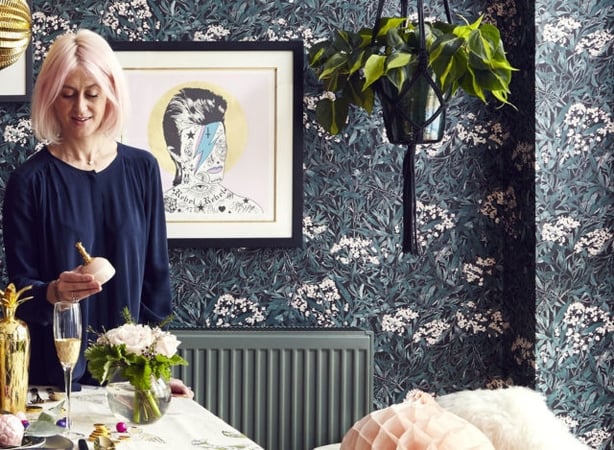 5. Keep the kids occupied
Christmas dinner is one meal when you REALLY don't want to listen to "wheeeeen's puuuudding?" on repeat. And you don't have to if you leave piles of gold chocolate coins lying around the table for them to graze on while you finish your main course. Not only will they be eating, making it harder for them to speak (though it must be said the small Pink House Dwellers are perfectly capable of asking for chocolate while eating chocolate), but prising apart the foil will help hone their fine motor skills (education on actual Christmas Day!) and occupy their brains. For, ooh, about three minutes. Eat up!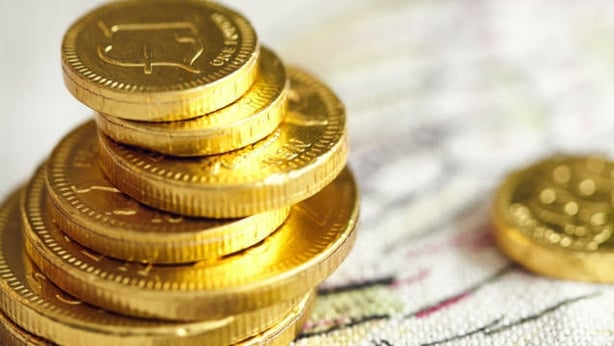 6. Fire up the flowers
For me, no decoration in the world can beat mother nature (yup, even a unicorn bauble – though it DOES come close). For this setting, I've filled my owl vase with scented eucalyptus, and woven a few fairy lights through for added sparkle (there's no such thing as gilding the lily at Christmas). Dried hydrangea heads add depth and drama – and are an excellent year-round alternative to faux flowers. Finally, a gorgeous bright pink bouquet adds something extra special.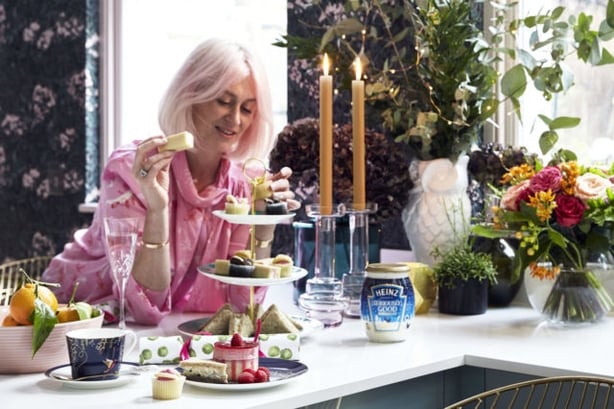 7. Choose your own Christmas colours
Who says Christmas has to be red and green? Nearly every retailer in the land, that's who. But that doesn't mean you have to go along with it. Dodge the cliché and up the fab-factor with a few simple tweaks – I've taken these funky sprout crackers from Talking Tables, removed the red ribbon and tied pink ones in their place – much better! Another way around the traditional look is to shop from non-Christmas ranges and stores – anything you buy will look lovely all year round, making them an 'investment purchase'.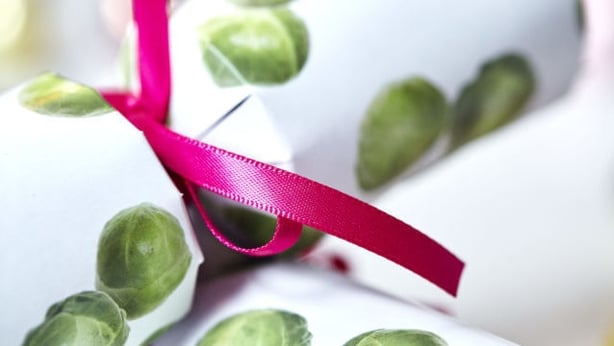 Happy festive styling – and enjoy those turkey sandwiches!