Rory O'Connell and his sister Darina Allen are back together again for the return of their popular Christmas programme, A Simply Delicious Christmas. In last night's episode, Rory whipped up a menu of roast pumpkin, rustic turkey pie, blue cheese salad, cauliflower soup and poached pears - click here for the recipes.
In tonight's episode, Rory is joined by Darina, and sibling rivalry returns to the kitchen as they prepare small bites for the party season: roast onion leaves with smoked eel and horseradish mayo, Christmas quesadillas, anchovy and sesame seed straws, and filo tartlets with various fillings.
Sweet delights include chocolate prunes with gold leaf, marzipan stuffed dates, and Christmas lollipops. Expect strong disagreement over the use of decorative 'sprinkles'. But order is restored and an impressive array of food is prepared.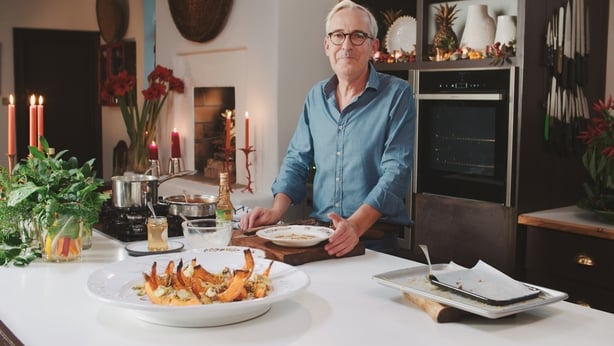 Get the written recipes for these festive dishes, below:
Anchovy and Sesame Seed Straws
Pico de Gallo - Tomato and Chilli Salsa
Roast Red Onion Leaves with Smoked Eel and Horseradish Mayonnaise
Smoked Salmon with Cream Cheese and Dill
Watch Part 2 of A Simply Delicious Christmas on Wednesday, 19th December, 8.30pm on RTÉ One.