Food brings both comfort and support. It fills your belly and makes you feel loved, and it's an opportunity to share skills, tips and techniques – and not much beats sitting down to eat with the people that matter to you most.
So you can see what might have been the thinking behind the Duchess of Sussex's decision to support a new community cookbook that's set to help Grenfell families among others.
The cookbook – Together: Our Community Cookbook – is packed with traditional, much-loved family recipes from across Europe, the Middle East, North Africa and the eastern Mediterranean. They've been shared by the women of the Hubb Community Kitchen, an initiative based near the Grenfell tower site in London.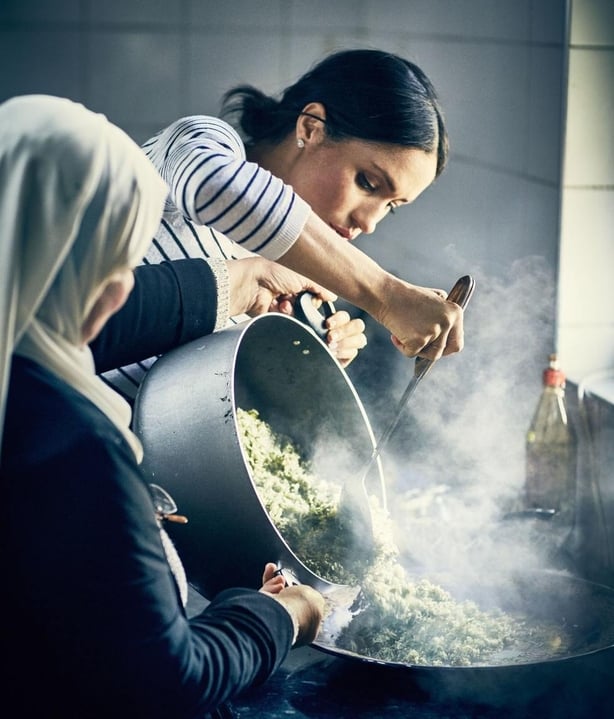 "I immediately felt connected to this community kitchen; it is a place for women to laugh, grieve, cry and cook together," writes Meghan in her foreward to the cookbook – sales of which will be used to keep the kitchen open up to seven days a week.
"Melding cultural identities under a shared roof, it creates a space to feel a sense of normalcy – in its simplest form, the universal need to connect, nurture, and commune through food, through crisis or joy – something we can all relate to."
The Duchess of Sussex is supporting a new charity cookbook, 'Together: Our Community Cookbook', which celebrates the power of cooking to bring communities together. #CookTogether pic.twitter.com/XEclxgQjR4

— Kensington Palace (@KensingtonRoyal) September 17, 2018
How to make Hubb Community Kitchen cook Munira Mahmud's vegetable samosas
Ingredients:(makes 12 samosas)
1 potato, about 150g
3tbsp vegetable oil, plus extra for brushing
1tsp mustard seeds
1/4tsp fenugreek seeds
1/2tsp cumin seeds
1 onion, finely sliced
1/2tsp ground turmeric
1/2tsp ground cinnamon
About 120g white cabbage, finely sliced
1 large carrot, about 120g, peeled and grated
100g mixed red and green peppers, cored, de-seeded and finely chopped
50g frozen peas
1/2tsp granulated sugar
12 spring roll pastry wrappers, 25 x 25cm
1 egg, lightly beaten
Salt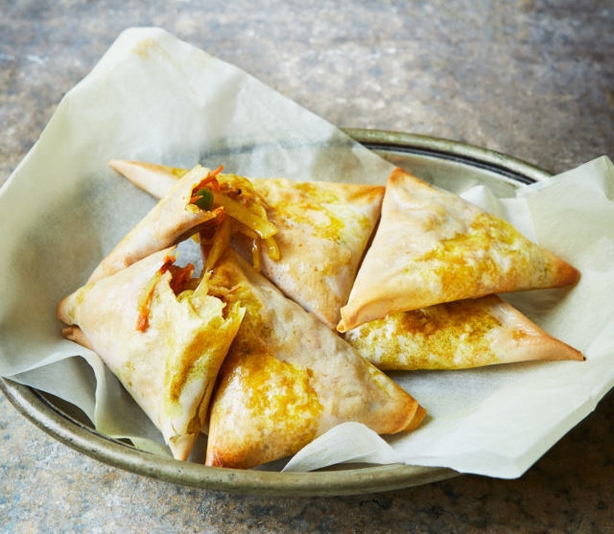 Method:
Boil the potato in salted water for 30 minutes until soft. Drain and leave to cool, then peel and dice.
Heat the vegetable oil in a large frying pan on a medium heat. Add the spice seeds and fry for 30 seconds, until fragrant. Add the onion and a pinch of salt and cook for about two minutes, until translucent.
Add the turmeric and cinnamon and stir for a few seconds until the onion is coated with the spices. Add the cabbage, carrot and peppers and cook over high heat for four to five minutes or until soft.
Add the diced potato, peas, half a teaspoon of salt and the sugar and stir for a couple of minutes. Taste and adjust the seasoning if needed. Transfer to a large plate or a tray and leave to cool.
Cut each pastry square in half to make two rectangles. Keep the pastry covered with a clean, damp tea towel to stop it drying out.
Working with one strip of pastry at a time and with a long edge facing you, fold the bottom right-hand corner of the strip to meet the top edge, forming a triangle.
Then fold the top right-hand corner over to meet the top left-hand corner of the strip, forming a square.
Brush the single layer of pastry (bottom left) with some beaten egg and fold over to form a triangular pouch. Open the pouch and fill with about three tablespoons of the samosa filling. Brush the triangular flap with beaten egg and fold over to seal the pouch.
Place on a tray and keep covered while you make the rest of the samosas.
To bake the samosas, preheat the oven to 200°C and line a baking sheet with baking paper. Place the samosas on the baking sheet.
Brush the tops with a little oil and then with some beaten egg. Bake for 10 minutes, then turn them over, brush the other side with oil and egg and bake for another 10 minutes.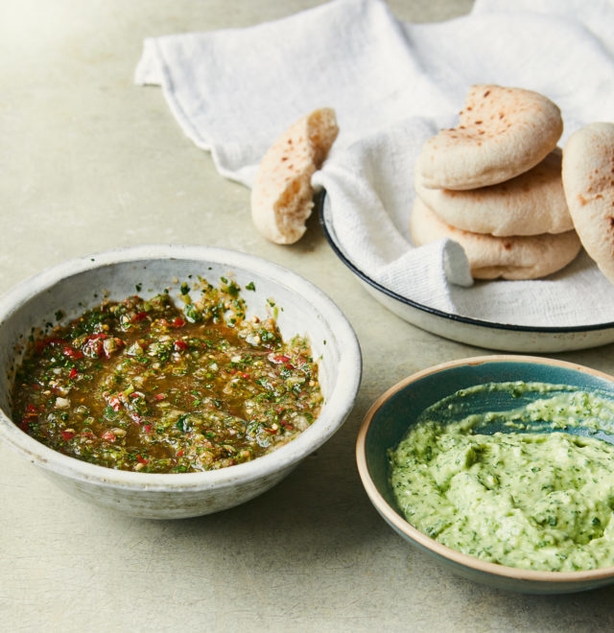 How to make Munira's green chilli and avocado dip (ideal for dunking those samosas in…)
Ingredients:(serves 4)
2 green chillies, halved and de-seeded
25g fresh coriander
3tbsp natural yoghurt
Grated zest and juice of 2 lemons
4 garlic cloves, peeled
Flesh of 1 ripe avocado
4tbsp mayonnaise (optional)
Salt and pepper
Method:
Put all the ingredients except the mayonnaise into a food processor and blend until smooth. Taste and adjust the seasoning if necessary.
Add mayonnaise (if you wish) and stir to combine, then transfer to a serving bowl
Together: Our Community Cookbook is published by Ebury Press. Photography Jenny Zarins.