Here are a few tips for making sure your next BBQ goes smoothly, regardless of the weather…
Get the right barbecue
We're only as good as the tools and equipment we work with, which makes getting the right barbecue an absolute must. While there's nothing wrong with gas, using charcoal will give you that proper barbecued smoky taste that we all know and love.
By buying your own flavoured wood chips and charcoal, you can also add additional flavouring to foods. From Sweet Chestnut to Cherry Wood, brands like the Oxford Charcoal Company provide premium, gourmet flavouring, and it's all sustainably sourced too.
When buying a barbecue, you should also consider: size – can it cater to the number of people you'll be cooking for? Does it have a lid? They're great at trapping in the smoky, barbecue flavour. Does it have more than one shelf? Having adjustable height shelves allows you to barbecue foods with different cooking times.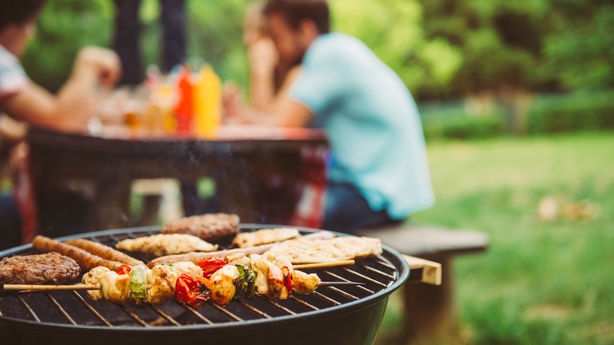 Light the BBQ ahead of cooking
Even though hosting a barbecue is all about relaxing with friends and family, they do require a lot of attention, so making sure you give yourself enough time to get it ready is essential.
Before lighting the charcoal, always remember to place your barbecue on a flat surface away from any trees, fences or bushes, making sure to keep a bucket of water close by. Also, consider wind direction so you don't smoke out your house.
To make lighting easier, add scrunched up balls of newspaper to the charcoal and light in a number of places. Once lit, leave the barbecue for at least 20-30 minutes or until the charcoal is pale in colour with no flames.
Have all the right condiments
A barbecue just isn't a barbecue without a delicious sauce to dollop on top or the side. While staples like ketchup, mustard and mayonnaise are a must, barbecue sauces and hot sauces are all the rage right now and definitely worth having at the dinner table.
Want to make your own? We've got some great recipes...
Consider all diets and tastes
With many people turning to vegan diets and more and more deciding to eat less meat, make sure your barbecue caters for everyone.
As well as having classic burgers, sausages, steaks, ribs or fish, go out and grab some vegetarian and vegan versions as well. You can also try replacing burger patties with large Portobello mushrooms, or with one-inch slices of whole cauliflower instead.
Check out Donal Skehan's mega beetroot burger recipe here.
Barbecued vegetables – such as corn on the cob or veggie skewers – always go down well, and roasted halloumi tastes delicious on the barbecue.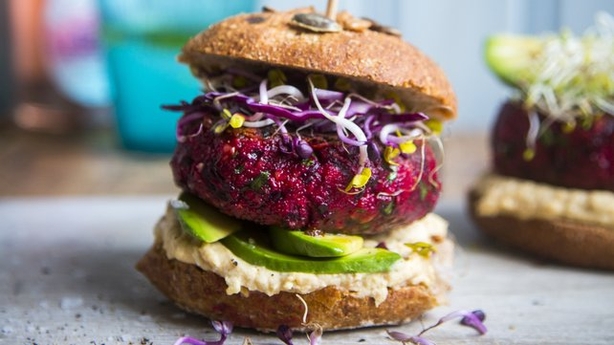 Prevent foods from drying out
Cooking over hot coals adds a great smoky flavour, but it can also dry food out quickly. To keep food moist, try using thicker cuts of meat and fish and make sure to marinate.
However, avoid saucing too early. Sauces and marinades can burn and ruin your meat. To prevent this happening, only baste 15-20 minutes before the food is ready to be taken off the heat. Continue to brush over more marinade during this time.
Have all the right tools
We've all been there when a burger falls through the grill or a sausage rolls on to the floor. That's why having all the right equipment by your side is key to running a smooth barbecue.
From aprons, oven gloves and tongs, to a meat press, basting brushes and fish slice, prepare yourself by investing in the right tools for the job. Remember to use different tools for raw and cooked meats and fish.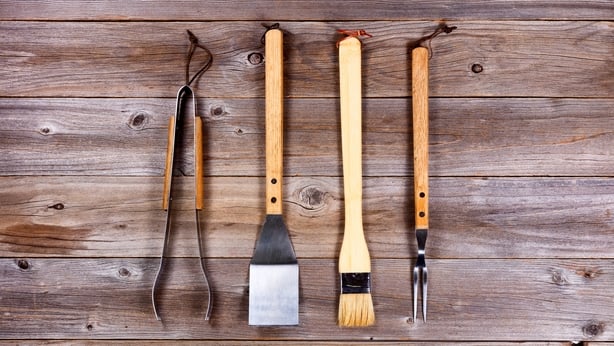 Make sure your food is cooked properly
To prevent food from being under or over cooked, we'd suggest staggering when you place food on the barbecue, depending on cooking times; flipping to ensure foods are cooked all the way through; testing to make sure that all the food you serve is hot enough by investing in a cooking thermometer.
Food at 50C is usually considered rare, 60C is medium and 70C is well done, and always allow your food to rest after you've finished cooking. Not only will it become more succulent, your food will carry on cooking as the juices settle.
Clean that barbecue
The best time to clean a barbecue is while it's pre-heating or still warm after cooking – just make sure not to burn yourself. To get your grill shining, try rubbing it with some leftover beer on newspaper, or even with half an onion. Both methods help to remove excess grease and oil. Once you've finished, brush over some vegetable oil to not only stop your food from sticking, but to also help prevent your barbecue from rusting in future.