Irish chef Donal Skehan has returned to our screens once more with his hit show Donal's Meals in Minutes. The Dublin man is living the life in LA with his now pregnant wife Sofie.
We caught up with the foodie entrepreneur to discuss life in LA, eating well and impending fatherhood.
You recently came home to shoot Donal's Meals in Minutes for RTÉ - when was that and was your mum thrilled to have you home?
I was back home in April to shoot the TV series and left Sofie and Max [the dog] in Los Angeles. My mum and dad were thrilled to have me home for a bit and it was so nice to soak up a bit of Ireland while I was there.
My mum actually came over with me to London while I was there to see me present Saturday Kitchen on BBC and she loved the experience even though she was a nervous wreck!
Check out Donal's Chilli Jam Chicken & Nam Pla Rice dish here ahead of tonight's show.
You both look super healthy and sun-kissed - missing the Irish weather or anything else from home? Maybe mammy's cooking?!
LA is definitely consistent on the weather front but we are both really looking forward to coming home in July to have a little taste of the Irish summer. The biggest thing we miss is the beautiful cliff walks in Howth which we used to do every day come rain or shine.
Definitely missing the Irish cooking out here which is why we can't wait to get back and enjoy some Irish seafood and I'm dying for a proper Irish 99!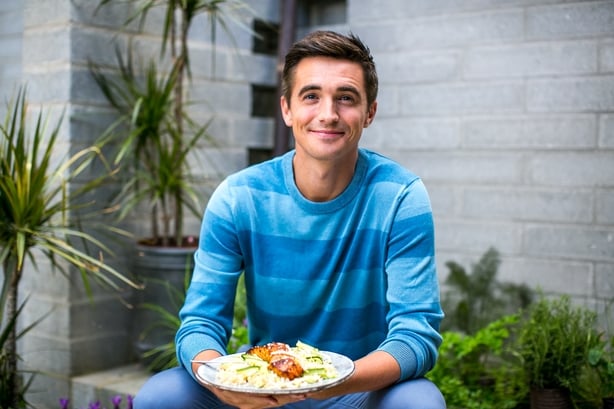 What is the biggest food trend over there at the moment - is it still the avocado?
The big thing out here and has been for a while is Kombucha a fermented tea drink - people drink it nearly as much as coffee out here!
There is a great food market every weekend close to where we live called Smorgasburg where most of the new food trends start off. Last time I was there, there was everything from Southern style gravy coated scones, burgers made from ramen noodles, gourmet rice balls, bubble waffle cones, Filipino Brioche buns, and Hawaiian Shrimp rice serve in pineapple halves.
Is it so much easier and cheaper to eat healthier in LA?
It can be easier in terms of selection but it's definitely not cheaper. They have shops dedicated to all things 'wellness' but you will end up paying ridiculous prices for nicely packaged items.
For us, its still the same, best quality ingredients where possible and lots and lots of dark leafy greens and grains - which can all be fairly reasonable.
Now that baba is on the way, will you be doing less travel? You mentioned in the RTÉ Guide that the UK trips were tiring?
The aim is to take some time off when the baby arrives but I've just started work on my next book so no doubt that will be part of the first few months!
I'm sure they can help with the recipe testing!
In terms of travel, yes the jumping between time zones is extremely tiring so we're aiming to reduce that as much as possible so we get plenty of family time in!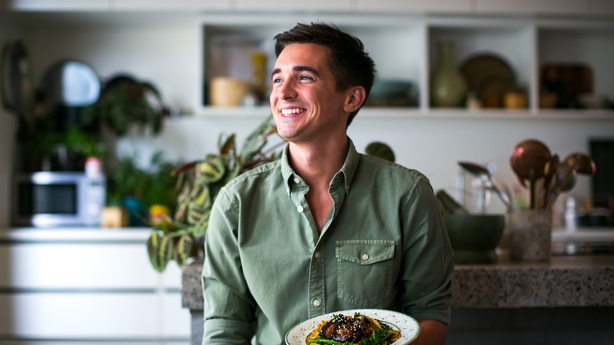 Has anything else changed in terms of your working life?
Since we've been based in LA, my mornings are incredibly busy!
Because of the time difference essentially everyone back home has done their whole days work and I end up waking up to a whole pile of emails so I'm always playing catch up on first thing in the morning.
I've got used to it but make sure I get up and out for a walk with Max before I sit down to them all, otherwise you get too caught up in it.
The advantage is that it all calms down by 12 and then I have time to get in touch with the Americans!
How are you both feeling about the news now that its been announced?
One of the hardest parts of Sofie being pregnant has been keeping it quiet and we both have to admit that it's been a huge weight off our shoulders.
We've had the most unbelievable reaction to the announcement and were just blow away by the amount of sweet and lovely messages from everyone.
It's such lovely news to share.
Life is about to change forever! We're expecting a little baby arriving this Autumn! Completely over the moon and … https://t.co/kz9lP0Mt7J pic.twitter.com/lMEHHHfgCn

— Donal Skehan (@DonalSkehan) June 12, 2017
Are you the type of peeps who like to know all the details/gender about the baby or would you rather be surprised?
Sofie is the worrier and being Swedish she likes to have all the details so we know just about EVERYTHING we could possibly know!
We need your consent to load this Instagram contentWe use Instagram to manage extra content that can set cookies on your device and collect data about your activity. Please review their details and accept them to load the content.Manage Preferences
Will you both do antenatal and/or yoga classes?
We were both doing hot yoga out here before Sofie was pregnant but she's stopped and is doing more prenatal style yoga. We've yet to find one we can both go to!
Sofie says it's been really helping her and also in a new city it's a great way to meet other mothers going through the same situation.
My LA girl... ???????????? https://t.co/1wcnlSodvY pic.twitter.com/Py02BeRRDc

— Donal Skehan (@DonalSkehan) June 10, 2017
Has Sofie started to have any cravings or gone off any foods?
No massive cravings yet, I'm poised at the ready to pick up tacos, ice cream and Thai food, but haven't got the call yet! Salmon seems to be the only thing to turn her stomach!
Tune into Donal's Meals in Minutes on RTÉ One every Tuesday at 8:30pm. Catch up on RTÉ Player.