Kevin Dundon, with the help of SuperValu, is on a mission to get the nation cooking. To kick off the summer right, they brought together an extraordinary group of chefs and nutritionists for exciting panel discussions and cookery demos.We caught up with top chef Kevin Dundon for his top tips for Summer.
Where is your top holiday food destination and why?
I have a few of these, so it's kind of hard. One of the latest I've done is Austin, Texas. What I love about it is there's there a huge amount of street food, so food trucks.
I fell in love with barbecue food when I was there - it was exceptional. And it was very chilled out and very relaxed and I think that's the future of food. It's that chill, relaxed, easy-going destination.
Another great food place more local to us would be Sicily. Sicily is fantastic, whether you're eating a pizza or fantastic pasta. Two weeks I was there and I didn't get a bad meal at all, which was really really good for me.
Top tips for a summer BBQ?
My top tips for a barbecue this year, I'm asked this question every year. But this year for me barbecue is all about slow cooking.
So get a fantastic brisket of beef or a shoulder of pork and cook it up over the coals for like 12 hours, take it out and let it just fall apart, so it' like a pulled pork. get some crispy rolls, some fantastic salads, I think that's - it's like nurture that moment a little bit longer.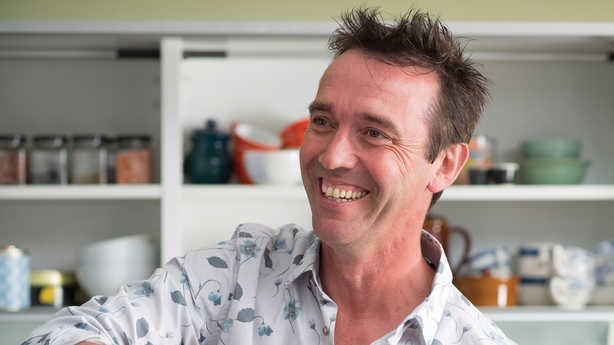 What's your top healthy treat for summer?
That's a really on point question because we all love treats, we all love to indulge ourselves. So gourmet popcorn has to be number one - cook some popcorn and use some good chocolate, 70 percent chocolate, make a chocolate sauce and kinda drip it over the top - it'll be fantastic.
The other one that would be really good is to make your own ice-pops. So get some fresh food, some fresh raspberries, strawberries when they're in season, purée them up and put them into your ice pop holder and freeze them and take them out.
So you know, instead of getting that Choc Ice out of the freezer, take these ice pops out like a fruit smoothie ice cream cone and they'll love it.
And you know what initially when the kids say 'oh I don't really want that, I want some chocolate, I want some candy and then when they try it they are like 'oh that's nice' and suddenly sweets have gone out of their heads again and they're really really happy.