FIRST COURSE
A Sorrel Soup with Eggs
Take the chump end of a loin of mutton, and part of a knuckle of veal to make your stock with; season it with pepper, salt, cloves, mace and a faggot of sweet herbs; boil it till it is as rich as you would have it; strain it off and put it into a clean sauce-pan. Put in a young fowl, cover it over and stove it; then take three or four large handfuls of sorrel washed clean; chop it grossly, fry it in butter, put it into your soup, and let it boil till your fowl is thoroughly done; scum it clean, and send it to table with the fowl in the middle, and six poached eggs round it. Garnish your dish with fried sippets, and stewed sorrel.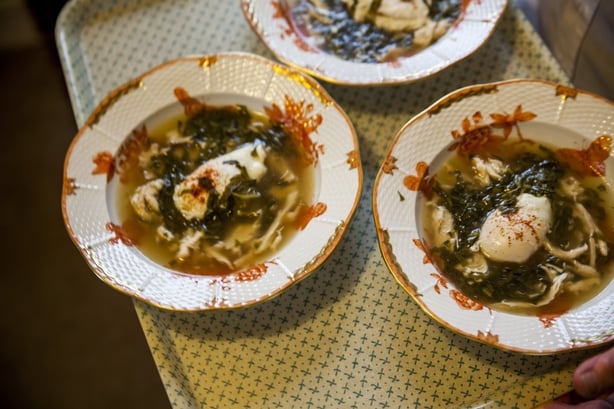 Cow's Udder Forced
Take a young cow's udder, salt it for three or four days, then boil it till it is tender; let it stand till it is cold, and with a sharp knife cut it at the thick end almost through to the thin end, that is, to split it, but not at the top, but from side to side; cut the inside out, chop it small, and mix it with some veal force-meat; rub the inside with the yolks of eggs, put in the forcemeat, close it together, stick the top over with cloves to your fancy, rub it over with the yolk of an egg, sprinkle breadcrumbs over it, then put it into a hot dish, with good gravy under it, and garnish with lemon and beetroot.
The tongue and udder put into a dish together make a grand dish, with gallintine sauce in a boat.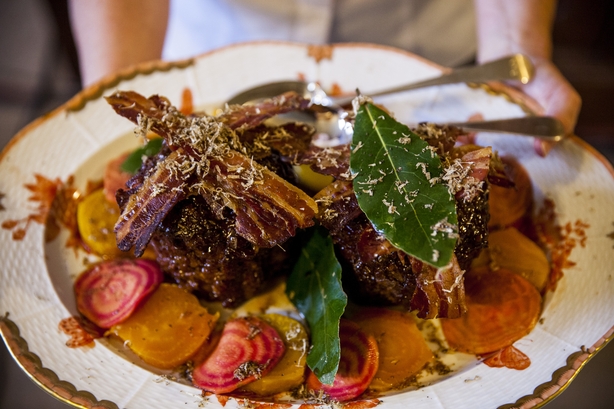 To Source Pike
To a quart of water, add a pint of white wine, and three pints of white wine vinegar, with pepper, salt, nutmeg bruised, mace, an onion stuck with cloves, a little lemon peel, and a faggot of sweet herbs; boil all together in a large stew-pan; when it boils, put in your pike; boil it till you think it is enough, then take it out and lay it into a deep dish till it is cold; pour off your liquor into a clean pan, take out your onion and herbs; when your pickle is quite cold, take off all the fat clean, pour it over your fish, and the next day you may use it. If it is not sharp enough, slice in a lemon. If you would eat them hot, send them to table with shrimps or lobster sauce made of this liquor, and garnish your dish with fried smelts, crisp parsley, scraped horseradish, and slice lemon.
Thus you may do salmon, trout, mullet and most other fish.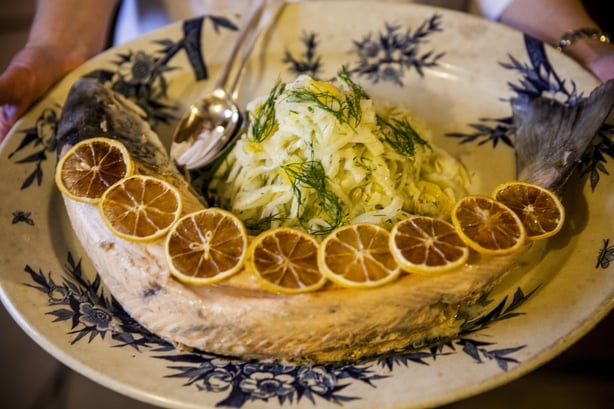 To make Marrow Pasties
Take beef marrow clean from the bones, and a few apples chopped small, a little lemon-peel shred very fine, grated bread, currants well washed and picked, and rubbed in a cloth; mix all these together with a little brandy, and cover them with puff-paste, made into what shape you please. You may either fry them or bake them, which is most convenient.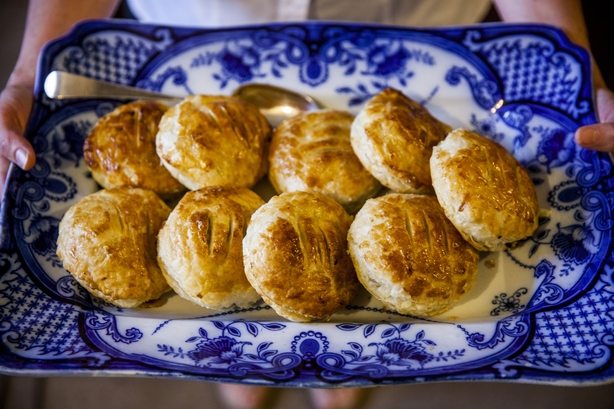 French Beans Ragoued with Cabbage
Make the ragou as before; take a nice little cabbage, about as big as a pint bason, when the outside leaves, top and stalks are cut off, half boil it, and cut a hole in the middle pretty big; take what you cut out and chop it very fine, with a few French beans boiled, a carrot, and one turnip, boiled and mashed all together, put them into a stew-pan, season them with pepper, salt and nutmeg, and a good piece of butter, stew them a few minutes over the fire, keep stirring them all the time; in the mean time put the cabbage into a stew-pan, but take great care it does not fall to pieces, put to it a gill of water, two spoonfuls of white wine, one of ketchup, one of mushroom pickle, a little butter mixed with flour, a very little pepper, cover it close and let it stew till it is tender, then take it up carefully and lay it in the middle of the dish, put the mashed roots in the middle, heaped as high as you can, and put the ragou round it.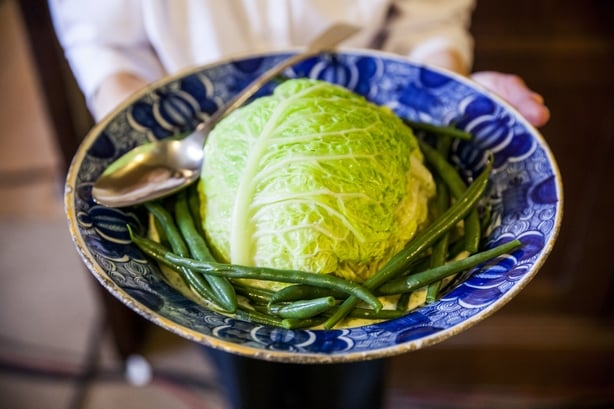 SECOND COURSE
A Kid
Skin your kid, make a stuffing in the following manner; rub the crumb of a penny loaf through a cullender, pick and chop half a pound of beef-suet, pick and chop a handful of parsley, some lemon-peel and sweet herbs chopped fine, seasoned with pepper and salt, and half a nutmeg grated, break in two eggs, and mix them all together; put it in the belly, sew it up, truss it, spit it, roast it before a good fire, and baste it well all the time it is roasting; (a middling-sized one will take one hour and a half, a large one two hours) when it is done baste it with butter, sprinkle some salt on it, and dredge it with flour; take up and put it in a hot dish, with gravy in the dish, and mint sauce in a boat.
N.B. A young fawn is roasted in the same manner.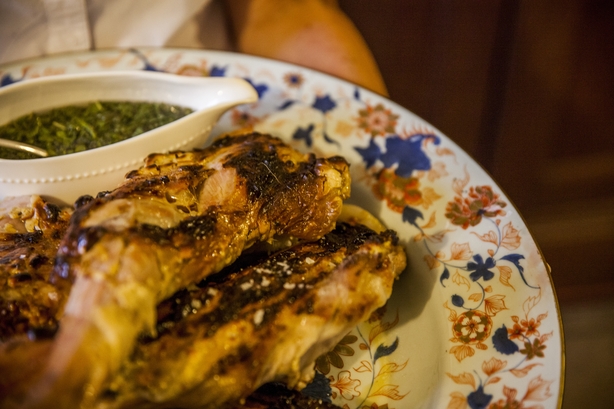 To Ragoo Oysters
Open four dozen of the largest oysters, and save the liquor; make a thick batter with cream, the yolks of eggs, nutmeg grated, and parsley chopped fine: Dip the oysters into the  batter, and then roll them in bread crumbs, and fry them of a fine brown; when they are fried take them up, and lay them on a drainer before the fire; empty your pan, and dust some flour all over it, then put in about two ounces of butter: When it is melted and thick, strain in your oyster liquor, and stir it well together; put in two ounces of Pistachio nuts shelled, and let them boil; then put in half a pint of white wine, beat up the yolks of two eggs in four spoonfuls of cream; stir all together, till it is of a proper thickness; lay the oysters in the dish, and pour the ragoo over. Garnish the dish with Seville orange cut in small quarters.
Florendine Hare
Note: substitute rabbit
Take a full-grown hare and hang it up for four or five days, then case it, leave the ears on whole, take out all the bones except the head, lay the hare on the dresser, and put in the following forcemeat: take half a pound of lean veal, half a pound of fat bacon, beat well in a mortar with the crumb of a penny loaf, the liver shred fine, an anchovy, a little parsley and sweet herbs shred fine, season it with pepper and salt, mix it up with a glass of red wine and the yolks of two eggs, put it into the hare's belly, roll it up to the head, and skewer it with the head and ears leaning back, tie it with packthread as you would a collar of veal, wrap it in a cloth, and put it into a stew-pan with two quarts of water, stew it one hour and a half, and when the liquor is reduced to one quart, put in a pint of red wine, a spoonful of lemon-pickle, one of ketchup, and one of browning; then take out the hare and keep it hot, stew the liquor till it is reduced to a pint, thicken it with butter mixed with flour, season it with Cayan pepper and salt; take the hare out of the cloth, untie it and lay it in a dish, pull the jawbones out, stick them in the eyes, and a sprig of myrtle in the mouth, pour the sauce over it, and garnish with fried forcemeat balls.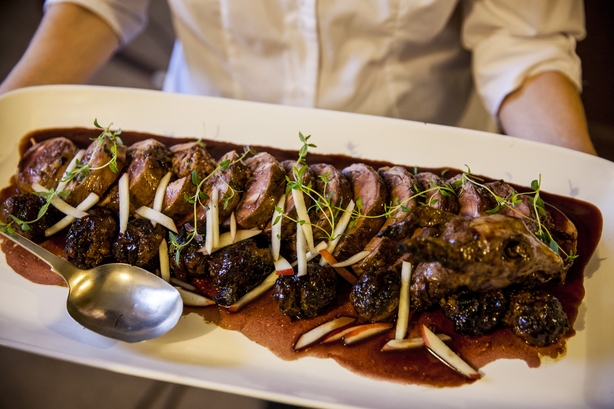 Goose Pie
Boil a small neats tongue till it is tender, peel it, and cut off the root and tip-end; bone a large goose and a large fowl; mix half an ounce of beaten mace with a spoonful of pepper and one of salt, season the inside of the fowl and goose, put the fowl in the goose and the tongue in the fowl; make the hot paste with half a peck of flour as directed in the beginning of this chapter, raise it high, put in the goose breast uppermost, sprinkle some seasoning on it, lay on half a pound of butter, put on the lid, rub it all over with the yolk of an egg, ornament the sides and top, and bake it three hours; if it is to be eat hot, put the bones of the goose and fowl into a sauce-pan, with a quart of water, a bundle of sweet herbs, two blades of mace, a little pepper and salt, and stew it till it is above half wasted; then strain it off and one hour before the pie is done take it out and put the liquor in, and when it is done send it to the table hot. If it is to be eat cold, put no liquor in; when it is cold, cut it in slices across if you please, put it in a dish and garnish it with parsley for a side-dish for supper.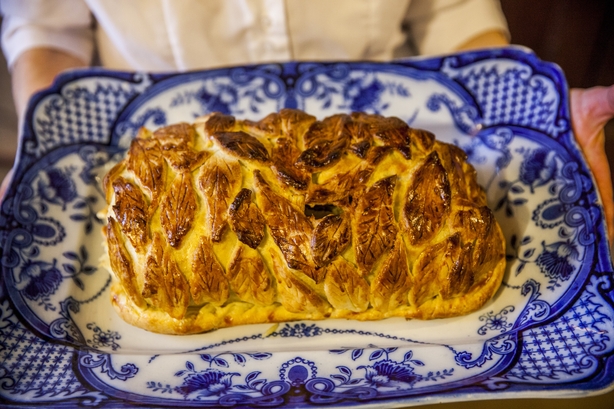 Skirrets Fricaseed
Wash six roots very clean, and boil them in plenty of water till they are tender; then take off the skin, and cut them in slices; have ready a little cream, a bit of butter mixed with flour, the yolk of an egg beat up in a glass of white wine, grate in a little nutmeg, a little salt, and mix all well together; put it over a slow fire, and keep it stirring till it is thick and smooth; lay the roots in the dish, and pour the sauce over them. You may dress roots of salsify and scorzonera the same way.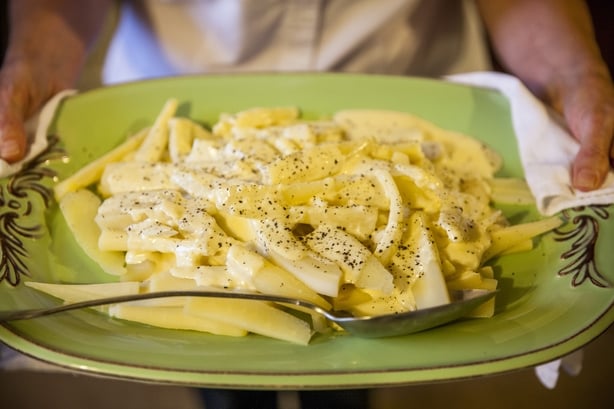 SWEETS
Tort de Moy
Lay a thick sheet of puff-paste round the rim of your dish, then put in a layer of Naples biscuit, then a layer of butter and beef-marrow cut in slices, then a layer of all sorts of candied sweetmeats cut in thin slices, and so on till the dish is full; then boil a quart of cream or milk with a stick of cinnamon, and sweeten it to your palate; when it is cold, beat up four eggs, and mix well with it, and a spoonful of orange flower water; take out the cinnamon, pour it over the remainder in the dish, and bake it half an hour in a moderate oven, but not too slack.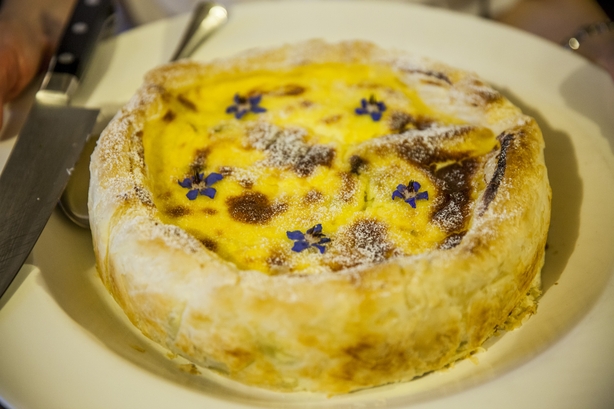 A Hen's Nest
Make a strong jelly of calves feet, adding a little isinglass to it; when your jelly is very clear, put about three gills of it into the bottom of your shape; then make your blamange eggs in this manner: shave down half an ounce of isinglass, and dissolve it on the fire in a gill of water; when it is dissolved, put it into a mutchkin of sweet cream; blanch a quarter of an ounce of bitter, and half an ounce of sweet almonds, and beat them very fine, with a little cold cream, to keep them from oiling; mix all together with a quarter of an ounce of cinnamon, the paring of a lemon; set it on the fire, stir it one way, and let it boil three minutes; take it off, and sweeten it with two ounces of loaf-sugar; strain it through a piece of muslin, and stir it close one way till it be cold, but not fastened, so as the isinglass may be incorporated with the cream; take half a dozen of the smallest hens eggs you can get; make a small hole at the narrow ends of them with a pin and pick out all the meat; wash the shells in clean water, and with a small filler, fill them up with your blamange.
Put each in a glass to stand solid, and set them in a cool place to fasten; then take the lemon peel out of your jelly bag, and cut it into narrow straws about half a quarter long; when your eggs are firm, crack the shells gently and with a soft cloth in your hand, pick the shells nicely off; put three of them in your shape, upon your jelly, and stew a few of the straws round them; put another mutchkin of your jelly upon, and when it is firm, lay on your other three eggs, and fill up your shape with the rest of your jelly, and lay the remainder of the straws carelessly round the edges of your shape; when you are to turn it out, loose the jelly from the edges of the shape with the point of a pen-knife, and dip it in warm water; turn it out on a flat China plate and cover the edges of it with sprigs of boxwood, and lemon straws. This, when done with taste, is a very pretty dish for the middle of a table.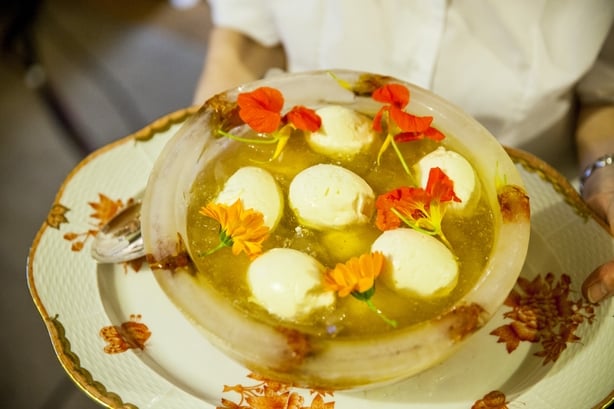 Apple Fraze
Pare six large apples, take out the cores, cut them in slices and fry them on both sides with butter; put them on a sieve to drain, mix half a pint of milk and two eggs with flour to a batter, not too stiff, put in a little lemon-peel shred fine, a little beaten cinnamon, put some butter into a frying-pan, and make it hot; put in half the batter and lay the apples on it, let it fry a little to set it, then put the other batter over, fry it on one side, then turn it and fry the other side brown; put it into a dish, strew powder-sugar over it, and squeeze over it also the juice of a Seville orange.