Neven's food trail leads him to the stunning Hotel Marques de Riscal designed by world renowned architect Frank Gehry. The Hotel in La Rioja's Alava province is also home to a winery, and Neven takes a tour. He travels on to the town of Lantziego to meet olive oil expert and producer Peter Lacuesta for an olive oil tasting.
Neven's own recipes include Roasted Red Pepper Gazpacho with Basil Oil Ice Cubes and Garlic Toasts. He also prepares Stuffed Beef Rolls with Red Wine Sauce.
The ever popular chef visits the Basque Country and La Rioja, two regions in Northern Spain which are renowned for their cuisine. Neven has a particular affinity with this part of Spain: as a young chef, he did a 'stage' at Arzak, the famous restaurant in San Sebastian which has held 3 Michelin stars since 1989 – the only restaurant in Spain to have had three stars for nearly 40 years.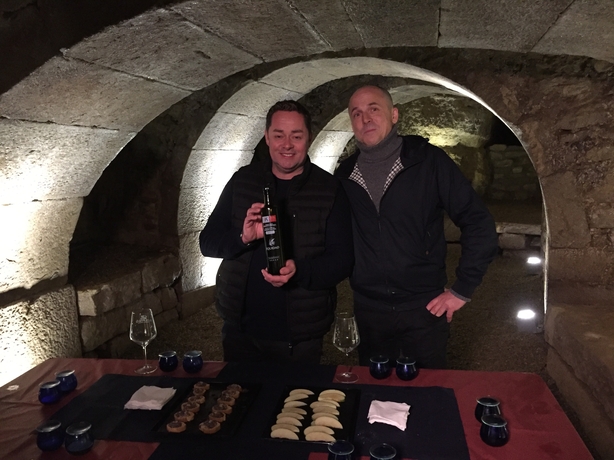 In this seven part series Neven visits Bilbao, San Sebastian and Bermeo in the Basque Country; and Haro in La Rioja. Every part of the region has its own speciality: fish in Bermeo, where Neven sees mackerel being landed and visits a tuna canning plant, pinchos in San Sebastian (which has more Michelin star restaurants per square kilometre than any other place on earth), wine in Haro, cider in Altzaga and cheese in Segura.
Neven visits his old mentor, Sr Juan Mari Arzak, tours the Marques de Riscal winery, takes a balloon trip over La Rioja's countryside, learns how to make pinchos (the Basque equivalent of tapas), watches sheep's milk cheese being made by hand, and sees how two of Bilbao's famous pastries are created.
In this series Neven enjoys a boat trip past the Guggenheim Museum, a football match at Athletico Bilbao, and visits the 'cemetery' at the Cune bodega (winery) where penicillin grows over the bottles of wine to protect them. Neven returns to Ireland to cook dishes inspired by his travels.
This is Neven's most exciting and ambitious series to date, and he relishes the chance to bring viewers to a part of the world that he loves and admires. Check it out on RTÉ One every Thursday at 7pm and if you miss it, play catch up on the RTÉ Player.
Love Neven's recipes? Watching Food Trails? Let us know on Twitter and Facebook!