Breastfeeding provides the best nutrition for babies with many long-term benefits for baby such as the reduction in the risk of obesity and certain infections and allergies.
Ingredients
At this stage of the First 1000 Days, new mothers will be extremely busy and therefore cooking complicated recipes simply won't be an option, however breastfeeding mothers should take the time to look after their own diet as the foods they eat will actually affect both the flavour and nutritional composition of their breast milk.
Oily fish is one of the best food choices a breastfeeding mother can make as it is rich in healthy omega-3 fatty acids which are really important for brain and vision development. These omega-3 fats pass from the mother's diet into their breast milk. Oily fish includes salmon, trout, mackerel, tuna, herring and sardines. Breastfeeding mothers should aim to eat oily fish 1 to 2 times per week.
The ideal breastfeeding recipe would perhaps be a snack or dinner recipe that contains a good source of omega-3.
Salmon and Hummus Bruschetta
Ingredients:
8 slices of sourdough bread
olive oil, for drizzling
1 garlic clove, cut in half
2 vine-ripened tomatoes, sliced
handful of baby spinach leaves
2 x 120g (4 ¼oz) cans of red salmon in spring water, drained
2 tbsp rinsed capersfresh flat-leaf parsley and basil leaves, to garnish
Hummus Ingredients:
1 x 400g (14oz) can of chickpeas, drained and rinsed
2 garlic cloves, crushed
1 tbsp light tahini (sesame seed paste)
1 tsp ground cumin
1 tsp smoked paprika
5 tbsp water
2 tbsp lemon juice
2 tbsp extra virgin olive oil
sea salt and freshly ground black pepper
Method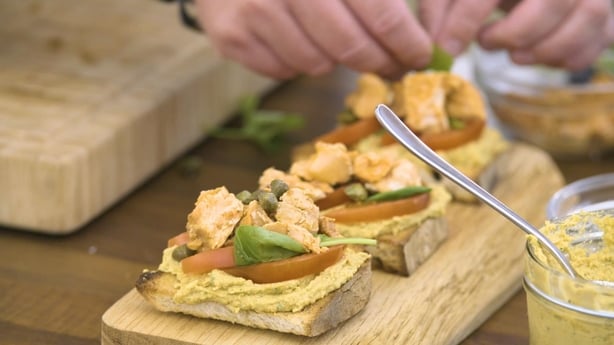 Method:
To make the hummus, place the chickpeas in a food processor with the garlic, tahini, cumin and smoked paprika. Blend to a paste.
Add the water, lemon juice and olive oil through the feeder tube, then season to taste and blend for a few minutes.
Remove from the food processor and place in a suitable container with a lid or cover with cling film. This can be made a few days ahead and stored in the fridge.
Toast the sourdough bread in a toaster or grill under a medium heat until golden. Drizzle each slice with a little olive oil and rub with the cut garlic clove.
Spread the bruschetta thickly with the hummus, then arrange the tomato slices on top, followed by the spinach, chunks of salmon and a sprinkling of capers.
Divide the bruschetta among plates or use one large platter, then season with pepper and scatter over the parsley and basil to serve.