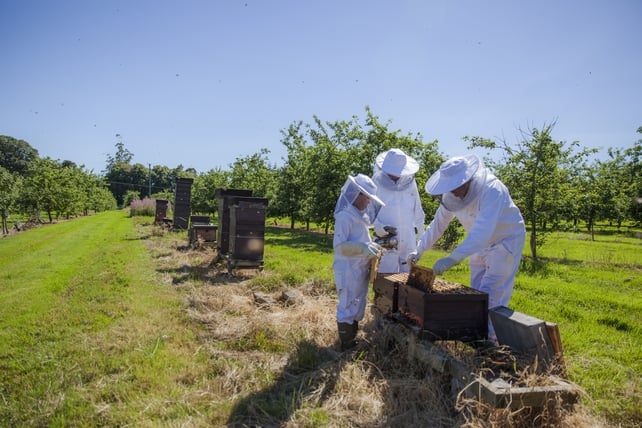 First Course:
Pepper Pot
Put in a stewpan three quarts of water, to this add celery, turnips, carrots, lettuces, cut small, add the bones of cold roast meat of any description, half a pound of bacon, the same weight of salted pork; stew gently until the meat is tender, taking care to skim when it first boils.
Boil half a peck of spinach and rub it through a colander, take the bones out of the soup and add the spinach, with it the meat of a lobster or crab minced, season with plenty of cayenne pepper, and salt to taste.
Suet dumplings may be boiled with it. Mutton or beef may be substituted for bacon or pork, this will be obvious when it is understood that a pepper pot is presumed to consist of an equal proportion of flesh, fish, fowl and vegetables.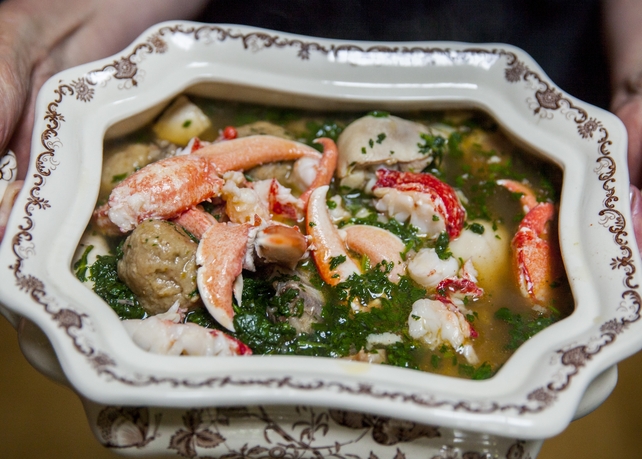 Suet Dumplings
To a pound and a quarter of flour add a pound of shred suet, with two eggs beaten separately, a little salt, and a little ground ginger, and just enough milk to make it. Wet your cloth, dust flour over it, put in the paste the size intended, tie up, and boil an hour.
Pie Raised Hot, à la Financiere
Make a raised crust of any form you please; line the inside with slices of bacon, and fill it up with beef suet chopped fine; decorate the exterior of the pie to your fancy, dorez [to glaze or brown] and put it in a quick oven for an hour; then take it out and when it is a little cooled take out all the contents, half fill it with fowl or game quenelle and finish with ragout of lambs' sweetbreads, cocks' combs, and kidneys, mushrooms, truffles, artichoke bottoms, six cray fish, same of cray fish tails, pour in some good espagnole worked up with a fowl consommé, flavoured with truffles, some Rhenish or dry Madeira wine, glaze them lightly, and serve as quickly after it is baked as you can.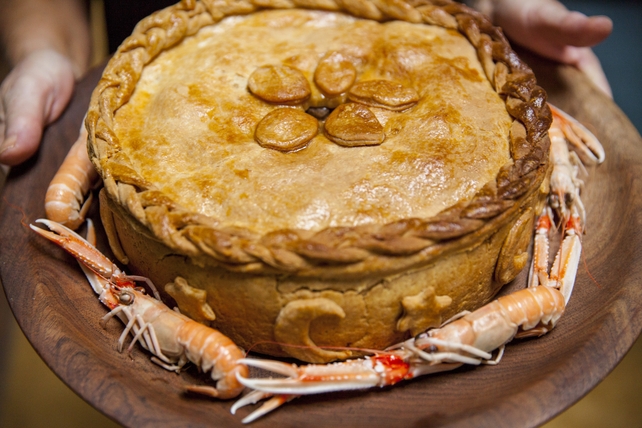 Broiled Mackerel
Prepare by boiling a short time a little fennel, parsley and mint; when done take it from the steaks, and chop all together fine, mix a piece of butter with it, a dust of flour, pepper and salt; cut your fish down the back and fill it with this stuffing; oil your gridiron and oil your fish; broil them over a clear slow fire. Fennel sauce in a boat.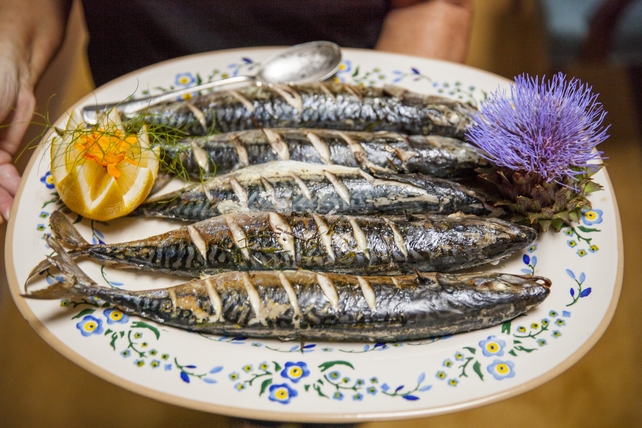 Fennel Sauce
Take as many branches of green fennel as you may require; pick and wash it in the same manner as parsley; chop it very small, scald and then lay it on a sieve to cool; put two spoonfuls of velouté and the same of butter sauce into a saucepan, make them quite hot, take care to stir it well that they may be properly mixed, rub the fennel in a little butter, and then throw it into the sauce; mix it in thoroughly, and season it with salt, pepper and nutmeg.
Vegetables in a Mould
Sheet the inside of an oval jelly or cake mould with bards of fat bacon; then put upright alternately round the inside of the bacon slips of cleaned turnips, carrots, pickle cucumbers, and celery and asparagus heads. Lay a forcemeat at the bottom and round the inside of the vegetables, filling the center with small pieces of veal or mutton passed with sweet herbs, pepper, salt and lemon juice. Cover it with forcemeat, wash it with yolk of egg, and bake it. When it is to be served up turn it gently out of the mould into a deep dish, take off the bacon, make a little hole at the top, and add a small quantity of good cullis.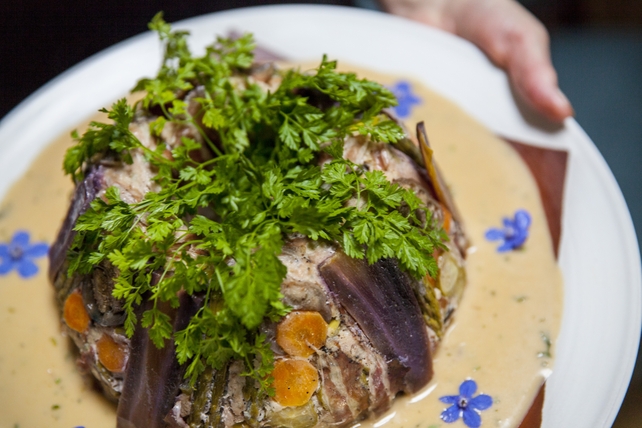 Forcemeat
Take half a pound of lean veal, half a pound of beef-suet picked from the strings, a quarter of a pound of fat bacon cut fine, put it into a mortar and beat it well; then put in half a pound of bread-crumbs, some sweet herbs and parsley, six shallots chopped fine, season it with pepper and salt, beat it well together, put the yolks of two eggs in and mix it up; then put the white of an egg in a stew-pan, cover and beat it till it is of fine froth, put it in and mix it well altogether. 
Lamb's Head and Émincées
Wash well a lamb's head and pluck, take out the brains, blanch them by themselves, boil the head and pluck for about a quarter of an hour, take it up to cool, take out the tongue, trim the two halves of the head neatly, then score it, then egg and bread crumb them as you would cutlets and brown them in the oven or before the fire. Cut up in small dice in equal quantities the tongue, liver, heart and lights; fry in a stewpan a little chopped parsley, shalot and mushroom if you have it, to a nice light brown, dry up the butter with flour, use some good second stock or brown sauce; season with lemon, cayenne pepper, salt, and a dust of sugar, put the émincées under the head, the brains, egg and bread crumb in four pieces and put round.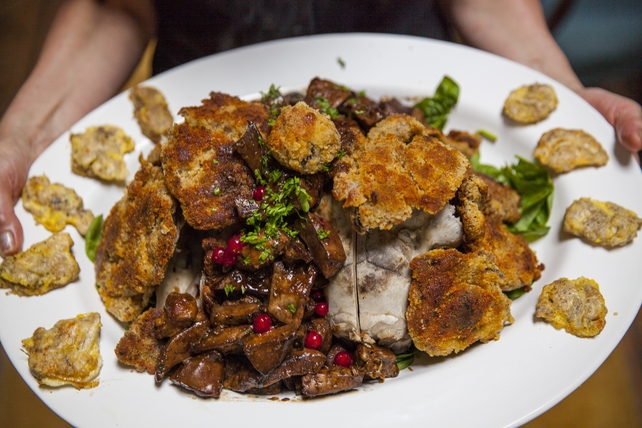 Patties of Lobsters
Sheet the pans with puff paste and put a bit of crumb of bread the bigness of a dice in each; then cover them with more paste, trim round the pan, wash the tops of the paste with egg, and bake the patties of a light colour. When they are to be served up take out the bread, have ready lobsters chopped, add to them a little strong consummé of veal, a small quantity of flour, lemon juice, cayenne pepper, a bit of lemon peel, an eschallot chopped fine, an anchovie rubbed through a sieve, and mixed over a fire for five minutes. Fill the patties with it, and serve them up very hot. NB. The lobsters are to be half boiled before they are chopped.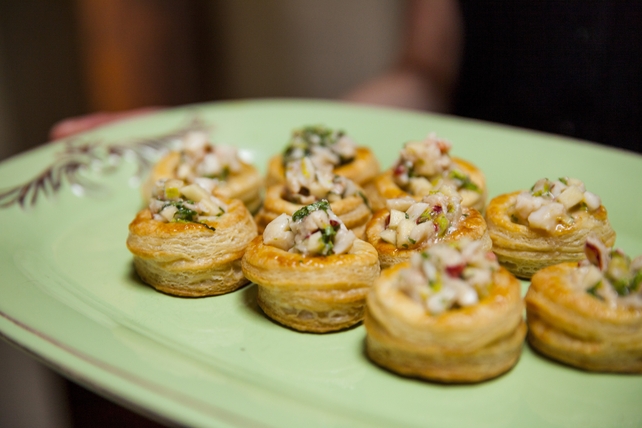 Second Course
Quails in Aspic Jelly
Get three quails, take out the bones, leaving on the neck and head, fill the birds with some forcemeat, making them the shape of the bird, cover them with fat bacon, put them on a dish, place them in the oven until done, take them out to get cold, have ready some very light coloured aspic jelly, either chop your jelly round them on the dish or in a mould, if in a mould place the breast downwards, let the jelly be quite cold and beginning to set before you pour it in, but if you intend to ornament your mould do it with green, red, and white devices, with what may then be in season; radishes, whites of hard eggs, cucumbers, French beans, truffles and any other eatable and wholesome thing, never use anything that is injurious to health; set it to get stiff, turn out with warm water.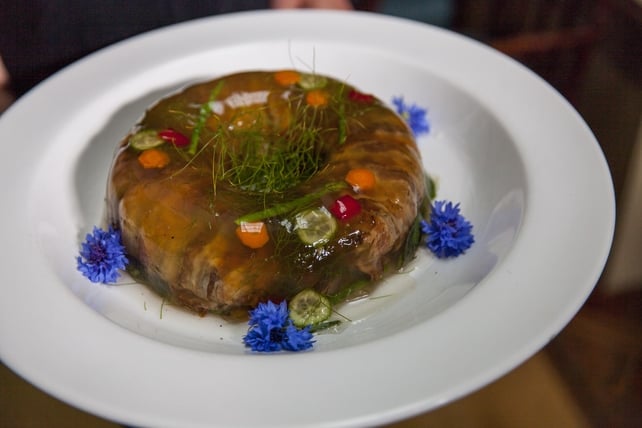 Pork Sausages
Take of the fat of pork one pound, that of the loin of a large richly fed pig, or the inward fat of a small one. Chop it finely with half a pound of lean pork; add to it four or five sage leaves finely chopped, some lemon thyme in a small quantity and three dessert-spoonfuls of crumb of bread powdered; be careful not to put too much of the latter, as it tends to turn the sausages sour if kept. Amalgamate these ingredients well, dust on grated nutmeg, mace and cloves in powder, and finish with black pepper and salt, being sure to season well; the meat may then be put into the skins, or may be put in jars covered down from the air, to be used for rolls or stuffing or any required purpose.
All skin must be pared from the fat before chopping, and every sinew removed from the lean pork, as well as any bone, or anything which may impair the taste when eaten.
In addition to the usual method of frying sausages take six apples, and slice four of them; cut the other two into quarters, and take the cores out. Fry the slices with the sausages till they are of a nice light brown. When done, put the sausages into the middle of the dish, and the apples round them. Garnish with the apples quartered.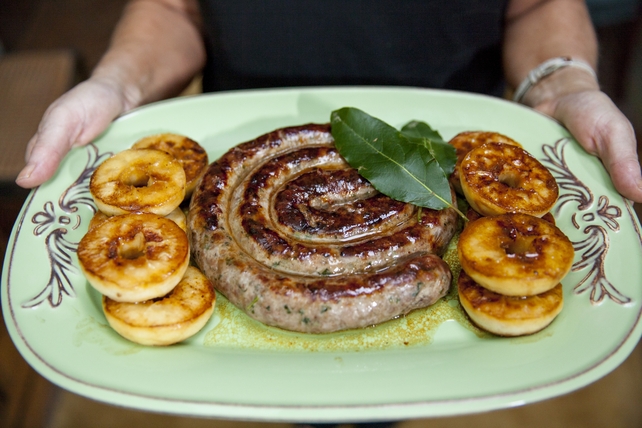 Braized Neck of Mutton, a l'Irlandaise
Saw off the scrag of two necks of mutton, and shorten the rib-bones to four inches in length; next, detach the spine-bone from the fleshy part of the neck, and afterwards saw off the whole of the spine adhering to the base of the ribs; pare the fat smooth and put them to braize in an oval stewpan with carrot, onion, celery and garnished faggot; moisten with common stock and put them to boil on the stove; after which set them by the side of a moderate fire and while the necks of mutton are being braized, turn two or three dozen potatoes in the shape of small eggs, and place them in a stewpan with half a dozen small onions; season with pepper and salt, moisten with a ladleful of broth, and put them on a moderate fire to boil gently: taking care that the potatoes are kept as whole as possible, although they must be thoroughly boiled. When the necks of mutton are done, take them up, trim them if necessary, and dish them up as directed in the foregoing article; strain the broth in which the mutton has been boiled, remove all the grease from its surface, and reduce it to half glaze: add part of it to the potatoes and with these garnish the necks of mutton round neatly, pour the essence under, glaze them, and send to table.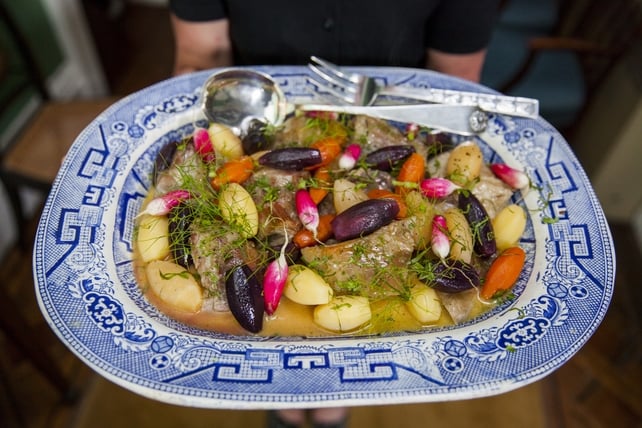 Sorrel with Eggs
Pick and wash the sorrel, put it in a saucepan on the fire. When the juice is extracted pass through a tammy, add butter, pepper and salt, and heat again for a few minutes on the fire. Then add some cream, and serve with hard boiled eggs cut in quarters and piled in the middle and round the dish.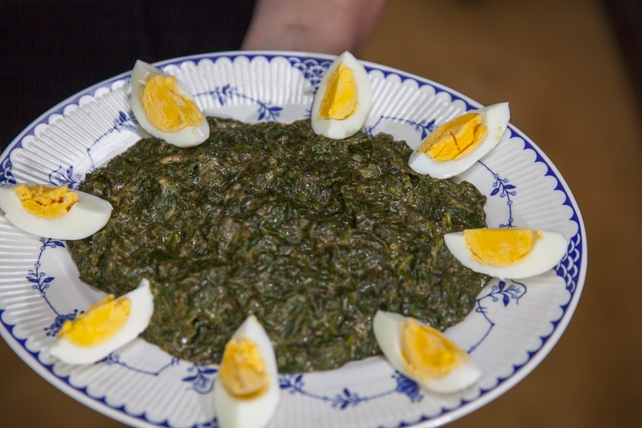 Desserts
Chantilly Basket
Have ready a small quantity of warm clarified sugar boiled to a carmel height, dip ratafia cakes into it, and place them round the inside of a dish. Then cut more ratafia cakes into squares, dip them into the sugar, pile them on the others, and so on for two or three stories high. After which line the inside with wafer paper, fill with sponge biscuits, sweetmeats, blanched almonds, and some made cream as for an apple pie, put some trifle froth over that, and garnish the froth with rose leaves, or coloured comfits or carmel of sugar thrown lightly over the top.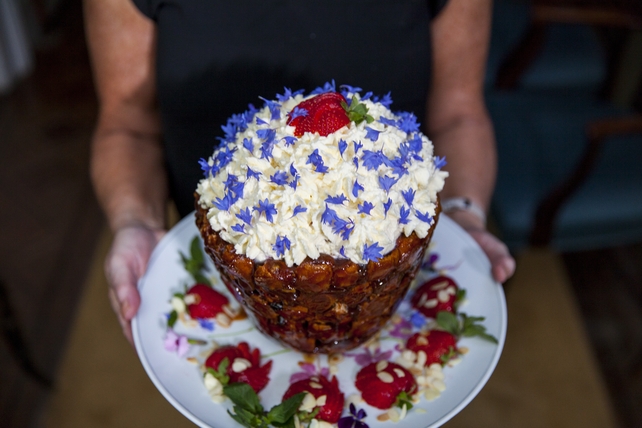 Banbury Cakes
Press in a little dough (with a pound of flour) two table-spoonfuls of thick yeast, and a gill of warm milk; let it work a little, then add half a pound of currants washed and picked, half a pound of candied orange and lemon peel cut small, and a quarter of an ounce each of nutmeg, ginger and allspice; mix the whole together with half a pound of honey, and put into puff paste cut in an oval shape; cover and sift sugar over. Bake them fifteen minutes in a moderate oven.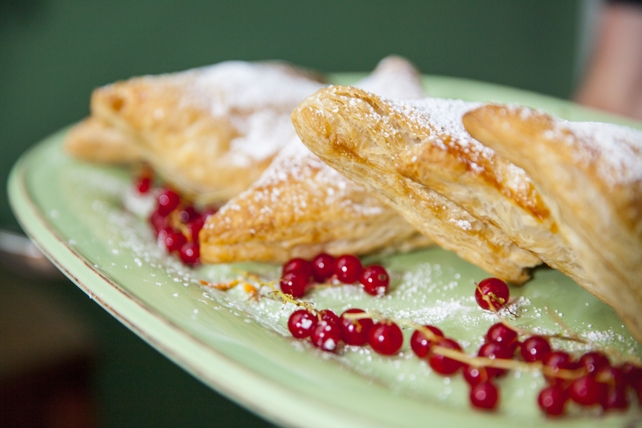 Angelica Tarts
Pare and core golden pippins, or nonpareils, take the stalks of angelica, peel, and cut them into small pieces; apples and angelica, of each an equal quantity. Boil the apples in water enough to cover them, with lemon-peel and fine sugar. Do them gently till they become a thin syrup, then strain it off. Put it on the fire with the angelica in it, and let it boil ten minutes. Make a puff paste, lay it at the bottom of the tin; then a layer of apples and a layer of angelica, till full. Pour in some syrup, put on the lid, and send it to a very moderate oven.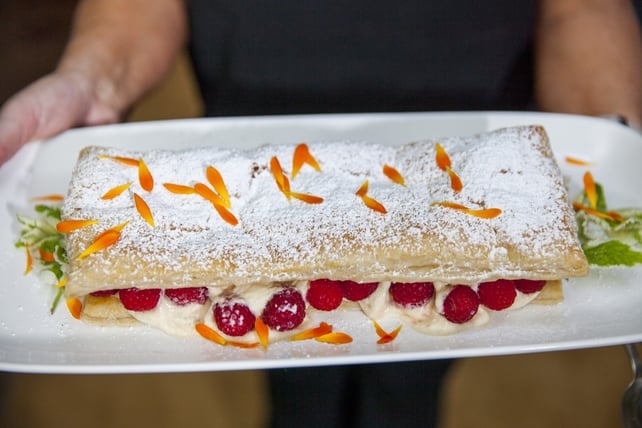 Lords and Ladles is on RTÉ One Sundays at 6:30pm and if you missed an episode - catch up on the RTÉ Player here.