Good day people of the Internets. We are gathered here today to talk donuts. Nothing fills me with more kneadless joy than this holesome pastry which has found its centre as the symbol of police institutions worldwide. I am sorry.
So we went around D(o)ublin down on the doughnuts in this lovely city, and we've picked 5 for a nice little review.
And without further ado, our Criminally Objective Criteria to What Makes a Donut Good:
GLAZE: Despite widely-circulated contemporary parlance, you can judge a donut by its glaze.
MOISTURE: A dry doughnut (doughnut or donut - whatever way you swing, they mostly all taste great) is a universal disappointment, but there also exists a fine line between a nice moist doughnut and a soggy one.
FLAVOUR: In which I try to describe, in between bites, the subtle nuances and textures present in said delicacy.
SLOP: Mostly self-explanatory. The messier the better.
YAAS!: This last one operates on a binary. A doughnut is either YAAS or not.
Aungier Danger
Roll on over to: 37 Aungier St, Dublin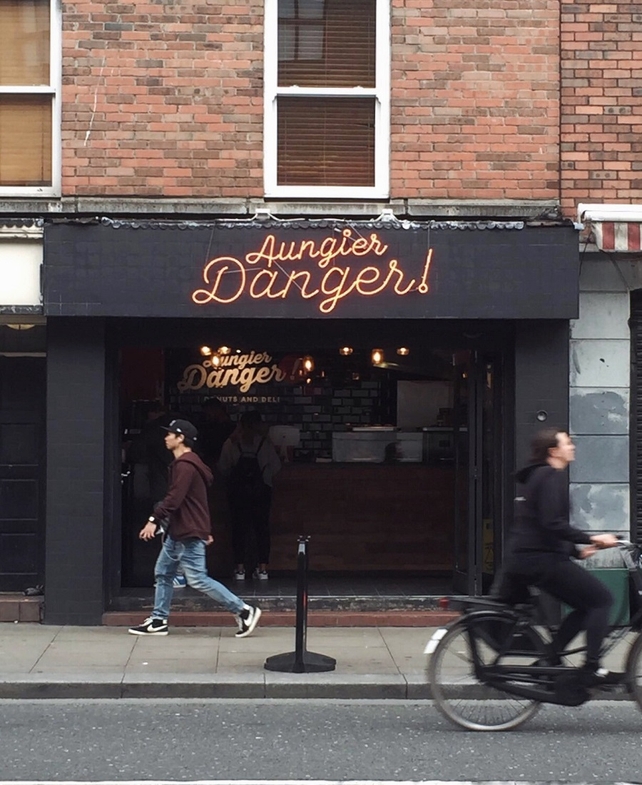 Best described as donuts with SOUL. These bad boys are fluffy, fat, and put your run-of-the mill convenience store donuts to absolute shame. These are to doughnuts what John Cena is to John from Purchasing.
We desecrated the 'Crime Scene' (red velvet with cream cheese), the 'Dublin Death Trap' (chocolate glaze with cream filling), and the 'Nutella' (self-explanatory) for €3 each.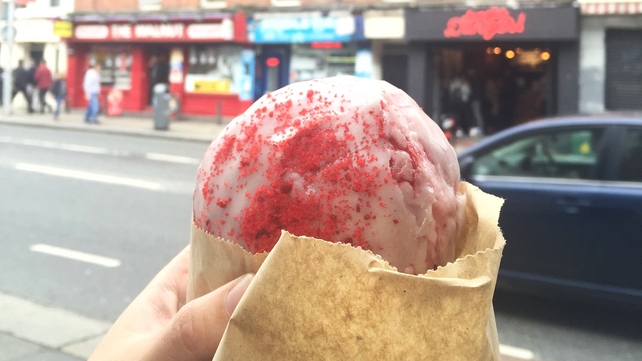 My hands looked like a crime scene after this.
CRITERIA:
GLAZE: srs bznz. 'The Crime Scene' has an artfully drizzled strawberry icing glaze provided for an interesting contrast to the cream cheese filling while the Dublin Death Trap was doubly glazed in thick chocolate
MOISTURE: Adequately present.
FLAVOUR: These guys are super generous with their filling to dough ratio. These squishy babies practically oozed filling. Got full midway through my first doughnut, but pressed on for a second and a third for Research.
SLOP: Gloriously uncontrolled oozing.
YAAS!: YAS.

Offbeat Donut Co.
Roll on over to: Pearse Station, 2 Westland Row, Dublin 2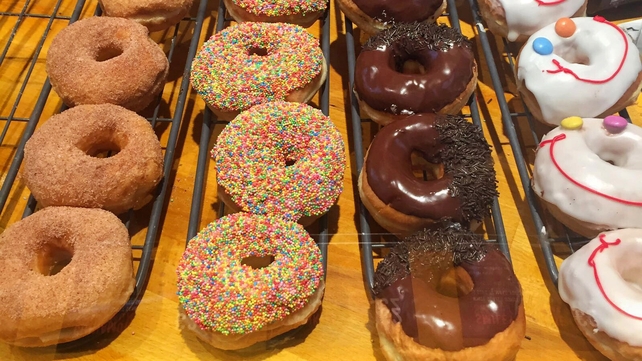 We had the 'Ferrero Rocher' (!!!).
CRITERIA:
GLAZE: N.A.
FLAVOUR: Everyone needs to have a Ferrero Rocher doughnut in hand, which featured an entire Ferrero Rocher embedded in the middle of it's doughy centre. What genius.
SLOP: Not entirely.
YAAS!: YEAAAA

Dublin Doughnut Co.
Roll on over to: 147 Deli at 1, 147 Parnell St, Dublin 1 and other stockists.
Dublin Doughnut Co. doesn't have a store yet but they sell their doughnuts at multiple bakeries city-wide.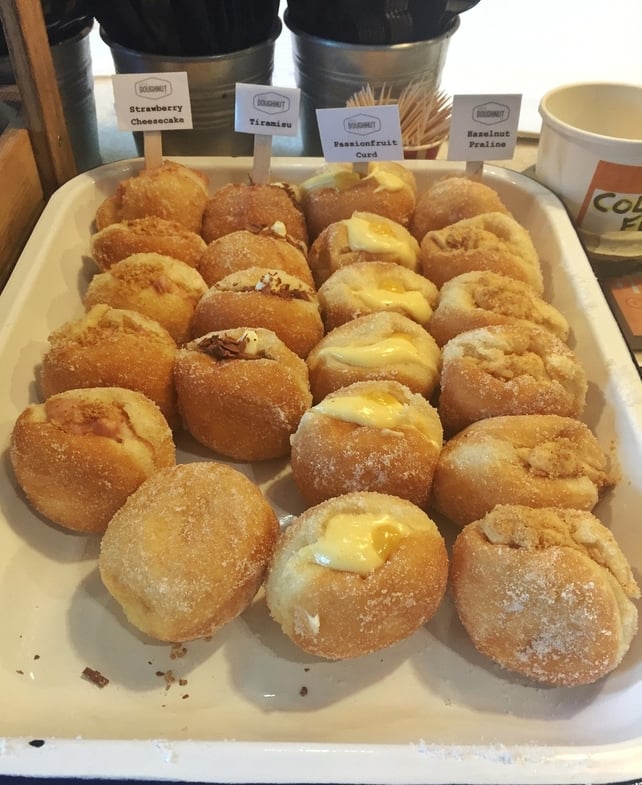 We tried: the 'Hazelnut Praline' and the 'Strawberry Cheesecake' at 147 Deli. A small warning: doughnuts here are only available thrice a week.
CRITERIA:
GLAZE: Sugar dusted, hence N.A.
MOISTURE: Great on the filling, thankfully not present on the sugary dough.
FLAVOUR: As we are about midway through this sugary romp, the smaller doughnut sizes from Dublin Doughnut Co. are a nice welcome. The doughnut filling is ensconced in a crusty, beautifully sugar-dusted exterior.
SLOP: Moderate.
YAAS!: YEAAAA

The Rolling Donut
Roll on over to: The Rolling Donut Kiosk at O'Connell, 7 O'Connell Street Upper. The Rolling Donut Café at 34 Bachelors Walk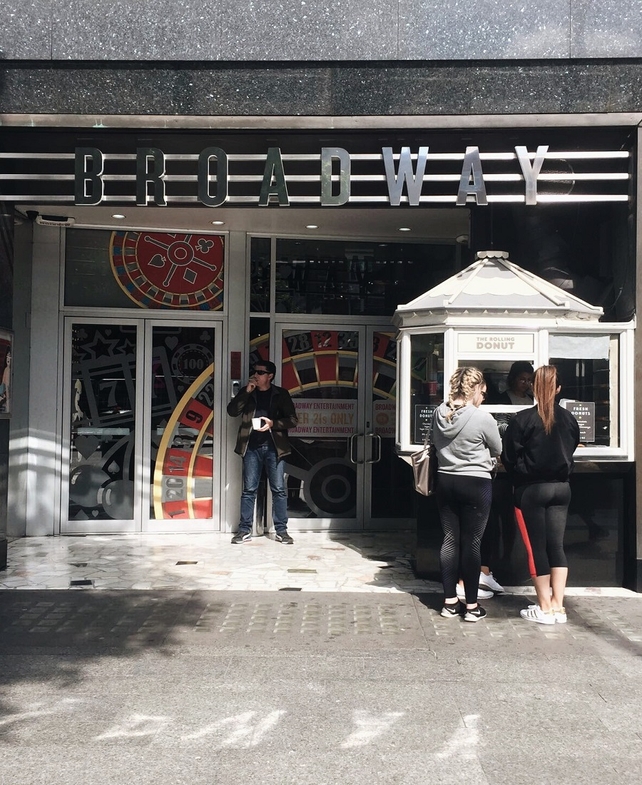 The Rolling Donut have been here in Dublin since 1978, which means they've been around for almost as long as U2 and technically are as much an Irish institution as they are.
We had a sugar cinnamon doughnut for €0.80 from the kiosk and the 'Banoffee Pie' (a banana cream filling with a chocolate and caramel glaze), and a Bacon one from the café for €3 each.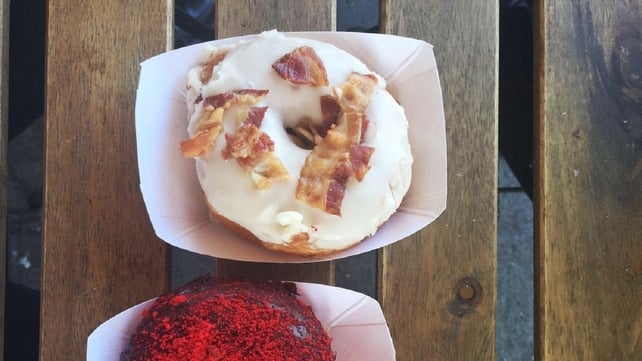 CRITERIA:
GLAZE: N.A. for sugar cinnamon, rather elaborate on the Banoffee.
MOISTURE: standard
FLAVOUR: The sugar cinnamon was nice and neat but the star of the show was the Banoffee Pie, which was rich and burst with filling.The bacon doughnut tastes exactly like how it looks i.e. like bacon with sugared glaze, if you're into that stuff.
SLOP: Totally sloppy.
YAAS!: Yeaaaaah

Krüst Bakery
Roll on over to: 6 S Great George's St, Dublin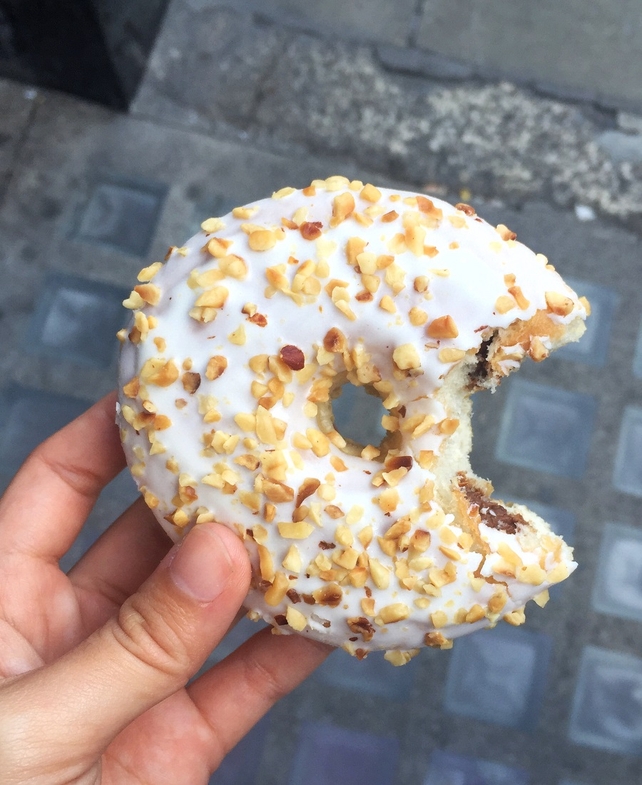 Krust Bakery offers the cronut, the lovechild of a genius marriage between the donut and the croissant. If Gigi Hadid and Zayn Malik had pastry babies, this would be it. (Also, we've featured these guys on Meet the Foodies before so check out that article here.)
We had the Nutella cronut (€3), the salted caramel doughnut and another Nutella doughnut for €2.50 each.
CRITERIA:
GLAZE: Okay you can't go wrong with Nutella, and the salted caramel glaze was salty and caramelly enough.
MOISTURE: sufficient.
FLAVOUR: While both pastries looked not dissimilar, the cronut's innocuous exterior hid a layered, flaky interior that marked its DNA as distinct from its bronut brother. At this point in the article I don't know anymore everything tastes good this is great???
SLOP: Surprisingly un-sloppy. Survived without serviettes.
YAAS!: YEAAAA
What an epic adventure into glorified gluttony!! Everything is GAS!! I haven't passed out yet!! Thanks for reading everybody.

To Look at More Things That Would Make You Hungry at Inconvenient Timings, head on over to RTE Food Bites.